"Don't Be a B*tch, Be an Alpha" is a book empowering women to claim their authentic power and trust their intuition to change the world.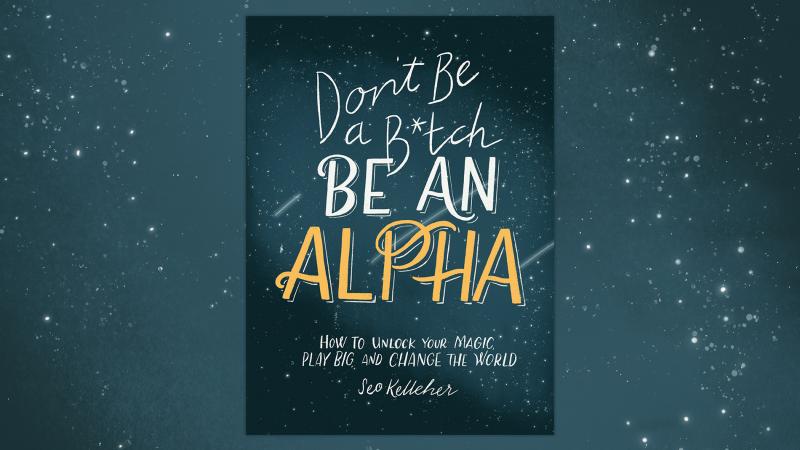 Project Description
It's a wild time to be a woman in the world right now. 
More women are kicking ass in the workforce and sharing their message with the world than ever before. 
And yet…
Women are still faced with double standards, higher hurdles and more compromises. Many of us have to work twice as hard to achieve half as much—while facing double the criticism. If we're too quiet, we're weak and passive; too loud, we're shrill and aggressive. 
What is an Alpha female to do?
What is This Book About?
Don't Be A B*tch, Be An Alpha: How to Unlock Your Magic, Play Big, & Change the World  is a book of sisterly guidance by an alpha sister and Intuitive Life Coach, Seo Kelleher, to share with other alpha sisters.
Written in concise and relatable snippets alongside fun and colorful illustrations, Don't Be A B*tch, Be An Alpha reads like a conversation with your favorite older sister (Think your favorite advice column, only better). 
Struggling with feelings of FOMO? There are tips for resolving Alpha rivalries. Need a quick affirmation to start your day off right? There's a chapter chock full of 'em. Wondering how this manifesting thing works? This book breaks it all down for you. Curious how a little chakra work can totally transform your flow? That's in here too.
Don't Be A B*tch, Be An Alpha is a one-stop-shop for any woman who is ready to release the roadblocks of her past, fearlessly go after what she wants, get in touch with her authentic self, and magically manifest the life of her dreams.
What is Alpha Female Sisterhood?
Founded in 2016, Alpha Female Sisterhood is an online community of 2,000+ high-performing business women who gather together to share info and ideas, support one another, embrace their intuition, boost their performance, expand their business and careers, and share guidance and healing - and, sometimes a just really great meme.
Alpha Female Sisterhood Facebook group features weekly intuitive coaching posts; business and marketing strategies; tips on professional and personal expansion; global networking opportunities; psychic guidance, energy healing, and mindset tips to nourish balance, control, and abundance; Facebook Live events filled with even MORE unique support and guidance; and—oh yeah—plenty of high vibrations and butt-kicking motivation.
Every once in a while they meet in real life at a happy hour, nature walk, or at a once-in-a-lifetime destination across the globe for group travels. Very often, they are just hanging out in their home offices, inspiring each other across the airwaves. 

About Seo
I am Seo Kelleher, the founder of Alpha Female Sisterhood and the author of this book. For most of my professional life in corporate America, I was told that I had to tone down my "alpha-ness" to fit in. I was told that Alpha women were too strong, too competitive, difficult to work with, and someone that wouldn't be able to move up the corporate ladder. As a result, I spent many years toning down who I was, not rocking the boat, appearing non-threatening, basically hoping to get promoted without calling too much attention to myself.
Thankfully I had the opportunity to change my life by leaving the corporate world and becoming my own boss about 6 years ago. After years of working with many other alpha women as my clients, I learned that the negative description of alpha women by society was all B.S. Alpha women are powerful, capable, creative, brave, kind, generous, friendly, and passionate. We shouldn't be hiding our alpha-ness, we should be showing up more authentically as who we are! 
I am writing this book because I am passionate about empowering more women to embrace their alpha qualities and start showing up in the world as themselves. I have found that when women are encouraged to embrace their true self and show up to live their purpose authentically, magical things happen!
 
We Need Your Support to Meet $20K Goal
The funding goal of $20,000 is to complete the editing, illustration, and designing process to make the first print run of the book. Right now, the manuscript is almost complete, but we still have a lot of illustration and design work left to do. The largest portion of the fund will be the actual printing cost.
Thank You!
This book is written, edited, illustrated by women in alpha female sisterhood. Its content is also inspired and shared by alpha sisters.

Receiving your support to complete this book, from a sister to a sister, means the world to me. Thank you for giving your money, energy, and love to make this project successful. Welcome to the sisterhood. Let's play big, change the world.
The Campaign FAQs
When will the book come out?
The rough manuscript of the book is finished. Next stage is to go through final edits and last-minute content. Your funding will allow me to finish up all necessary illustrations, design work, and printing which is the largest expense right now. My goal is to have the book ready to print by the end of the year - it is an aggressive goal, but I am an alpha sister and open to the challenge.
How would I receive my reward?
For the physical book and the swag, once the book is ready to print and ship, we will send you an email to collect your shipping address or to arrange a local pickup (for Richmond, VA residents). For digital delivery, you will also receive an email with instructions on how to claim the reward.  
 
What will you do with the money?
The $20K funding will be used for:
Remaining editing/revision work $1,800
Remaining illustration work $2,400
Book design $3,000
Printing cost of 1k copies $8,000
Promo/marketing/PR effort $3,000
What is your stretch goal?
The stretch goal for this project is $35K. With the extra funding, I would like to be able to print more books (1,000 more copies), donate 500 books to colleges and other young women's organizations, host our first Alpha Sisterhood Teen Retreat in Virginia and double our promo and marketing spend. 

When we reach this stretch goal, I would also like to produce an accompanying  "Unlock Your Magic" Affirmation & Magic Oracle Cards. All the supporters at $150 or higher will receive this card deck as a bonus reward.
Manjiri Nadkarni
08/18/2019
Rebecca Edwards
08/18/2019
Monetary Contribution
$100
Theodora Miller
08/18/2019
Sarah Schultz-Taylor
08/18/2019
Monetary Contribution
$10
Hollee McGinnis
08/18/2019
Signed Book & Stickers
$35
Inner Circle, Book, Swag
$150