Unearthly Beauty strives to be the leader in the community for education and a stepping stone for aspiring lash and sugaring artists.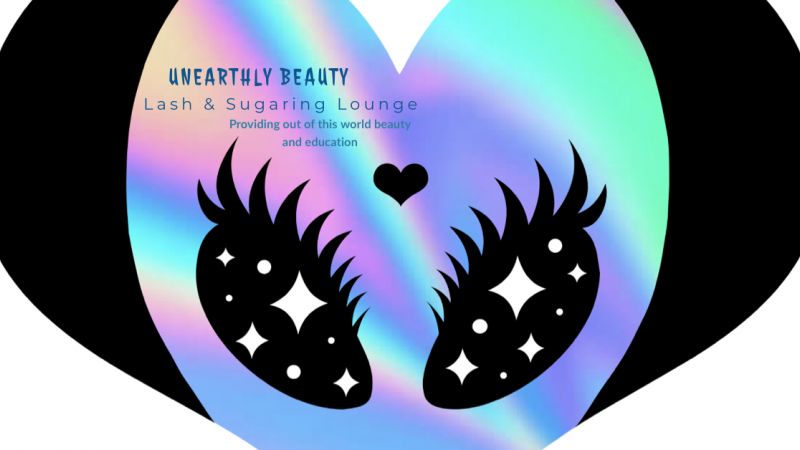 Project Description
ABOUT ME
I'm a certified makeup artist  as well as a Certified Lash Artist and Licensed Esthetician/ Master Educator from the State of Washington.My biggest passion is people.I cannot describe how great it feels to make someone else feel amazing and gorgeous in their own skin.I believe that we are all beautiful and the right makeup and skincare regimen can help remind us of that.I always try to accentuate what is already there and to bring out my client's natural beauty, without making them into someone else. To me natural-looking,real,candid beauty is what we all strive for in life's most important moments. I am Opening a new location that will provide lash extensions and sugaring hair removal as well as offer many classes to the community and professionals . 
OUR MISSION 
It is our mission to provide affordable Education and quality services to our community.We are available to beauty professionals for licensing resources and support in making their dreams a reality.Our spa is a haven for everyone in our community providing an environment of diversity and acceptance.
HOW IT STARTED
As a child in foster care I moved home to home and got to know many people from all walks of life that had suffered many hardships.College was not an option for most as they struggled to balance school,family and work life.I was determined to make something of myself and my family.I was a kindergarten teacher and  barely making enough to survive and constantly afraid of how I was going to afford rent, groceries and necessities.My husband was MIA and battling addiction randomly showing up and at times being mentally and physically abusive.I made a leap and moved to California for a Makeup school I researched in hopes of starting a career that can provide stability and attempt to repair our family.In April 2015 my husband drugged me, hurt me and I almost didn't live this time.It was at that moment that I no longer had time to waste and had to push myself for my son.For months he was gone with his dads family as I lived in my car to complete school.I met people who lived in tents, never had options for successful lives or were battling addiction.They lived in ways no humans should live.Given the chance and resources these young people could have had normal lives but education wasn't available to them that was affordable and reasonable.I completed school and  made my way to Washington taking a job with Bobbi Brown getting my son back and my life was turned around.I met beauty professionals who helped each other and became like family.All just pushing themselves and aiding each other to progress in life.I got my esthetician license and instructor license and began teaching at a local mom and pop beauty college.The student base consisted of people who just wanted something to fill their time, students who chose beauty school as an alternative to overpriced college courses and people who just needed a second chance at a career.Most of these students lacked the ability to afford school without federal funding or scholarships yet were filled with such passion and talent. This is what inspired me to want to teach, share my knowledge and provide a support system for all humans in and after school regardless of income, age, gender identity,sexuality,criminal record or cognitive ability. 
WHAT WE OFFER
Beauty Services
We provide services in Sugaring hair removal,lash extensions,lash & brow tints and lifts, skincare and at home recommendations.Natural retail options for skin routines and post care.
Sugaring Hair Removal Training 
This 1-2 day course is offered in a group or one on one setting to educated beauty professionals in the ancient technique of Sugaring hair removal.Safety & sanitation will be covered as well as technique and pre and post care. Being advised on retailing to clients and recommending homecare for effective results.
Lash Extensions
Offering training to licensed professionals in both classic and volume lashes either separately or in an all in one class.We provide all the essentials in our kit to get artists ready to start their career as a lash tech.Safety & sanitation and knowledge of potential risks and diseases of the eye will be covered.Application, products, pre and post care and how to advise clients on proper home care 
Hair Styling & Advanced Techniques
Our licensed cosmetology Instructor provides classes and demonstrations to current students/graduates as well as the general public. With these low fee courses priced to cover supplies professionals will have the ability to fulfill their legally required continuing education credits to maintain their license without breaking the bank as well as benefit from many new techniques and refreshers. Classes such as updos,braiding,daddy and me,mommy and me and many more will be just some of the few classes offered .
YOUR CONTRIBUTION
Your contribution goes towards start up costs,building of affordable kits and supplies for classes and services. Leasing fees and operation fees.With this contribution the stress of starting a new business in debt is eliminated and allows everyone to dive in to their passions with comfort confidence and excitement .
Updates
The Campaign FAQs
The Beauty Industry has boomed with the introduction of Eyelash extensions and have thrived for centuries in hair removal. Companies are growing at astronomical rates in their infancy with full books and continuously needing more hands-on deck to cater to the demand.  Eyelash extensions and hair removal have become a staple in a woman's routine making it the easiest services for rebooks. Unearthly Beauty is a company that offers licensed beauty professionals a stepping stone to growth in their career by providing the clientele and supplies needed when starting out. The owners are Washington State licensed beauty educators and carry a vast knowledge in the spa business from new modalities, keeping up with trends, safety and sanitation and legal affairs. With that comes firsthand access to the new fresh faces of the beauty industry and the ability to groom stars.  Our involvement in the community and our experience as well as knowledge make for the perfect recipe for a successful business. 
Marketing Plan
Products & Services
At Unearthly Beauty we use all top of the line products. Being a Partner with one of the top lash companies in the world Borboleta Beauty we provide great quality by well trained professionals that have our clients well-being at heart. All products are provided by Unearthly Beauty included in the commission rate. Employees are educated in and have the ability to retail these amazing items that are must haves for clients receiving the services that we provide. Shop will be available in store and online. Our products are all Vegan, cruelty free, free of GMO and hypoallergenic. We offer a variety of Eyelash Extension choices from natural to dramatic looks and provide hair removal services for all areas for all gender identities. Our trainings provide education otherwise not offered or included in the curriculum of many Educational institutions at an affordable cost.
Industry​
The 60+ billion dollar beauty industry is a steady social market expected to grow almost 30% by 2023 with the need andconstantly changing beauty trends throughout human history catering to many different demographics, cultures, and budgets. Success in the beauty industry relies on keeping up with what is trending, new treatments and styles and always being in the know for what is in demand at any given point. The beauty industry is one that is resistant to technological changes as these services will always require human judgement and creativity.
Customers
Our clientele is vast from women fresh out of high school to the more mature clientele wanting to accentuate features that have minimized with age. Male clients and athletes are also a huge addition with the need for hair removal for hygiene or competitive sports. Our aim is not to have the most clients but to have the most return clients. With return clients trust is built and the need for the service is understood and valued higher creating loyalty, routine and necessity. Based on local business growth within the industry clientele. Busy lifestyles are driving the demand for services that provide a low-maintenance daily routine with the added benefit of effortless beauty. Women place a high value on their appearance and convenience, and are willing to pay for the stunning, natural results that lash extensions achieve. The growth of the lash industry today is driven by the willingness to spend money to enhance personal beauty and to learn new techniques required to perform in this evolving climate. 
Competition
With lash extensions and hair removal being the most sought after beauty services Many salons and spas have attempted to capitalize on this boom. Opening salons that at times employ unlicensed, untrained, or self-taught beauty enthusiasts who may or may not use the best products for the clients but the most affordable for their business. We firmly believe quality,education and the need to only provide services that do not impede the client's health, vitality or decline their appearance over time is what sets us apart from the rest. Being owned by two licensed Instructors in the beauty industry both in Esthetics and Cosmetology this maintains a standard and ability to continuously educate, train and help employees and others in the industry grow in their abilities. Knowledgeable confident professionals educating clients on the services, risks and proper maintenance of their skin and lashes ensure that clients are able to identify quality work and understand the importance of recommended routines and products.
Position
At Unearthly Beauty we offer and out of this world experience by offering services from a team of the most educated professionals in the area maintaining our connections within our community by continuing to participate in events, fundraisers, sponsorships and jobs for professionals new to the industry. We offer services and trainings to ALL HUMANS of all gender identities and professions making us a strong force among businesses who do not. Due to religious, personal beliefs, preference and so on many companies do not offer certain services to certain genders and are not aimed toward these demographics.
Image & Packaging
Always staying in with the trend Unearthly Beauty presents a logo with an unearthly being with pronounced lashes. As one of the top trends in the greater Seattle Area aliens represent the ability to be yourself and not conform to the societal normative. With light pink fixtures and décor adding a soft relaxing and warm feel to help clients feel at ease and pampered.
Our cards and marketing material provide an interesting addition to anyone's day without becoming future scratch paper. Simple, Bold and professional with a strong meaning to our clients.
We have selected our location based on demographic and culture of the area. Attracting clientele from 25-35 who are active in their beauty routines and needs .With pricing set to meet or beat comparable salons in the areaand tiered based on artists experience .  
Marketing Goals
We strive to grow from a small 3-5 person team to a fully staffed salon eventually expanding into another location within or by the next five years that provides trainings to beauty professionals throughout the Greater Seattle area. 
Marketing Strategy
By creative marketing, branding and offering our own products and trainings to Educational establishments around the state we hope to become a recognized brand. We currently offer sugaring products and trainings to local colleges and will be present in new professional's educations while offering continued support in their schooling and licensing journey. By offering wholesale product pricing on products to local salons, discounts to preferred clients and referral offers the community is our strongest asset in growth. 
Monetary Contribution
0 Supporters
Select this reward
Rewards
Monetary Contribution
0 Supporters
Select this reward