Actress turned writer/producer. Queer feminist short film portraying polyamory in an informative yet realistic (and funny and sexy) light.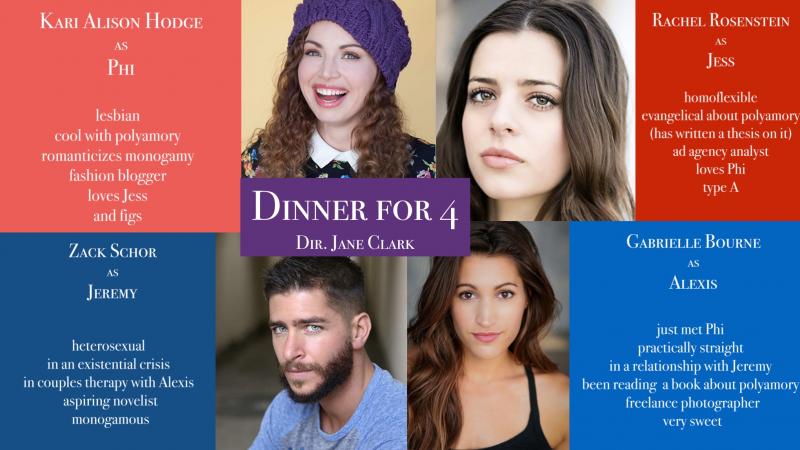 Project Description
A short film that explores polyamory as a relationship choice in a realistic yet humorous way
It is a queer film written by a queer woman
Starring: Rachel Rosenstein, Gabrielle Bourne, Zack Schor, and Kari Alison Hodge
It will be directed by a woman - Jane Clark
We have a female director of photography (cinematographer) - Elesha (E.R.) Barnette
The vast majority of the crew will be women
 If reading the script would influence you to contribute, I am happy to send it on an individual basis! 
Thank you so much!!!!!!!
The funding will go to:

$2200 - cinematographer, assistant camera, grip, camera and lighting equipment
$600 - sound crew and equipment
$1160 - payments to SAG actors including P&H
$1100 - insurance
$2000 - post-production 
$120 - wardrobe
$220 - set food as props
$300 - food to eat
$300 - miscellaneous

Plot summary: An awkward dinner party for Jess (type A, alpha) and Phi (free spirit), who are in a long-term lesbian polyamorous relationship, when Jeremy and Alexis are the only ones who show up. It's not why they threw the party, but Phi wants to kiss Alexis, and Jess wants to do Jeremy - is it on the table? Hilarious and poignant, all while sneaking in a little feminist theory of polyamory. 
Updates
The Campaign FAQs
Frequently Asked Questions:
Can I read your script before I donate? 

Yes - email me at hodge dot kari at gmail dot com and I'll send it over
Monetary Contribution
$50
Shoutout in instagram story with video
$25
Derek McAlister
08/15/2018
Monetary Contribution
3 Supporters
Select this reward
10.00 USD
Shoutout in instagram story
Shout out of thanks to you, your company, a charity, or anything you want in a photograph posted to my instagram story 
2 Supporters
Select this reward
25.00 USD
Shoutout in instagram story with video
Shout out of thanks to you, your company, a charity, or anything you want in a video or video+photograph posted to my instagram story 
2 Supporters
Select this reward
50.00 USD
Instagram post
An instagram post dedicated to you - promoting you, your company, or a charity of your choice 
1 Supporter
Select this reward
75.00 USD
Early digital copy of the film
A digital copy of the film sent to your inbox before it hits theaters
0 Supporters
Select this reward
100.00 USD
Credit in the film
Your name, or any name you want, in the "Thank You" section of the credits, plus an early digital copy of the film sent to your inbox
5 Supporters
Select this reward
200.00 USD
Thank you credit + signed DVD/photo + digital copy
Your name, or any name you want, in the "Thank You" section of the credits, plus an early digital copy of the film sent to your inbox, and a signed DVD copy and cast photo mailed to you
1 Supporter
Select this reward
500.00 USD
Credit on IMDB
A "Special Thanks" credit on IMDB, as well as in the credits of the film. An early digital copy of the film sent to your inbox, and a signed DVD copy and cast photo mailed to you
0 Supporters
Select this reward
1,000.00 USD
Executive Producer Credit
You will have top billing as executive producer in the credits of the film, as well as on IMDB. Plus an early digital copy of the film sent to your inbox, and a signed DVD copy and cast photo mailed to you
0 Supporters
Select this reward
Rewards
Monetary Contribution
3 Supporters
Select this reward
10.00 USD
Shoutout in instagram story
Shout out of thanks to you, your company, a charity, or anything you want in a photograph posted to my instagram story 
2 Supporters
Select this reward
25.00 USD
Shoutout in instagram story with video
Shout out of thanks to you, your company, a charity, or anything you want in a video or video+photograph posted to my instagram story 
2 Supporters
Select this reward
50.00 USD
Instagram post
An instagram post dedicated to you - promoting you, your company, or a charity of your choice 
1 Supporter
Select this reward
75.00 USD
Early digital copy of the film
A digital copy of the film sent to your inbox before it hits theaters
0 Supporters
Select this reward
100.00 USD
Credit in the film
Your name, or any name you want, in the "Thank You" section of the credits, plus an early digital copy of the film sent to your inbox
5 Supporters
Select this reward
200.00 USD
Thank you credit + signed DVD/photo + digital copy
Your name, or any name you want, in the "Thank You" section of the credits, plus an early digital copy of the film sent to your inbox, and a signed DVD copy and cast photo mailed to you
1 Supporter
Select this reward
500.00 USD
Credit on IMDB
A "Special Thanks" credit on IMDB, as well as in the credits of the film. An early digital copy of the film sent to your inbox, and a signed DVD copy and cast photo mailed to you
0 Supporters
Select this reward
1,000.00 USD
Executive Producer Credit
You will have top billing as executive producer in the credits of the film, as well as on IMDB. Plus an early digital copy of the film sent to your inbox, and a signed DVD copy and cast photo mailed to you
0 Supporters
Select this reward