Luxurity panties are the first functional lingerie of their kind that provides protection for both partners when engaging in oral sex.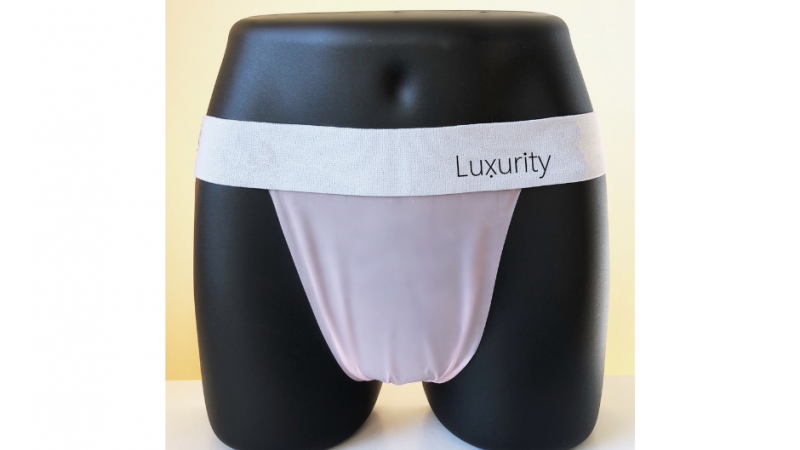 Project Description
Hello and thank you for stopping by! 
We are Luxe Ventures LLC, founded in 2017, and we've created a product specifically for women called Luxurity panties. This simple garment could help save lives by working to prevent the spread of sexually transmitted  infections (STIs) during oral sexual activity. Our mission is simple: we aim to empower all women to  protect their pleasure by providing an attractive, affordable, disposable and  easily-accessible functional lingerie panty that can be worn during  oral sexual activity. We believe that safe can be sexy for everyone and this campaign will aid us in making sure everyone's pleasure is protected. 
In summary, our product:
•Empowers women to take control of their sexual health
•Uses an innovative design that shows safe can be sexy
•May increase sexual pleasure during oral sex
•May save lives by decreasing the risk of STI transmission
•Patent Pending
•Is seeking FDA-approval 
We welcome you to join us in this effort to empower and protect many by sharing this campaign via social media, providing a financial contribution, or simply sending positive thoughts our way. All forms of support are incredibly appreciated as we work to address an issue that needs an immediate solution.
 The product idea came to us after a close family member was diagnosed with HPV-related head and neck cancer (squamous cell carcinoma) which was likely contracted during unprotected oral sex. Following the diagnosis, we began analyzing the market to see what protective options are out there (especially for women). Sadly, very few products are available, and thus began our quest to fill this need. Here are a few facts and statistics that confirmed the need for Luxurity panties:
•83% of males and 81% of females report engaging in some form of oral sexual activity during a recent National Survey of Family Growth. (1)
•1 in 2 sexually active persons will contract an STD by age 25. (2)
•The CDC estimates that nearly 20 million new STDs occur every year in this country. (3)
•The total estimated direct cost of STDs annually in the U.S. is about $16 billion. (4)
•Human papilloma virus (HPV), herpes, chlamydia, gonorrhea, and syphilis can all be contracted via oral sex. (5)
•Researchers estimate that at least 80% of sexually active people will have an HPV infection at some point in their lifetime. (6)
•There's a strong connection between oral sex and the increasing rates of head, neck and throat (oropharyngeal) cancers in men and women. HPV is responsible for approximately 31,500 cases of cancer each year, directly causing 70% of the oropharyngeal cancers (7)
•The CDC currently only lists two methods in which a person can be protected when engaging in oral sex on a female: 1) use an oral dam (a thin latex sheet), and 2) cut up a condom to act as an oral dam (8)
References Available Upon Request
By supporting this project, you're investing in an innovative product that will help to revolutionize the sexual health industry. One pair of these panties can help save a life and hundreds of thousands of dollars in medical expenses. Additionally, you will be helping to level the playing field regarding sexual health products that are on the market. It is wonderful that we have many varieties of male condoms available, but isn't it time females have just as many options to protect themselves and their partner? 
Most of your contribution will be spent on materials for the first round of product that we'd invite each of you to test. Your feedback will aid us in making the product even better, so please know we warmly welcome all thoughts you have! It would be a true honor having each of you blaze this path with us as we aim to make this simple and attractive garment available in stores, online, and, ultimately, get it into the hands of many. 
The product, as noted earlier, is quite simple. We have integrated FDA-approved oral dams (thin sheets of latex) with an elastic band that fits snugly around the hips to create an aesthetically-pleasing underwear that allows for pleasure while providing protection. Additional funds from the campaign will go towards the international patent filings (approximately $25,000 over the next 18 months), marketing/advertising ($8,500), and of course product materials and development ($35,000).
 We have plans for future product versions as well. We would like to offer three colors and flavors for the panty: 1) pink strawberry, 2) white vanilla, and 3) black mint or cola. We aim to be eco-friendly by offering a version of the product where the oral dam is simply removed from the band and disposed of. The band is kept, washed, and a new oral dam is then inserted by user prior to the next sexual encounter. This will drive down the price and make the product more accessible to all. We also would like to offer the bands in varying colors, materials, designs, and widths to provide more coverage and comfort during oral sexual activity for those that would like this. On top of that, our team has been working to create a version of these underwear for men. Many plans are in the works and we are thrilled you're choosing to be a part of this movement towards empowerment and education!
We simply can't thank you enough for your care, consideration, and generosity. Together, we can ensure everyone's pleasure is protected by showing that safe is truly sexy. 
Thank you and please don't hesitate to reach out if any questions arise!
Sincerely,
The Luxe Ventures Team
*Luxe Ventures is an Indiana-based company that has qualified for the Venture Capital Investment (VCI) Tax Credit Program. For more information on this, please don't hesitate to contact us.
Stretch Goal #1: If we raise $18,000, we will be able to offer the Luxurity panty in black cola as a third option as well! 
Stretch Goal #2: If we raise $30,000, we will be able to purchase our die cut that would allow for the oral dams (latex sheets) to be a larger size, even more appealing, and better fitting than the rectangular FDA-approved dams that are currently available to us.
Updates
The Campaign FAQs
Risks and Challenges
The biggest challenge we've had is that of society's discomfort with sexuality and sexual topics. Our aim is to simply move the conversation from infrequent, to instead, a more natural discussion while providing a product that can be used to solve the problem of STI transmission. Rather than being afraid of discussing our sexual health, we need to normalize where we are as a society and empower people with information and options to protect themselves and their loved ones.
Additionally, with the status of the political climate, importing, shipping, and manufacturing with international entities can always come with some unknowns. We do not foresee any issues arising; however, and are closely monitoring the situation and taking care that our international partnerships remain strong.
Monetary Contribution
$25
The Stewart Group
03/23/2019
Monetary Contribution
$600
Drs. S & L & Associates
03/13/2019
Monetary Contribution
$1,200
Monetary Contribution
6 Supporters
Select this reward
15.00 USD
Level 1
-A thank you postcard
-Get your name/organization posted on our website (if you choose), along with our other supporters
-Stay in the know & get email updates on our progress
-Feel great about supporting a company on a mission to empower and protect the pleasure and health of all
1 Supporter
Select this reward
25.00 USD
Level 2
-One Luxurity Panty
(*You can select size and flavor once the campaign finishes, not when you choose to back the project)
-Free U.S. Shipping, discounted shipping everywhere else in the world
-A thank you postcard
-Get your name/organization posted on our website (if you choose), along with our other supporters
-Stay in the know & get email updates on our progress
-Feel great about supporting a company on a mission to empower and protect the pleasure and health of all
5 Supporters
Select this reward
50.00 USD
Level 3
-Two Luxurity Panties
(*You can select size and flavor once the campaign finishes, not when you choose to back the project)
-Free U.S. Shipping, discounted shipping everywhere else in the world
-A thank you postcard
-Get your name/organization posted on our website (if you choose), along with our other supporters
-Stay in the know & get email updates on our progress
-Feel great about supporting a company on a mission to empower and protect the pleasure and health of all
2 Supporters
Select this reward
100.00 USD
Level 4
-Four Luxurity Panties
(*You can select size and flavor once the campaign finishes, not when you choose to back the project)
-Free U.S. Shipping, discounted shipping everywhere else in the world
-A thank you postcard
-Get your name/organization posted on our website (if you choose), along with our other supporters
-Stay in the know & get email updates on our progress
-Feel great about supporting a company on a mission to empower and protect the pleasure and health of all
3 Supporters
Select this reward
250.00 USD
Level 5
-10 Luxurity Panties
(*You can select size and flavor once the campaign finishes, not when you choose to back the project)
-Free U.S. Shipping, discounted shipping everywhere else in the world
-A thank you postcard
-Get your name/organization posted on our website (if you choose), along with our other supporters
-Stay in the know & get email updates on our progress
-Feel great about supporting a company on a mission to empower and protect the pleasure and health of all
0 Supporters
Select this reward
500.00 USD
Level 6
-20 Luxurity Panties
(*You can select size and flavor once the campaign finishes, not when you choose to back the project)
-Free U.S. Shipping, discounted shipping everywhere else in the world
-A thank you postcard
-Get your name/organization posted on our website (if you choose), along with our other supporters
-Stay in the know & get email updates on our progress
-Feel great about supporting a company on a mission to empower and protect the pleasure and health of all
2 Supporters
Select this reward
1,000.00 USD
Level 7
-40 Luxurity Panties
(*You can select size and flavor once the campaign finishes, not when you choose to back the project)
-50 Basic Oral Dams
-Free U.S. Shipping, discounted shipping everywhere else in the world
-Engraved Plaque
-A thank you postcard
-Get your name/organization posted on our website (if you choose), along with our other supporters
-Stay in the know & get email updates on our progress
-Feel great about supporting a company on a mission to empower and protect the pleasure and health of all
1 Supporter
Select this reward
2,500.00 USD
Level 8
-75 Luxurity Panties
(*You can select size and flavor once the campaign finishes, not when you choose to back the project)
-250 Basic Oral Dams
-Engraved Plaque
-Free U.S. Shipping, discounted shipping everywhere else in the world
-A thank you postcard
-Get your name/organization posted on our website (if you choose), along with our other supporters
-Stay in the know & get email updates on our progress
-Feel great about supporting a company on a mission to empower and protect the pleasure and health of all
1 Supporter
Select this reward
5,000.00 USD
Level 9
-125 Luxurity Panties
(*You can select size and flavor once the campaign finishes, not when you choose to back the project)
-350 Basic Oral Dams
-Honorary Luxurity Team Member Status
-Engraved Plaque
-Free U.S. Shipping, discounted shipping everywhere else in the world
-A thank you postcard
-Get your name/organization posted on our website (if you choose), along with our other supporters
-Stay in the know & get email updates on our progress
-Feel great about supporting a company on a mission to empower and protect the pleasure and health of all
0 Supporters
Select this reward
Rewards
Monetary Contribution
6 Supporters
Select this reward
15.00 USD
Level 1
-A thank you postcard
-Get your name/organization posted on our website (if you choose), along with our other supporters
-Stay in the know & get email updates on our progress
-Feel great about supporting a company on a mission to empower and protect the pleasure and health of all
1 Supporter
Select this reward
25.00 USD
Level 2
-One Luxurity Panty
(*You can select size and flavor once the campaign finishes, not when you choose to back the project)
-Free U.S. Shipping, discounted shipping everywhere else in the world
-A thank you postcard
-Get your name/organization posted on our website (if you choose), along with our other supporters
-Stay in the know & get email updates on our progress
-Feel great about supporting a company on a mission to empower and protect the pleasure and health of all
5 Supporters
Select this reward
50.00 USD
Level 3
-Two Luxurity Panties
(*You can select size and flavor once the campaign finishes, not when you choose to back the project)
-Free U.S. Shipping, discounted shipping everywhere else in the world
-A thank you postcard
-Get your name/organization posted on our website (if you choose), along with our other supporters
-Stay in the know & get email updates on our progress
-Feel great about supporting a company on a mission to empower and protect the pleasure and health of all
2 Supporters
Select this reward
100.00 USD
Level 4
-Four Luxurity Panties
(*You can select size and flavor once the campaign finishes, not when you choose to back the project)
-Free U.S. Shipping, discounted shipping everywhere else in the world
-A thank you postcard
-Get your name/organization posted on our website (if you choose), along with our other supporters
-Stay in the know & get email updates on our progress
-Feel great about supporting a company on a mission to empower and protect the pleasure and health of all
3 Supporters
Select this reward
250.00 USD
Level 5
-10 Luxurity Panties
(*You can select size and flavor once the campaign finishes, not when you choose to back the project)
-Free U.S. Shipping, discounted shipping everywhere else in the world
-A thank you postcard
-Get your name/organization posted on our website (if you choose), along with our other supporters
-Stay in the know & get email updates on our progress
-Feel great about supporting a company on a mission to empower and protect the pleasure and health of all
0 Supporters
Select this reward
500.00 USD
Level 6
-20 Luxurity Panties
(*You can select size and flavor once the campaign finishes, not when you choose to back the project)
-Free U.S. Shipping, discounted shipping everywhere else in the world
-A thank you postcard
-Get your name/organization posted on our website (if you choose), along with our other supporters
-Stay in the know & get email updates on our progress
-Feel great about supporting a company on a mission to empower and protect the pleasure and health of all
2 Supporters
Select this reward
1,000.00 USD
Level 7
-40 Luxurity Panties
(*You can select size and flavor once the campaign finishes, not when you choose to back the project)
-50 Basic Oral Dams
-Free U.S. Shipping, discounted shipping everywhere else in the world
-Engraved Plaque
-A thank you postcard
-Get your name/organization posted on our website (if you choose), along with our other supporters
-Stay in the know & get email updates on our progress
-Feel great about supporting a company on a mission to empower and protect the pleasure and health of all
1 Supporter
Select this reward
2,500.00 USD
Level 8
-75 Luxurity Panties
(*You can select size and flavor once the campaign finishes, not when you choose to back the project)
-250 Basic Oral Dams
-Engraved Plaque
-Free U.S. Shipping, discounted shipping everywhere else in the world
-A thank you postcard
-Get your name/organization posted on our website (if you choose), along with our other supporters
-Stay in the know & get email updates on our progress
-Feel great about supporting a company on a mission to empower and protect the pleasure and health of all
1 Supporter
Select this reward
5,000.00 USD
Level 9
-125 Luxurity Panties
(*You can select size and flavor once the campaign finishes, not when you choose to back the project)
-350 Basic Oral Dams
-Honorary Luxurity Team Member Status
-Engraved Plaque
-Free U.S. Shipping, discounted shipping everywhere else in the world
-A thank you postcard
-Get your name/organization posted on our website (if you choose), along with our other supporters
-Stay in the know & get email updates on our progress
-Feel great about supporting a company on a mission to empower and protect the pleasure and health of all
0 Supporters
Select this reward