---
WHAT IS ESTEEM HAIR?
Esteem Hair is a multifaceted hair extension company that strives to focus on the empowerment of women. We sell top quality hair extensions as well as clips ins, frontals, closures and custom wigs. Along with selling hair we also sell our "The Future is Female" t-shirts and coffee mugs to help raise awareness of current economic issues that women are facing today. Esteem Hair is more than a hair extension company. We are a company that sells for a cause. We are a company that cares. We are a company that empowers.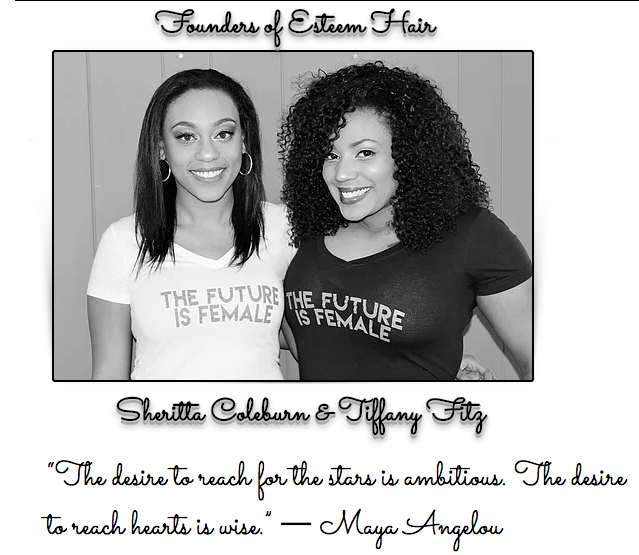 OUR STORY 
Esteem Luxury Hair Extensions is a small business that was started in 2015. Founded by Sheritta Coleburn and Tiffany Fitz who have both traveled the journey of becoming natural while trying different protective styles. Understanding today's economy, founders wanted to provide its customers with high-quality hair yet affordable human hair extensions as well as promoting women empowerment, hair loss awareness, growing healthy natural hair, and giving back to the community. It's our vision to encourage all women to feel beautiful on the inside and out. We want you to feel as beautiful in our hair extensions as well as feeling beautiful in the skin that you are in. Not only are we empowering women's self-esteem one bundle at a time, we are selling for a cause.
WHY ARE WE SEEKING FUNDING?
With your help, Esteem Hair can continue to grow as a business and continue to help empower women. We are running this campaign to raise money in order to have more inventory on hand in order to cut down  shipping times to our customers, help fund projects giving back to the community as well as fund for our new idea to create an organizational planner and mobile app to help women entrepreneurs like ourselves to organize their busy lives and help set your personal and business goals in place.
Thank you, thank you!
The ladies of Esteem Hair are very appreciative for your support in our company. By spreading the word and sharing this campaign with your friends and loved ones, you are helping to support our vision grow.