Black womanhood on a black woman's terms. Through my instillation I seek to empower other women to become their own subversive heroines.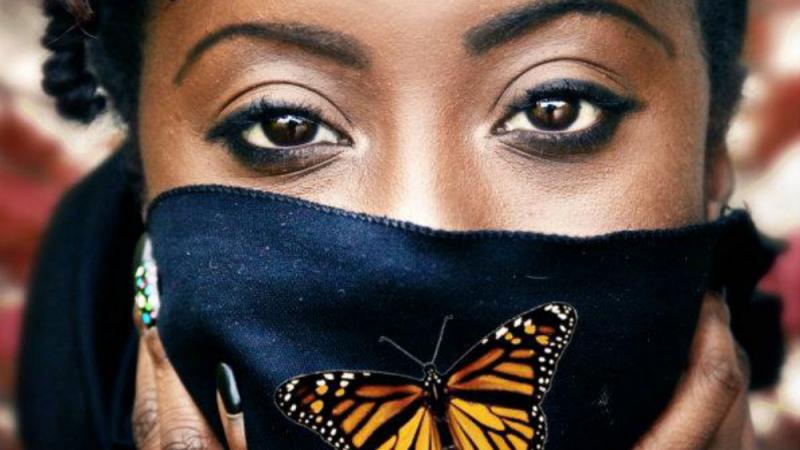 Project Description
Black Americana: A. Black. Woman. Speaks.  
A mobile arts instillation inspired by and in the tradition of Nina Simone, Maya Angelo, Harriet Tubman, Zora Neale Hurston, Ntozake Shange, and Beah Richards; specifically her ground breaking poem A Black Woman Speaks and other prolific black American women creatives, artists, activists and change agents and their impact on American History and global resistance movement. The immersive experience will include and be filtered through the mediums of photography, poetry, film media, & drama and consist of a Tanisha Lynn Pyron Creative Photography visual art exhibition, choreo-poem, two films; one an educational mixtape/documentary exploring the legacy and subversive ideas of subversive black women through out the Black American Historical timeline and a theatrical film short about an extraordinary day in the life of an ordinary black girl. The entire instillation will be archived via a fine art coffee table book & spoken word EP and toured regionally, nationally and internationally funding allows. The exhibition will target spaces for marginalized women of color and also predominately white spaces where the voices of women of color are absent in the hopes of inspiring, educating, mobilizing, and speaking truth to power. There are a lot of people saying a lot of things about black women. BLACK AMERICANA: A. Black. Woman. Speaks is the response and a master class in what happens when black womanhood speaks back on a black woman's terms. Highlighting the pain, pride and power embedded in our collective narrative. A creative call to action to every girl & woman of color, your voice matters, through creatively expressing how I became a subversive heroine in my own narrative and infusing the work with the voices that shaped me & spoke up on my half decades before my parents ever met. I give an admonish and hope to inspire others to do the same. As an artist and media entrepreneur currently working on launching PRETTY FIRE as a media brand. I consider myself to be a modern day griot focusing on telling stories that redefine and re-appropriate "BLACK AMERICANA" highlighting and finding the beauty in the contradictions, pain and pride within "our stories" and thus hoping to discover and re-claim the beauty within my own. I use my creative expression as modalities to HEAL, to TEACH & EXPAND.To me the art and the artist are one I produce and curate the conversation & content  I need in the world. It is my way of using my gifts in service to the collective and a way of using the art to empower marginalized black women to mobilize. Phenomenal things happen when a black woman speaks.The body of work seeks to empower use as subversive heroines in our own lives and communities creatively positioning us as the baton pass and legacy of those black women who spoke before us, we speak our truths, cast vision for the future and call to action in the present in the hope of galvanizing young black women, specifically marginalized teens, & young black mothers with an affirmation of worth and a platform to be heard. 
THE TOUR:
Chicago - Detroit - Kalamazoo - Cuba - Nigeria - Toronto - Haiti - Atlanta - New Orleans - Houston - Dallas - St Louis - Kansas City - Oakland - LA - Philadelphia - Indianapolis - Cleveland - Charlotte - Jamaica - Miami 
Thank you for your contribution and support. I've actually been attempting to execute this vision out of pocket as a single mother and domestic violence survivor my capital is limited but my previous creative projects were viral successes on a shoe string budget this money would allow me to overcome fiscal limitations. I believe you put your time, art and money where your heart is this will be the first time any one has invested monetarily into my art and vision, which has been a saving grace and facilitated transcending circumstances and social economic barriers to impact the world for the better.
With extensive experience as a social justice, project based creative, cultural influencer, performer & teaching artist for organizations like Old Kings Orchard, New Horizon Learning Center, University of Illinois and YMCA, and key contributions to social justice & identify based viral online movements like Infamous Mother's, Beautiful In Every Shade & 50 Shades of Black and my theatrical experience with the Techtonic Theatre Company, SITI Company, WMU's production of Good Death, BACC & Fire's production Bread Crumbs which highlighted the stores of black LGBTQI populations from south West Michigan in their own words. I've devised, produced, acted, directed and performed in multiple works plays & film shorts. I've collected real stories and photographed real people and imbedded there truth into bodies of work that moved the world forward in dynamic ways. I've used my platform and artistry to advocate full time for marginalized black populations specifically women like me.
I am requesting $31,000 to cover the production of mobile art instillation components and plan to generate revenue through selling downloadable and hard copies of the creative / educational components of the instillation as well as ticket sales and future bookings. 
• Fine Art Photography Coffee Table Book
•Spoken Word E.P.
•Art Exhibition 
•Choreopoem (One Woman Show) 
•Documentary Short Film
•Theatrical Short Film  
• instillation Tour 
The Budget:
**Art Exhibit**
 Lens Rental  
Studio Space Rental
Beauty Dish
Soft Box
Reflector 
Flash 
Mounting / Hanging 
Frames / Matting
Video Projector 
Projector Back Drop
Editing Software Updates
**Stage Play** 
Stage Lighting
Black Set Cubes 
Portable Stage
Portable Sound System
Portable Back Drop
**General Needs**
Portable Seating
Storage/Studio Space 
Video Camera
Tripod 
Mics 
Speakers 
Audio Equipment
**Tour**
Hotel
Flight 
Rental Car
Meals
**Spoken Word E.P.** 
Recording Studio Rental
Producer / Engineer
Cd / Flash Drives Production
Cover Art
**Coffee Table Book**
MUA
Hair
Wardrobe
Self Publishing
**Film**
Subscription to Online Streaming Service
Editing Software
Online Archive Storage
Locations and Shooting Permits
Wardrobe 
Hair
MUA
Actors 
Mics
**The Artist**
Time / Labor / Rehearsals
Support Staff
I believe my creative foundation as a classically trained actress, spoken word poet and creative photographer with 45,000 combined social media following & viral blog features on notable platforms like Afro-Punk & For Harriet; 13 years of performance experience as well as an an educator in cross cultural settings including with at risk and special needs populations have all prepared me to do this work. 
Of particular interest I am highly skilled in: 
• Producing creative works with 4 years experience as an independent producer and 4 additional years as a co-founding member of Face Off Theatre Company 
• Experience providing guidance to students in the YMCA late night youth program. 
• Experience in implementing varies pedagogical approaches to the disciplines of drama, creative writing & visual art. 
As you are seeking to fund grassroots initiatives I hope you will consider mine. Thank you for your consideration 
The Campaign FAQs
Why does an art instillation cost $31,000  
Great question! The cost of the project is actually higher. I have already been using my creative gifts in service to and within the community for years; writing, directing, acting, dancing, shooting, advocating for & teaching around Black Americana,being a subversive heroin in your own life & intersections around black womanhood. More specifically, INSERT OLD KING. 17 poems com pletedwo photo shoots--one in Chicago and one in Madison, WI. And the work is beautiful. To initiate, we had to pay thousands up front. These upfront costs included travel costs for collaborators--one was flown in from North Carolina and the other drove in from Chapaign-Urbana, Illinois. We paid hotel fees for each as well as cover meals and parking. We paid for the cost to retain them and for any gallery work they produced as samples of what's to come upon full payment. We paid for a makeup artist at the Chicago shoot. Not to mention, we had so many other other costs that added up to make those weekends work.
So part of the cost included in this 25K comes from balances owed to our two photographers, our videographer, interviewer and our branding team. Because our collaborators believe in the mission of our work, they provided their services with the understanding that they will receive any unmet payment once funding was raised. But that was for services only. We will not receive final edited photos until all accounts are paid in full. Another part includes the cost to transcribe interviews. Because of the amount of women we interviewed, outsourcing this work is more efficient. We also are paying for a professional editor. I am an English major, but I do not have copy editing experience. So we included the cost to hire one. We are paying a professional to design the layout of the book. The rest includes the actual production of the book (this includes the anticipated costs of the first 100 books) and fundraising costs. Finally, it includes selling costs: marketing and packaging.

Nathaniel Jackson
03/02/2020
Monetary Contribution
$15
Monetary Contribution
$10
vetilo@topmailer.info
06/12/2019
Monetary Contribution
$20
Monetary Contribution
Thank You for your Support 
84 Supporters
Select this reward
25.00 USD
You Pick One
You Pick One:
*Digital Download 1 fine art photograph from an exclusive Black Americana: Tanisha Lynn Pyron Creative Photography Digital Gallery 
*Digital Download Pretty Fire the Poet Spoken Word EP 
*Black Americana T-shirt
50 Supporters
None available
50.00 USD
You Pick Two
You Pick Two:
*Digital Download 1 fine art photograph from an exclusive Black Americana: Tanisha Lynn Pyron Creative Photography Digital Gallery 
*Digital Download Pretty Fire the Poet Spoken Word EP 
*Black Americana T-shirt
*Digital Download Black Americana: A Black Woman Speaks Documentary/Mixtape
43 Left
7 Supporters
Select this reward
50.00 USD
You Pick One (level 2)
You Pick One:
* Signed fine art poster 11 x17 from an exclusive Black Americana: Tanisha Lynn Pyron Creative Photography Digital Gallery & Digital Download
* Signed Pretty Fire the Poet Spoken Word EP & Digital Download
* Signed Black Americana T-shirt
*Black Americana Fine Art Photography Coffee Table Book
*Digital Download Black Americana: A Black Woman Speaks Documentary/Mixtape
15 Left
10 Supporters
Select this reward
75.00 USD
You Pick Two (level 2)
You Pick Two:
* Signed fine art poster 11 x17 from an exclusive Black Americana: Tanisha Lynn Pyron Creative Photography Digital Gallery & Digital Download
* Signed Pretty Fire the Poet Spoken Word EP & Digital Download
* Signed Black Americana T-shirt
*Black Americana Fine Art Photography Coffee Table Book
*Signed Black Americana: A Black Woman Speaks Documentary/Mixtape & Digital Download
22 Left
3 Supporters
Select this reward
125.00 USD
Black Americana (You Pick Bundle One)
You get ONE of each
* Signed fine art poster 11 x17 from an exclusive Black Americana: Tanisha Lynn Pyron Creative Photography Digital Gallery & Digital Download
* Signed Pretty Fire the Poet Spoken Word EP & Digital Download
* Signed Black Americana T-shirt
*Digital Download Black Americana: A Black Woman Speaks Documentary/Mixtape
24 Left
1 Supporter
Select this reward
250.00 USD
Black Americana (You Pick Bundle Two)
* Signed fine art poster 11 x17 from an exclusive Black Americana: Tanisha Lynn Pyron Creative Photography Digital Gallery & Digital Download
* Signed Pretty Fire the Poet Spoken Word EP & Digital Download
* Signed Black Americana T-shirt
*Black Americana Fine Art Photography Coffee Table Book
*Digital Download Black Americana: A Black Woman Speaks Documentary/Mixtape
*Patreon Membership with EXCLUSIVE content
*2 Instillation Tickets
24 Left
1 Supporter
Select this reward
250.00 USD
One Hour Thank You Portrait Session
1 Hour Tanisha Lynn Pyron Creative Photography Portrait Session 
25 Left
0 Supporters
Select this reward
375.00 USD
Half Day Thank You Shoot
Tanisha Lynn Pyron Creative Photography Half Day Portrait Session
25 Left
0 Supporters
Select this reward
575.00 USD
Full Day Thank You Shoot
Tanisha Lynn Pyron Creative Photography Full Day Portrait Session (up to 8 hours of shooting)
25 Left
0 Supporters
Select this reward
1,000.00 USD
Black Americana (Deluxe Bundle One)
* Signed fine art poster 11 x17 from an exclusive Black Americana: Tanisha Lynn Pyron Creative Photography Digital Gallery & Digital Download
* Signed Pretty Fire the Poet Spoken Word EP & Digital Download
* Signed Black Americana T-shirt
*Black Americana Fine Art Photography Coffee Table Book
*Digital Download Black Americana: A Black Woman Speaks Documentary/Mixtape
*Patreon Membership with EXCLUSIVE content
*5 Instillation Tickets
*Tanisha Lynn Pyron Creative Photography One Hour Portrait Session
25 Left
0 Supporters
Select this reward
1,500.00 USD
Black Americana (Deluxe Bundle Two)
* Signed fine art poster 11 x17 from an exclusive Black Americana: Tanisha Lynn Pyron Creative Photography Digital Gallery & Digital Download
* Signed Pretty Fire the Poet Spoken Word EP & Digital Download
* Signed Black Americana T-shirt
*Black Americana Fine Art Photography Coffee Table Book
*Digital Download Black Americana: A Black Woman Speaks Documentary/Mixtape
*Patreon Membership with EXCLUSIVE content
*5 Instillation Tickets
*Half Day Tanisha Lynn Pyron Creative Photography Portrait Session
25 Left
0 Supporters
Select this reward
2,500.00 USD
Black Americana (Deluxe Bundle Three)
* Signed fine art poster 11 x17 from an exclusive Black Americana: Tanisha Lynn Pyron Creative Photography Digital Gallery & Digital Download
* Signed Pretty Fire the Poet Spoken Word EP & Digital Download
* Signed Black Americana T-shirt
*Black Americana Fine Art Photography Coffee Table Book
*Digital Download Black Americana: A Black Woman Speaks Documentary/Mixtape
*Patreon Membership with EXCLUSIVE content
*5 Instillation Tickets
*Tanisha Lynn Pyron Creative Photography Full Day Portrait Session 
25 Left
0 Supporters
Select this reward
3,500.00 USD
Black Americana (Private Exhibition)
*You will be added as a tour stop or receive a private exhibition of the entire instillation
* Signed fine art poster 11 x17 from an exclusive Black Americana: Tanisha Lynn Pyron Creative Photography Digital Gallery & Digital Download
* Signed Pretty Fire the Poet Spoken Word EP & Digital Download
* Signed Black Americana T-shirt
*Black Americana Fine Art Photography Coffee Table Book
*Digital Download Black Americana: A Black Woman Speaks Documentary/Mixtape
*Patreon Membership with EXCLUSIVE content
5 Left
0 Supporters
Select this reward
Rewards
Monetary Contribution
Thank You for your Support 
84 Supporters
Select this reward
25.00 USD
You Pick One
You Pick One:
*Digital Download 1 fine art photograph from an exclusive Black Americana: Tanisha Lynn Pyron Creative Photography Digital Gallery 
*Digital Download Pretty Fire the Poet Spoken Word EP 
*Black Americana T-shirt
50 Supporters
None available
50.00 USD
You Pick Two
You Pick Two:
*Digital Download 1 fine art photograph from an exclusive Black Americana: Tanisha Lynn Pyron Creative Photography Digital Gallery 
*Digital Download Pretty Fire the Poet Spoken Word EP 
*Black Americana T-shirt
*Digital Download Black Americana: A Black Woman Speaks Documentary/Mixtape
43 Left
7 Supporters
Select this reward
50.00 USD
You Pick One (level 2)
You Pick One:
* Signed fine art poster 11 x17 from an exclusive Black Americana: Tanisha Lynn Pyron Creative Photography Digital Gallery & Digital Download
* Signed Pretty Fire the Poet Spoken Word EP & Digital Download
* Signed Black Americana T-shirt
*Black Americana Fine Art Photography Coffee Table Book
*Digital Download Black Americana: A Black Woman Speaks Documentary/Mixtape
15 Left
10 Supporters
Select this reward
75.00 USD
You Pick Two (level 2)
You Pick Two:
* Signed fine art poster 11 x17 from an exclusive Black Americana: Tanisha Lynn Pyron Creative Photography Digital Gallery & Digital Download
* Signed Pretty Fire the Poet Spoken Word EP & Digital Download
* Signed Black Americana T-shirt
*Black Americana Fine Art Photography Coffee Table Book
*Signed Black Americana: A Black Woman Speaks Documentary/Mixtape & Digital Download
22 Left
3 Supporters
Select this reward
125.00 USD
Black Americana (You Pick Bundle One)
You get ONE of each
* Signed fine art poster 11 x17 from an exclusive Black Americana: Tanisha Lynn Pyron Creative Photography Digital Gallery & Digital Download
* Signed Pretty Fire the Poet Spoken Word EP & Digital Download
* Signed Black Americana T-shirt
*Digital Download Black Americana: A Black Woman Speaks Documentary/Mixtape
24 Left
1 Supporter
Select this reward
250.00 USD
Black Americana (You Pick Bundle Two)
* Signed fine art poster 11 x17 from an exclusive Black Americana: Tanisha Lynn Pyron Creative Photography Digital Gallery & Digital Download
* Signed Pretty Fire the Poet Spoken Word EP & Digital Download
* Signed Black Americana T-shirt
*Black Americana Fine Art Photography Coffee Table Book
*Digital Download Black Americana: A Black Woman Speaks Documentary/Mixtape
*Patreon Membership with EXCLUSIVE content
*2 Instillation Tickets
24 Left
1 Supporter
Select this reward
250.00 USD
One Hour Thank You Portrait Session
1 Hour Tanisha Lynn Pyron Creative Photography Portrait Session 
25 Left
0 Supporters
Select this reward
375.00 USD
Half Day Thank You Shoot
Tanisha Lynn Pyron Creative Photography Half Day Portrait Session
25 Left
0 Supporters
Select this reward
575.00 USD
Full Day Thank You Shoot
Tanisha Lynn Pyron Creative Photography Full Day Portrait Session (up to 8 hours of shooting)
25 Left
0 Supporters
Select this reward
1,000.00 USD
Black Americana (Deluxe Bundle One)
* Signed fine art poster 11 x17 from an exclusive Black Americana: Tanisha Lynn Pyron Creative Photography Digital Gallery & Digital Download
* Signed Pretty Fire the Poet Spoken Word EP & Digital Download
* Signed Black Americana T-shirt
*Black Americana Fine Art Photography Coffee Table Book
*Digital Download Black Americana: A Black Woman Speaks Documentary/Mixtape
*Patreon Membership with EXCLUSIVE content
*5 Instillation Tickets
*Tanisha Lynn Pyron Creative Photography One Hour Portrait Session
25 Left
0 Supporters
Select this reward
1,500.00 USD
Black Americana (Deluxe Bundle Two)
* Signed fine art poster 11 x17 from an exclusive Black Americana: Tanisha Lynn Pyron Creative Photography Digital Gallery & Digital Download
* Signed Pretty Fire the Poet Spoken Word EP & Digital Download
* Signed Black Americana T-shirt
*Black Americana Fine Art Photography Coffee Table Book
*Digital Download Black Americana: A Black Woman Speaks Documentary/Mixtape
*Patreon Membership with EXCLUSIVE content
*5 Instillation Tickets
*Half Day Tanisha Lynn Pyron Creative Photography Portrait Session
25 Left
0 Supporters
Select this reward
2,500.00 USD
Black Americana (Deluxe Bundle Three)
* Signed fine art poster 11 x17 from an exclusive Black Americana: Tanisha Lynn Pyron Creative Photography Digital Gallery & Digital Download
* Signed Pretty Fire the Poet Spoken Word EP & Digital Download
* Signed Black Americana T-shirt
*Black Americana Fine Art Photography Coffee Table Book
*Digital Download Black Americana: A Black Woman Speaks Documentary/Mixtape
*Patreon Membership with EXCLUSIVE content
*5 Instillation Tickets
*Tanisha Lynn Pyron Creative Photography Full Day Portrait Session 
25 Left
0 Supporters
Select this reward
3,500.00 USD
Black Americana (Private Exhibition)
*You will be added as a tour stop or receive a private exhibition of the entire instillation
* Signed fine art poster 11 x17 from an exclusive Black Americana: Tanisha Lynn Pyron Creative Photography Digital Gallery & Digital Download
* Signed Pretty Fire the Poet Spoken Word EP & Digital Download
* Signed Black Americana T-shirt
*Black Americana Fine Art Photography Coffee Table Book
*Digital Download Black Americana: A Black Woman Speaks Documentary/Mixtape
*Patreon Membership with EXCLUSIVE content
5 Left
0 Supporters
Select this reward