Stay Fashion Forward Connectivity - A shopping fashion directory promoting local boutiques, designers, stylists in the fashion industry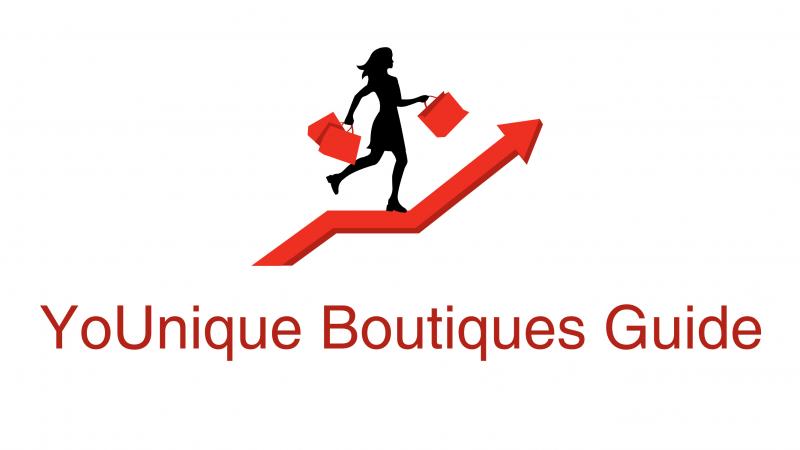 Project Description
At YoUnique Boutiques Guide we know you are approached by many sources requesting your marketing dollars. Our viewership offers a very targeted opportunity for local businesses in the fashion industry. The digital mix reaches a discerning audience that appreciates quality, creativity and wants to stay in touch with the latest trends. YoUnique Boutiques Guide offers:
Affordable Rates,
Desirable Demographics
Quality Content
Opportunity to Expand Your Reach
Maximize Your Advertising Budget.
Providing a platform for aspiring designers
Benefits:
The question is often asked what are the benefits of a niche business directory?  The answer is simple – cost. With the growing popularity of social networks and electronic applications, online niche marketing has the ability to get your message to your target market faster.
The benefits of advertising online:
Storage capacity and ease of updating.
Communicate a broader, more detailed message Modify ad contents at the click of the mouse.
Creating quality content and a strong message ensures that your marketing campaign is successful. Our primary goal is to ensure that your ad is viewed and reaches your target audience. We are able to maintain this by the characteristics of the people viewing your ad (demographic profile) which provides you a managed cost to reach your audience.  
Direct Target Market Distribution

Ad Content linked directly to your Company website (optional)

Greater Return-on-Investment (ROI)

Partnered with Top Fashion Influencers

Our goal is to empower our viewers with the best resources, tools, merchandise, fashion, beauty, hair, home décor, and inspiring blogs from trail blazers who guide you to the ultimate shopping experience with the click of their mouse. Currently this type of marketing has not been available for local boutique owners and stylists. Oklahomans clearly love to shop which is why the majority of our female business owners are in the fashion, beauty and hair industry. Now local boutiques will be able to compete and provide a greater shopping experience to their customers.  It is an easy way for you to shop. All you have to do is like photos select products and receive links to every item you see worn! YoUnique Boutiques Guide combines local boutiques, salons, local designers and Influencers who are representing and talking about their products on their blogs, it combines all the affiliate networks in one place, providing local businesses the opportunity to more effectively promote product, increase customer base  and increase revenue. Our monthly networking event Oklahoma Fashion District Network provides resourceful information where our expert panelist from the fashion industry come and share industry knowledge. We are also provide a platform for aspiring designers can showcase their product, and build partnerships with the local fashion retail community. OFDN not only provides sponsorship support - it gives our designers access to the local marketplace for mentorship, retailer feedback and potential retail outlets for their designs.

How Does YoUnique Boutiques Guide generate revenue?  YoUnique Boutiques Guide is basically the middle-man between bloggers and retailers.  We have built the relationships with the retailers, who pay to promote their product  and access to bloggers and influencers to promote these retailers.

Who is behind YoUnique Boutiques Guide? 

Shari Tisdale CEO YoUnique Boutiques Guide, Inc.

Shari Tisdale, CEO of YoUnique Boutiques Guide, Inc. and Co-Founder of Oklahoma Fashion District Network in Tulsa, Oklahoma; a fashion directory designed to promote local boutiques, fashion & jewelry designers, hair & makeup stylists. Our focus is on fashion, beauty, and hair, providing a platform for local businesses to brand themselves and reach their target market. YoUnique Boutiques Guide launched in August of 2019 where we are servicing over 75 boutiques, reaching over 7,500 viewers.

Oklahoma Fashion District Network, a monthly networking event is committed to showcasing the vast array of talent from Oklahoma that has impacted the local and national fashion design and arts industry. While our foundation is in Tulsa, the framework on which we will build is to bring greater awareness to the contributions made by Oklahomans that has shaped the landscape of the fashion design and arts world. We meet monthly bringing in experts in the industry to provide resources and growth opportunities.

Mrs. Tisdale has been a leader in the fashion industry for over 20 years. She founded and published a monthly fashion magazine ExcellStyle from 1998-2016. A local magazine that went national generating $500,000. She attended the Fashion Institute of Technology (FIT), was a fashion runway model for fifteen years in New York, California and Oklahoma, and Talent Agent.  Mrs. Tisdale's mission has been to promote the unique talents of creative artists. She believes that all cultural influences are the pure fabric of fashion. Mrs. Tisdale is committed to highlighting the achievements of boutique owners, designers, stylists and photographers giving them a platform to unveil their talents in the evolution of fashion.

Your financial support with YoUnique Boutiques Guide plays an important role in the operation of the company. Your monetary support will go towards development of a customized app for a greater shopping experience for local businesses. I will be able to work the business full-time, enabling me to better serve our clients, and reach more businesses. Purchase website, camera, video equipment, marketing and operating dollars. Your donation is greatly appreciated, no amount is too small. When you support a small business, you're supporting a dream.  Thank you for your generosity.

For additional specifications or questions, contact stisdale@youniqueboutiquesguide.com

 
Updates
The Campaign FAQs
1.The question is often asked what are the benefits of a niche business directory? 
The answer is simple – COST! With the growing popularity of social networks and electronic applications, online niche marketing has the ability to get your message to your target market faster.
2. Customers want a quick and easy way to shop. The less number of clicks or searches keeps the customer engaged and completes the sale. 
3. With the increase of Influencers in the market place. Our application will streamline and give more exposure to Influencers in their local areas.  Also enabling local boutiques to compete and expand their target reach.
Demetria Tisdale
01/20/2020
Monetary Contribution
$50
Monetary Contribution
$50
Cedric V. Alexander
01/03/2020
Expert Business Package
$125
Monetary Contribution
2 Supporters
Select this reward
25.00 USD
Diva Package
Just Because I Care You will receive our Influencer Package full Business listing and marketing for 3-Months for the price $25.00
DIVA
-Top 3 Search -Top Tier Search
-Listed in 2 Categories
-Link to Your Website
-Link to Social Media Pg
-Shared Feature on Video Ad Promo
-Publish 1 Photo Albums
-Publish 1 Sale/Event per Month
-Publish Unlimited -Reviews/Rating/Favorites Articles
-Publish Video
Review/Rating/Favorites
49 Left
1 Supporter
Select this reward
49.00 USD
Fashionista
Just Because I Care You will receive our Expert Package full Business listing and marketing for
6-months for $49
 EXPERT
($199.99 Annual package cost)
 -Top Tier Search
- Featured on Home Page
-Listed in 5 Categories
-Link to Your Website
-Featured on Home Pg
-Link to Social Media Pg
-Shared Feature on Video Ad Promo
-Publish Unlimited Number of Articles
-Publish 2 Photo Albums
-Publish Sale/Event per Month
-Publish Unlimited -Reviews/Rating/Favorites Articles
-Publish Video
-Quarterly Social Media Promotion
Review/Rating/Favorites
50 Left
0 Supporters
Select this reward
74.50 USD
Influencer Business Package
Just Because I Care You will receive our Influencer Package full Business listing and marketing for one year for the price 50% discount for $74.00
INFLUENCER
($149.99 Annual package cost)
-Top 3 Search -Top Tier Search
-Listed in 2 Categories
-Link to Your Website
-Link to Social Media Pg
-Shared Feature on Video Ad Promo
-Publish 1 Photo Albums
-Publish 1 Sale/Event per Month
-Publish Unlimited -Reviews/Rating/Favorites Articles
-Publish Video
Review/Rating/Favorites
50 Left
0 Supporters
Select this reward
99.00 USD
Expert Business Package
Just Because I Care You will receive our Expert Package full Business listing and marketing for one year for the price 50% discount for $99
 EXPERT
($199.99 Annual package cost)
 -Top Tier Search
- Featured on Home Page
-Listed in 5 Categories
-Link to Your Website
-Featured on Home Pg
-Link to Social Media Pg
-Shared Feature on Video Ad Promo
-Publish Unlimited Number of Articles
-Publish 2 Photo Albums
-Publish Sale/Event per Month
-Publish Unlimited -Reviews/Rating/Favorites Articles
-Publish Video
-Quarterly Social Media Promotion
Review/Rating/Favorites
49 Left
1 Supporter
Select this reward
Rewards
Monetary Contribution
2 Supporters
Select this reward
25.00 USD
Diva Package
Just Because I Care You will receive our Influencer Package full Business listing and marketing for 3-Months for the price $25.00
DIVA
-Top 3 Search -Top Tier Search
-Listed in 2 Categories
-Link to Your Website
-Link to Social Media Pg
-Shared Feature on Video Ad Promo
-Publish 1 Photo Albums
-Publish 1 Sale/Event per Month
-Publish Unlimited -Reviews/Rating/Favorites Articles
-Publish Video
Review/Rating/Favorites
49 Left
1 Supporter
Select this reward
49.00 USD
Fashionista
Just Because I Care You will receive our Expert Package full Business listing and marketing for
6-months for $49
 EXPERT
($199.99 Annual package cost)
 -Top Tier Search
- Featured on Home Page
-Listed in 5 Categories
-Link to Your Website
-Featured on Home Pg
-Link to Social Media Pg
-Shared Feature on Video Ad Promo
-Publish Unlimited Number of Articles
-Publish 2 Photo Albums
-Publish Sale/Event per Month
-Publish Unlimited -Reviews/Rating/Favorites Articles
-Publish Video
-Quarterly Social Media Promotion
Review/Rating/Favorites
50 Left
0 Supporters
Select this reward
74.50 USD
Influencer Business Package
Just Because I Care You will receive our Influencer Package full Business listing and marketing for one year for the price 50% discount for $74.00
INFLUENCER
($149.99 Annual package cost)
-Top 3 Search -Top Tier Search
-Listed in 2 Categories
-Link to Your Website
-Link to Social Media Pg
-Shared Feature on Video Ad Promo
-Publish 1 Photo Albums
-Publish 1 Sale/Event per Month
-Publish Unlimited -Reviews/Rating/Favorites Articles
-Publish Video
Review/Rating/Favorites
50 Left
0 Supporters
Select this reward
99.00 USD
Expert Business Package
Just Because I Care You will receive our Expert Package full Business listing and marketing for one year for the price 50% discount for $99
 EXPERT
($199.99 Annual package cost)
 -Top Tier Search
- Featured on Home Page
-Listed in 5 Categories
-Link to Your Website
-Featured on Home Pg
-Link to Social Media Pg
-Shared Feature on Video Ad Promo
-Publish Unlimited Number of Articles
-Publish 2 Photo Albums
-Publish Sale/Event per Month
-Publish Unlimited -Reviews/Rating/Favorites Articles
-Publish Video
-Quarterly Social Media Promotion
Review/Rating/Favorites
49 Left
1 Supporter
Select this reward