International Women's Day 2020 celebration, honoring and featuring climate refugees stories from Australia, Puerto Rico, Haiti and Japan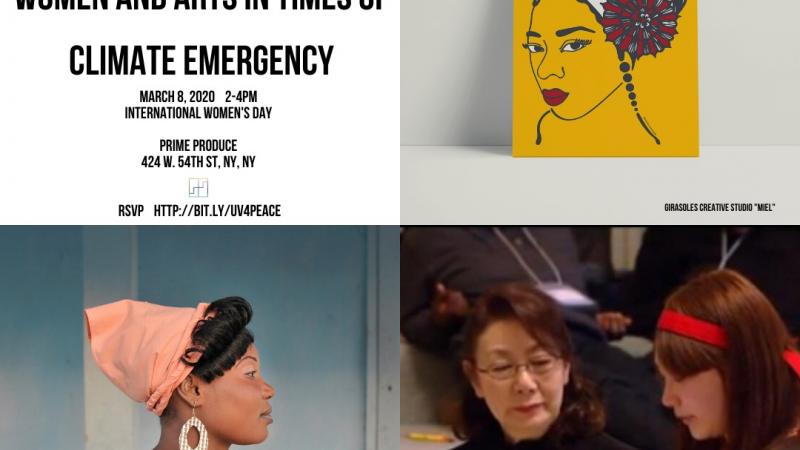 Project Description
EVENT DESCRIPTION
On International Women's Day 2020, and ahead of the 64th session of the UN Commission on the Status of Women (CSW), we will mark this day with a global celebration to unite efforts for humanitarian and environmental justice in front of the current climate emergency.
From the the wildfires in Australia to the earthquakes in Puerto Rico, Haiti & Japan, our consciousness has been hit and our hearts touched triggering a push for collective (re) action and engagement for a truly sustainable life for all lives on the Earth.
The voices of climate refugees have yet to be echoed enough.
This celebration will hence shed light on the impactful stories of those who've been affected by environmental degradation and disasters. It will feature and amplify the diverse voices of artists using different forms of artistic expression to share their own experiences and ways to overcome adversity.
They will represent the people, countries, continents, genders and generations, all feeling the effects of these natural disasters and showcasing that the impact is NOT only on specific people but universally felt by all.
Artists Line up :
- Jennifer Reed ; Singer
- Nicola Lo Calzo ; Photographer
- Yuko Kudo ; Singer
- Girasoles Creative Studio ; Visual Artist
- Edwin Garcia; musician
- Taiko Masala ; Taiko "Japanese Drum" 
Performances will be followed by a Q&A session and networking opportunity. 
Drinks and snacks will be served.
Join us for this joyful, inclusive, interactive and solidary celebration and experience
RSVP : http://bit.ly/UV4PEACE
Updates
The Campaign FAQs
1. How can I be part of the event ?
Attending on March 8. All details and RSVP on Eventbrite : http://bit.ly/UV4PEACE
25.00 USD
Free gadgets
Beautiful magnets, pins and other UV4P related gadgets 
30 Left
0 Supporters
Select this reward
Monetary Contribution
0 Supporters
Select this reward
Rewards
25.00 USD
Free gadgets
Beautiful magnets, pins and other UV4P related gadgets 
30 Left
0 Supporters
Select this reward
Monetary Contribution
0 Supporters
Select this reward