Generation Mobility Fast Tracks Wellness Services
for Families Living Abroad - and Waives Costs in May and June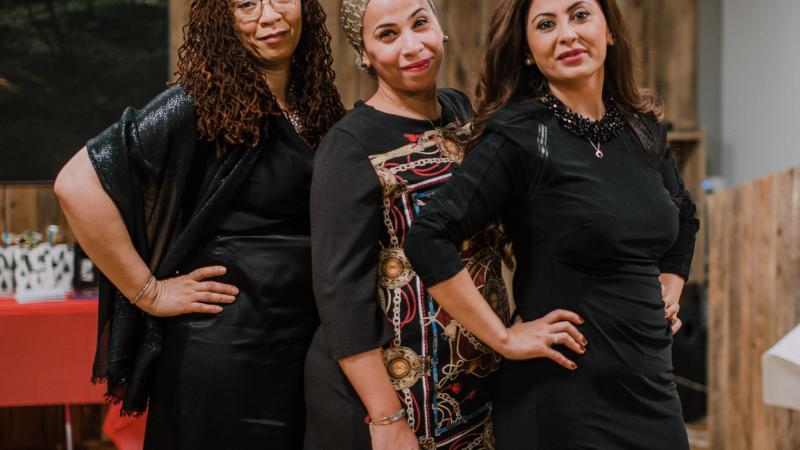 Project Description
San Francisco, CA — Sometimes timing is everything. As Generation Mobility's team watched the spread of the coronavirus and the anxiety left in its wake, it knew what it had to do. The company – which focuses on making the transition smoother for those working abroad – moved up the summer launch date for its mental health counseling service, called SALUS, and is offering it for free in May and June.

Generation Mobility was founded in 2019 by Alicia Partee, a former Silicon Valley leader; Walaa Abuelmagd, a Ph.D. in immigrant health; and Kathra Saba, a public and private sector business leader – all of whom shared similar challenges in relocating to new countries for work opportunities. Their organization offers digital products and services to companies that have a global workforce. It helps those employees and their families adjust to the challenges of suddenly being immersed in a new culture, language and other unfamiliar aspects of their new home. Its new SALUS service takes the company's mission a step further.

SALUS, which is named for the Roman goddess of safety and wellbeing, is a web-based platform that connects individuals to thrive-abroad experts, (i.e. licensed counselors, therapists, psychologists, and certified coaches).  To date, they have onboarded thrive-abroad experts from more than 20 countries who speak over 24 languages.

"The COVID-19 pandemic has raised fear and stress to a whole new level in people in general but it is amplified even more for those who are in unfamiliar places or separated by vast distances from loved ones," explained Partee. "As soon as we saw that the coronavirus was defining a temporary new normal, we threw our timeline out the window and fast-tracked introduction of SALUS so it could provide immediate support. To encourage companies to make this important service available, we also decided to offer it at no cost in May and June, which hopefully, will signal the end of the crisis." 

To the founders, the issue is a very personal one. They each know first-hand the emotional toll that often goes hand in hand with a relocation, having struggled with their own career moves.

"We each suffered socially, emotionally and professionally in our own ways as a result of our individual moves. We all agreed that if a global health emergency had been thrown into the mix, we are not sure how we would have handled that," said Partee. "These are incredibly difficult times and we do not want people to feel afraid and alone in their new homes." 

Generation Mobility is working with the Founder Institute, the world's largest pre-seed start-up accelerator, to spread the word about SALUS; and mental health professionals and certified coaches are being sought who are willing to donate their time to help the cause. They can sign up at www.genm.global/thrive-abroad-experts. Companies interested in helping subsidize the program or offer the service to their employees can find out more at www.genm.global/business-employer.

For more information about Generation Mobility, go to  genm.global.

With over 300 million people living outside fo their home country, we are seeking funding to subsidize the cost of providing services for free during May and June  

Thank you very much for taking the time to review our campaign.  We are grateful for your support. 
Updates
The Campaign FAQs
Generation Mobility Presents SALUS
Building Healthier, More Effective Global Workforces
Abstract
A mobile workforce, in our world, is neither a luxury nor even an advantage. In order to survive, businesses have shifted away from their office buildings and into their employees' homes. Trying to bootstrap a system composed of a thousand moving parts, many businesses are seeing for the first time ever how daunting a task it is to cultivate a mobile workforce around the globe.
As the coronavirus pandemic rages on, these issues have taken on an even greater significance, forcing even those employers who had resisted change to acknowledge the realities of the present day. We need to consider how the current situation impacts people's mental health and what this means for the businesses that employ them.
Hence, we can ask ourselves: what does overseas employment look like today – and what will it look like in the future? While the coronavirus pandemic disrupts everyday life, there are certain trends that we know will continue to expand. In this whitepaper, we will present our thoughts on this topic and the solutions that we at Generation Mobility are offering.
I. Our Background
Change has always been, and always will be, the only constant variable that we can unceasingly foresee. These constant alterations, however, have clearly gained momentum as our technological development has made it possible for us to communicate globally with ease and travel vast distances in mere hours. These changes have led to a much more liquid global workforce, which is more adaptable and mobile than ever before.
The primary beneficiaries of this process are the companies that manage to seize this opportunity in order to establish their position in the market even more firmly. According to a McKinsey report, the public companies in the top quartile for ethnic and racial diversity in management were 35% more likely to generate larger financial returns than those with culturally homogeneous managements.
However, it is common for employees working overseas to face a range of issues, and often the least of these are issues with their actual responsibilities as employees. Rather, they face issues adjusting to their new surroundings, trying to find their "new'' in an environment that is unfamiliar and trying to maintain their mental health when they are separated from the routines and support systems that they could rely on back at home. It is a proven psychological fact that emotional health struggles decrease work efficiency and productivity, which is why it is important that each and every employee can access the resources necessary to address these negative factors and decrease their impact on their professional life. Of course, these issues may not relate to employment responsibilities directly, but in one way or another, they will spill over in the employees' work, causing a "snowball effect." One personal challenge leading to a professional challenge, which exacerbates the original personal challenge – and so on.
We care because we have been there. Our founders Alicia, Walaa, and Kathra through such challenges, all having moved from their home countries. Three different migrant stories, with similar emotional challenges! They can relate to the frustration that often follows overseas relocation, and they know how it can impact organizations negatively. At a time in history when organizations need to be flexible and able to navigate the globe, these issues are of the utmost importance for all employers who wish to remain competitive.
As the coronavirus pandemic rages on, these issues have taken on an even greater significance, forcing even those employers who had resisted change to acknowledge the realities of the present day. A mobile workforce, in our world, is neither a luxury nor even an advantage. In order to survive, businesses have shifted away from their office buildings and into their employees' homes. Trying to bootstrap a system composed of a thousand moving parts, many businesses are seeing for the first time ever how daunting a task it is to cultivate a mobile workforce around the globe. This paragraph seems duplicative, almost verbatim, of the paragraph in your abstract. I realize that may have been intended
While we cannot say for sure what the future holds or what our world will look like in the aftermath of this pandemic, we are all aware of the trends that have taken hold and that will continue to expand in the years ahead. Increasingly, global workforces are going to be the norm, and unless businesses address the issues inherent to this shift and integrate workable, effective solutions into their global workforce strategy, they are going to fall behind.
Understanding that personal struggles impact even the most highly trained and educated professionals in terms of their workplace productivity and efficiency, It would seem to be in every prominent company's best interest to invest in a new work environment as soon as possible., Helping employees of different cultural backgrounds integrate into companies makes them more efficient and productive employees, and in addition, it is proven that when a company is involved in their employee's well-being, their work ethic will grow stronger. We bring to the table years of experience, thought leadership, and expertise in this realm, and we serve as guides into a brighter future – one in which workers overseas can access the support that they need to maintain their mental health and thrive. Because of our unique understanding of these issues, we have been able to engineer solutions that are consistent and reliable and function in the way that businesses need them to function.
II. How We Work
We are committed to offering our clients the tools that they need to operate globally, moving more agilely through overseas expansions and putting into place systems that will work for them in the long term. Our goals always align with our clients' goals: we help build reputations as employers of choice, improve their return on investment (ROI) through overseas employment, and keep their employees healthy and efficient. Serving clients who care about their employees, we take a personal approach to what we do, communicating openly with our clients about their unique needs and what a successful global workforce looks like to them.
We "practice what we preach." Our founders have operated as a mobile workforce, which is why we comprehend on a deep level how quickly such a workforce can encounter personal obstacles that start to hinder day-to-day work. We continue to operate as a global workforce ourselves as well, traversing the world while we are running Generation Mobility.  This allows us to better understand the challenges and situations that our clients' employees find themselves up against. Committed to gleaning real insights into employees' minds, we take our work very seriously, approaching it from a place of constant learning and development.
At Generation Mobility, we encourage a smoother form of overseas placements, helping employees to acclimatize to their new environments more quickly and to communicate with someone in their own language – which is especially useful if the overseas placement is in a country where the local language is something other than the employee's language.
We offer ideas, training, and other resources designed to position employees for ongoing success. While our services can address pain points as they arise and as employees bring them up, our services can also prepare employees for some of the most common challenges that expatriates experience. For organizations committed to fostering their talent, our services respond to their most pressing needs and free them up to focus on other areas of their business, saving them time and energy that they may otherwise have to spend trying to solve these complex challenges themselves.
Tailoring our services to our clients, we do not believe in a one-size-fits-all solution. We work with businesses to determine how our therapy and well-being offerings can make the greatest difference to them and what their employees need most out of us. Recognizing that these challenges tend to persist over long periods of time, we collaborate with our clients and their employees – and our primary concern is always the employees' well-being.
In the next section, we will focus on our innovative, web-based platform, SALUS, which connects individuals to thrive-abroad experts, (i.e. licensed counselors, therapists, psychologists, and certified coaches).
III. Introducing SALUS
SALUS, named for the Roman goddess of safety and well-being, offers premier, cutting-edge services directed toward keeping employees in our clients' global workforces of sound mind and prepared to manage any new challenges that may arise. We emphasize the potential that our services present for employees' personal growth, helping them to understand themselves more fully so that they can approach their environments more effectively. Streamlining support services, SALUS makes counseling and other key resources more accessible than they have ever been before. In turn, it is putting employees into a more stable position to do the work that they need to do from anywhere in the world.
Although planned for a summer 2020 launch, SALUS will go live on May 1st, and it will be available free of charge throughout May and June, which is our way of showing solidarity with all people around the world as we forge through the coronavirus pandemic. We believe strongly in the notion that we are all in this together, and although a launch this early was not part of our plans originally, we knew once the pandemic unfolded that we needed to do something to help. SALUS is completely operational, ready for the market, and poised to make a difference in people's lives. To make this service free to end-users, we are working in conjunction with businesses that have committed themselves to serve the public good during this difficult time.
We intend to collaborate with mental health professionals and certified coaches who are willing to donate their time to this cause, proving that the SALUS model is viable and in-demand and that employees can benefit from the services that SALUS puts within their reach. By partnering with mental health professionals and certified coaches, we are taking a major step toward building SALUS into the center of a community, encouraging people to see how crucial these services are and how ubiquitous mental health issues are, especially among employees who find themselves working overseas.
SALUS is a comprehensive mental health counseling platform that offers such services as psychotherapy, detailed plans, coaching sessions, training, and webinars. We intend for all of these services to support long-term success for the organizations and employees who rely upon them, optimizing our offerings based on the feedback that we generate. Available in both individual and group formats, our services will take into account the distinct challenges that overseas employees must face and the strategies that have historically worked for other people who were in the same situation. We will update our services on an ongoing basis, bringing in fresh perspectives in order to keep our offerings evergreen.
On SALUS, employees can access the licensed counselors, therapists, psychologists, and certified coaches that they need in order to take control of their own mental health and find a way forward from the challenges in their lives. We like to call these providers "Thrive Abroad Experts."  Our platform makes the entire process straightforward and easy to navigate. 
For employees who are struggling to adapt to their new overseas role, SALUS represents a lifeline. In times past, as our founders can attest, pursuing overseas employment was akin to swimming out into uncharted waters, the difficulties overbearing and support nowhere in sight. While we cannot eliminate the difficulties of overseas employment outright, we can make support available to employees, avoiding the disastrous outcomes that have remained far too common in such situations. We can equip employees and the family members who are traveling by their side with the tools necessary to adapt to their environments and maximize the talent that made them attractive to their employers in the first place.
Fear, stress, anxiety, loneliness, depression, and even general confusion about life: on SALUS, there is no challenge that is out of bounds.  Further, we encourage transparency among our clients' employees, as we want the users of SALUS to feel safe and comfortable sharing their emotions, thoughts, opinions, and hardships. Our mental health professionals and certified coaches are there to help and guide the users of SALUS, liberating them from the constraints they may be feeling in their new environments in order to unleash their full potential, for the benefit of both themselves and their employers. We are compliant with both HIPAA and GDPR, and all of our services are 100% confidential.
To date, we have on-boarded thrive abroad experts who hail from more than twenty countries and who are fluent in more than 24 languages total. Going forward, we are confident these numbers will continue to increase as well. We are ready to support our clients and their employees through SALUS, helping them make the most of their overseas placements and showing them that the difficulties they are facing do not need to be permanent.
In conjunction with the Founder Institute, which is the world's largest pre-seed start-up accelerator, we at Generation Mobility are striving to raise awareness of SALUS and introduce it to the organizations and executives who can best help us deploy it. Toward that end, we are also starting to enlist companies that are interested in funding SALUS and introducing pilot programs to their employees. Because this is a program that works and evolves while it is in motion, we are relying on pioneering professionals who share our vision to turn this into the world-class platform we know it can be.
IV. Who We Are
Alicia Partee, CEO
Alicia is driven by a single, powerful vision: to break down the barriers that prevent people and businesses from thriving globally and to use technology to scale the solution.
For over 20 years, Alicia worked in the disruptive, fast-paced world of Silicon Valley, where she led projects and teams at Fortune 500s, startups, and non-profit organizations. Even on her earliest projects, she was recognized for her keen business insight and entrepreneurial approach to translating concepts into action. Working overseas, she has experienced fully the challenges and difficulties that come with trying to navigate a new environment while also trying to keep up with employment responsibilities. She has coached and counseled businesses and professionals, in addition to acting as a Licensed Marriage and Family Therapist for nearly three years. A graduate of Western Seminary, she earned her MA in Marriage and Family Therapy. She also holds a BS in Theology and Leadership from William Jessup University and an AS in Information Systems from the University of Phoenix. 
Kathra Saba, COO
Kathra is driven by a genuine love for human beings and their well-being both personally and professionally. She knows first hand about the challenges that arise for global professionals who move abroad both voluntarily and involuntarily.
For the last 17 years, Kathra has studied and worked at the intersection between leadership, change, and innovation. As a public and private sector business leader, qualified family therapist, and proactive social scientist, she has been involved in various impactful initiatives. Kathra's strength lies in connecting individuals, organizations and programs to create 360-degree solutions that truly impact and improve lives.  
Some of Kathra's initiatives include founding Red Sun Norway, an NGO that provides emergency relief in war-torn regions; managing settlement and introduction programs for refugees; and leading startups such as Generation2Lead, which focused on career transition for global professionals and now Generation Mobility – an organization aimed at helping businesses, employees, and their families to thrive globally, especially after the relocation. She holds a BS in business administration and a MA in public policy from University of Agder, and she has also studied guidance and coaching at OsloMet while working as a systemic family therapist at the Scientific University of Oslo. 
Walaa Abuelmagd, CIO
Over the past 20 years, Walaa has been an active voice on immigrant healthcare nationally and internationally. She has broad experience and extensive healthcare research at a doctorate level that allows her to understand the complex challenges global talents can face personally and professionally, helping them overcome these challenges more effectively. 
Challenging people to push boundaries, break down barriers, and question patterns, Walaa has been consciously building professional and social bridges to narrow the cultural gaps that prevent societies from harnessing the true power and potential of diversity. 
In 2014, Walaa was one of 25 candidates in Norway on the Global Future leadership program for highly-skilled immigrants, conducted by the Confederation of Norwegian Enterprise. The program led her to co-found Generation2Lead, Authentigration and Generation Mobility, organizations aimed at the well-being and professional progress of people who have just moved across borders nationally and internationally. 
As Chief Information Officer and Co-founder of Generation Mobility, she focuses on creating solutions to help companies take care of their global workforce and their families so that people and businesses can grow and be their best anywhere they go.
Danny McLane, CTO
As the head of Jammi Technology, Danny has built his reputation as a leader in software development. His firm has built and launched multiple mobile, web, and enterprise software applications, and he is capable of scaling tools according to client needs. He served as a Board Member of the Silicon Valley Black Chamber of Commerce for two years, and he earned his BS in Industrial and Systems Engineering at San Jose State University. An educator as well as an entrepreneur, he has overseen workshops at Stanford University in entrepreneurship and others in blockchain development and executive leadership.
Tracey J W Ford, CMO
Tracey J W Ford is the Director of International Operations at PESA, a position that he has held since April 2018. He previously served as the Chief Sales and Marketing Offer at Norwia, of which he was also a founding member. He attended Columbia Business School, completing the Digital Strategies for Business program, and he has been a marketing professional for more than 25 years. His experience has been elevated by playing key roles in the development of company profiles through a combination of engineering, sales, and marketing disciplines in an international environment. 
Generation Mobility is making strides toward improving mental health for overseas employees because of our passion, our expertise, and our extensive professional network. For continued growth, however, we rely on the support and connections that we are forming with other organizations and potential clients. If our services sound like they would be of interest to you, we would love to discuss them with you in greater detail. To learn more about our team, SALUS, and what we are doing to improve overseas employment situations at large, please visit genm.global or contact us today at info@genm.global.
Monetary Contribution
0 Supporters
Select this reward
Rewards
Monetary Contribution
0 Supporters
Select this reward