Sweetkiwi makes the best tasting, low calorie whipped yogurt using real milk sourced from grass fed cows and real ingredients.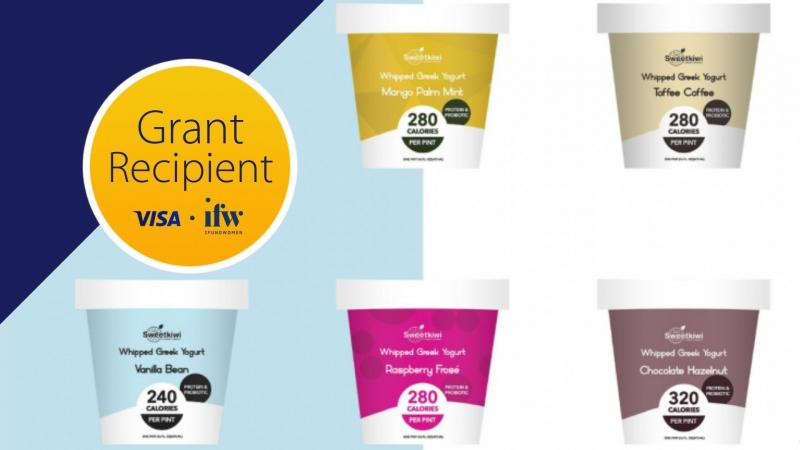 Project Description
About Sweetkiwi
Sweetkiwi makes the best tasting whipped greek yogurt using real milk sourced from grass fed cows and real ingredients. Our pints are packed with protein & probiotics,  all lower than 320 per pint yet tastes amazing. We launched into the market to fill the gap for consumers who love frozen yogurt but wanted a clean label healthy greek frozen yogurt made with real yogurt and tastes like yogurt. 
Founder: 
My name is Ehime Eigbe and I am the Founder of Sweetkiwi. I started making my own frozen yogurt recipes when I had a healthy scare and had to be on a strict diet, being a huge ice cream lover giving up ice cream was tough so I start playing around with ingredients and created a frozen yogurt that was a good fit for my diet.  This is how Sweetkiwi was born. In September 2018, I was accepted into a food accelerator program called Union Kitchen Accelerator, through this we launched Sweetkiwi into retail grocery stores and we continue to push the brand to bring this same treat closer to the consumers who need and love it. 
Sweetkiwi has recently been launched into Whole Foods Market in the DMV area and signed a distribution deal with RainForest distribution for the Mid-Atlantic region. You can also find us in Union Kitchen grocery stores, Dawsons Market, Yes Organic, Streets Market, Eddies of Roland Park, Grape & Bean stores. You can also place orders through our website wwww.sweetkiwi.com We seek your support as we continue to bring this delicious healthy frozen dessert alternative to more consumers who need it. We make all our products out of a co-production facility in Washington, DC. 
Why We are Raising Funds: 
We are raising funding to help our rapidly growing business meet our objectives and support said growth. As we sign on new distributors and new retailers, we need to increase production and grow our team to support this.  
Use of Funds: 
Your support will help us achieve the following; 
Buy supplies in bulk to advantage of economies of scale. 
Grow our team and bring in talent to support growth. 
Launch new products  
Market our brand 
Team Sweetkiwi thanks you for your support on here and in store as we continue to grow this brand. Please follow us on our social media platforms @sweetkiwiusa we look forward to you making us a part of your everyday life. 
Updates
The Campaign FAQs
Frequently Asked Questions:

Monetary Contribution
$10,000
Monetary Contribution
1 Supporter
Select this reward
Rewards
Monetary Contribution
1 Supporter
Select this reward