SURGE is a feature documentary about the record number of first-time female candidates running for office in 2018.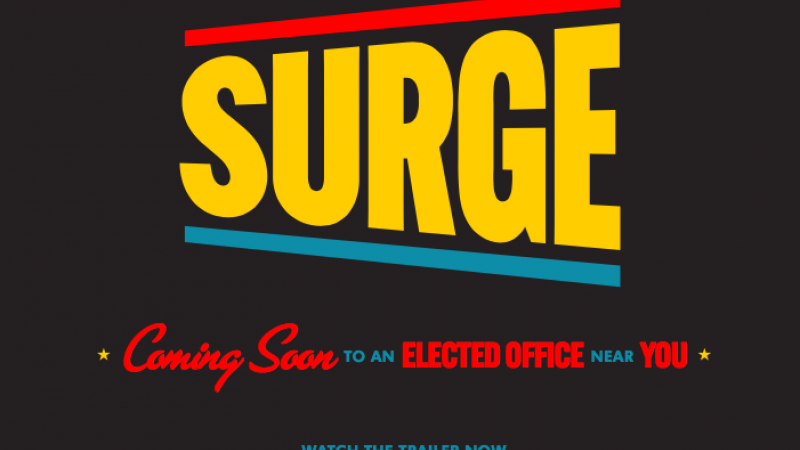 Project Description
Hello and thanks for visiting our campaign! We are raising money to edit our film in spring 2019. Please see info about SURGE below. 
SURGE is about this extraordinary moment, where an unprecedented number of first-time female candidates ran and won in 2018. Tired of being ignored, angered by current government policies, and anxious about the future of America, thousands of women across the country were inspired to run for office in what became a barrier-breaking, historic midterm election.
SURGE follows three female congressional candidates from Texas, Illinois and Indiana on their exhaustive and exhilarating journeys to Election Day. Diverse in age, ethnicity and background, these candidates face uphill battles to raise money, beat incumbents and flip their red districts blue. SURGE explores the momentum of the #MeToo and #TimesUp movements that fueled a wave of candidates and gave a collective sense of urgency to the 2018 election.
The legacy of these campaigns is also historic. They created a foundation for other women to follow. In Texas, Indiana and Illinois, SURGE candidates built powerful field operations, networks of donors, and ultimately turned out voters in record numbers in districts previously ignored.
So, what does this mean for the 2020 election? Will more women run? And will more women —of all ages — get inspired to participate in the political process?
SURGE looks to the future, investigating where we are now and where we need to go to get closer to gender parity not only in Congress but in local and state offices as well.
Recent Press!
Surge featured in a Shonda Rhimes' Shondaland article on 11/14/18
Surge clip with Lauren Underwood shared by Ava DuVernay @ava 11/08/18
Surge played on MSNBC's Rachel Maddow Show on 11/7/18
ABOUT THE FILMMAKERS
Hannah R. Rosenzweig
Hannah is a filmmaker, producer, communications strategist and teacher. She is Founder and President of Intention Media Inc., a social issue media company based in NYC. Since serving as Hillary Clinton's personal videographer for her 2007-2008 campaign, she has produced dozens of TV ads and digital videos for women candidates and elected officials. She was a National Organizer for the Women's March on Washington and a Strategic Advisor to Women's March Youth Empower. She produced the award-winning PUPPET film, which premiered at DOC NYC and was distributed on Netflix, iTunes and Sundance Selects. In 2017, she was awarded a JustFilms Fellowship from the Ford Foundation and the Rockwood Leadership Institute for leaders working at the intersection of storytelling, film and social change. Hannah holds a masters degree from Columbia University and a BA from Oberlin College.
Wendy Sachs
Wendy is a modern multi-hyphenate. A passionate storyteller, writer and sought after speaker, Wendy is an Emmy award-winning network television producer (Dateline NBC, CNN, FOX), former Capitol Hill press secretary, editor-in-chief of Care.com, media relations executive, and the author of two critically acclaimed books FEARLESS and FREE— How Smart Women Pivot and Relaunch their Careers and HOW SHE REALLY DOES IT: Secrets of Successful Stay-at-Work Moms. Wendy has been recognized by MAKERS and was also named in 2017 on Forbes.com as a "40 Over 40 Woman to Watch."
Tanya Selvaratnam
Tanya Selvaratnam is a writer, an actor, an activist, and an Emmy-nominated and Webby-winning producer. Most recently, she was the Executive Video Producer/Director for GLAMOUR Women of the Year and Planned Parenthood. She has produced work by Gabri Christa, Chiara Clemente, Liz Garbus, Catherine Gund, Hannah Rosenzweig, Mickalene Thomas, Le Tigre and Laura Parnes, and Carrie Mae Weems; and her films have played on HBO, IFC, PBS, Starz, and the Sundance Channel and premiered at the Sundance, Berlin, Tribeca, and SXSW festivals, among others. She is the author of THE BIG LIE: Motherhood, Feminism, and the Reality of the Biological Clock.
OUR TEAM ALSO INCLUDES: Consulting Producer: Wendy Ettinger. DPs: Margaret Byrne and Letty Gallegos. Our editor is Laura Tomaselli.
THE BIRTH OF SURGE 
As is the origin of many creative endeavors, ours was birthed both from a personal place and the need to tell an incredible story. The idea for SURGE became obvious a few weeks after the Women's March in 2017. Like millions of others, we were horrified, anxious and depressed by the stunning election results and took to the streets in sisterly solidarity. But in the weeks after the inauguration and March, our misery shifted into excitement, by what we were witnessing across America.
Thousands of women were raising their hands, throwing their hats into the ring and declaring that they wanted to run for office. Over the next few months, those numbers reported by EMILY's List and other women's political organizations, continued to surge. A fierce grassroots activism, unlike anything we had seen in decades, was bubbling up. Women were not only gathering in convention halls and homes to write postcards and call their members of Congress, they were exploring their own run for elected office in unprecedented numbers. Something dramatic was happening. Something powerful and historic.
And we wanted to capture it.
We started shooting in June 2017 at the Women's Campaign School at Yale, a bipartisan, week-long campaign boot camp in its twenty-fourth year. Patti Russo, its executive director, said that they had received a record number of applications for the program. We then began picking candidates and campaigns to follow. Our intention was to make the documentary bi-partisan, to showcase the wave of both first-time Democratic and Republican female candidates running in 2018. But what we found, was that among first-time candidates, nearly everyone running was a Democrat. The handful of Republican women we did identity, declined to be part of this project.
So far we have filmed in Florida, Illinois, Indiana, New Jersey, Washington DC, Connecticut and New York City, amassing an amazing collection of footage of female candidates from around the country. While we focus on three -  Lauren Underwood (IL 14th), Jana Lynne Sanchez (TX 6th) and Liz Watson (IN 9th) - many candidates will appear in our final film.
The goal of SURGE is to capture this historic moment by telling stories of women running for office in communities across the country. We want to demystify what running for office really looks like. We want to explore what has held women back and what needs to change to get more women elected. Historically, women have not had the same networks as men, access to campaign dollars, or even the confidence or emotional support to run.
That is all changing.
Last fall, when we first met Joanna Cattanach, a candidate for TX House District 108, she said, "There is a famous saying that you can't be what you can't see. So many of us are in races where a woman has either never run or definitely never won. So where is our example?"
Six months later, on March 6, Joanna won her primary in President George W. Bush's home district.
To Joanna, we say, you are our example and to all of the women of SURGE we see you and because of you, US politics will never be the same.
Our hope is that this film inspires women and girls to fully engage in the political process, to feel empowered and to realize just how loudly their voices can be heard.
Updates
Monetary Contribution With No Reward
$20
Rachel Jillian West
05/09/2019
Dahna Goldstein
05/04/2019
Monetary Contribution With No Reward
We would be beyond grateful for your support so we can keep shooting SURGE and have a completed film to distribute around Election Day, November 2018. We know that everyone loves awesome swag, so we are offering some pretty sweet giveaways and, of course, our heartfelt thanks!
xo,
Hannah, Wendy and Tanya
98 Supporters
Contribute
$25
Shoutout on Social Media
40 Supporters
Select this reward
$50
SURGE Buttons
Awesome Pentagram-designed SURGE Button + your name in the website credits
15 Supporters
Select this reward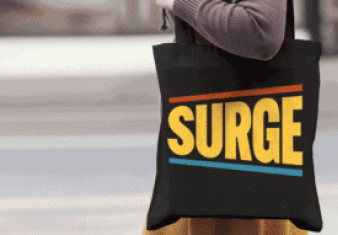 $75
SURGE Tote Bag
Fabulous Pentagram-designed SURGE tote bag + your name in the on-screen film credits
12 Supporters
Select this reward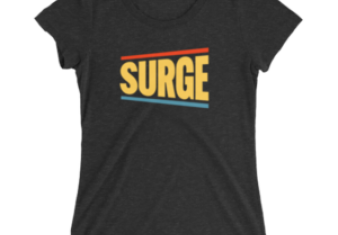 $100
SURGE Tee - American Apparel Women's and Men's styles
Tee with Pentagram-designed, Wonder Woman inspired SURGE logo + your name in the film credits
31 Supporters
Select this reward
$250
SURGE Swag + invite to the SURGE premiere
SURGE Tee, Fabulous Surge tote bag + invite to the SURGE premiere party/screening + your name in the film credits
16 Supporters
Select this reward
$500
3 Original Posters from Amplifier Art's "We The People"
3 original posters from Amplifier Art's "We The People" campaign for the Women's March. See images here + tote bag + invite to SURGE premiere party/screening + your name in film credits
3 Supporters
Select this reward
$2,500
Media Training
Media Training with Wendy and Hannah - we will get you media ready for an interview, a TV segment, podcast, radio show or even a keynote + all of the swag and party fun above, invite to premier party/screening +your name in film credits
5 Left
0 Supporters
Select this reward
$10,000
Scripted TEDx talk written by Wendy Sachs
Have you always wanted to give a TEDx talk, but you don't know how? Not sure how to write a talk that will get attention? Wendy will write a kickass talk and get you ready to crush it on stage + all the cool stuff above
2 Left
0 Supporters
Select this reward
Rewards
Monetary Contribution With No Reward
We would be beyond grateful for your support so we can keep shooting SURGE and have a completed film to distribute around Election Day, November 2018. We know that everyone loves awesome swag, so we are offering some pretty sweet giveaways and, of course, our heartfelt thanks!
xo,
Hannah, Wendy and Tanya
98 Supporters
Contribute
$25
Shoutout on Social Media
40 Supporters
Select this reward
$50
SURGE Buttons
Awesome Pentagram-designed SURGE Button + your name in the website credits
15 Supporters
Select this reward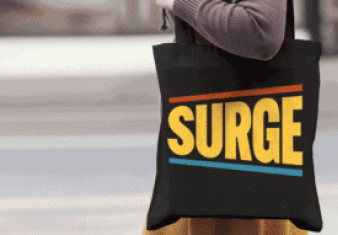 $75
SURGE Tote Bag
Fabulous Pentagram-designed SURGE tote bag + your name in the on-screen film credits
12 Supporters
Select this reward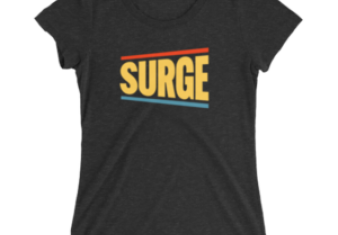 $100
SURGE Tee - American Apparel Women's and Men's styles
Tee with Pentagram-designed, Wonder Woman inspired SURGE logo + your name in the film credits
31 Supporters
Select this reward
$250
SURGE Swag + invite to the SURGE premiere
SURGE Tee, Fabulous Surge tote bag + invite to the SURGE premiere party/screening + your name in the film credits
16 Supporters
Select this reward
$500
3 Original Posters from Amplifier Art's "We The People"
3 original posters from Amplifier Art's "We The People" campaign for the Women's March. See images here + tote bag + invite to SURGE premiere party/screening + your name in film credits
3 Supporters
Select this reward
$2,500
Media Training
Media Training with Wendy and Hannah - we will get you media ready for an interview, a TV segment, podcast, radio show or even a keynote + all of the swag and party fun above, invite to premier party/screening +your name in film credits
5 Left
0 Supporters
Select this reward
$10,000
Scripted TEDx talk written by Wendy Sachs
Have you always wanted to give a TEDx talk, but you don't know how? Not sure how to write a talk that will get attention? Wendy will write a kickass talk and get you ready to crush it on stage + all the cool stuff above
2 Left
0 Supporters
Select this reward