The first single ring of its kind. We are single-handedly redefining the ring finger.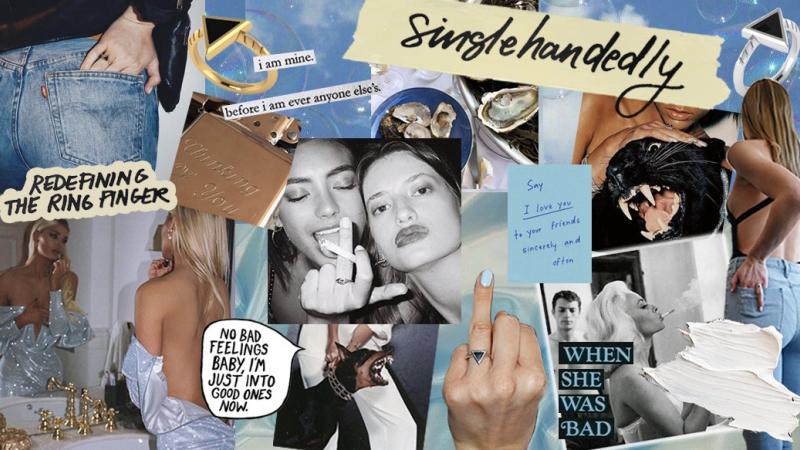 Project Description
About SingleHandedly
SingleHandedly is a jewelry brand for independent women. The main product is a ring called "SingleHandedly", and represents a woman's single relationship status. The brand is edgy, playful, and most importantly, empowering.

The SingleHandedly ring is worn on the right hand ring finger and to show off a woman's single status (think revamped Irish Claddagh ring). The essence of the brand is to promote women's independence and confidence without the need for a significant other. While our focus is single women's empowerment, we also offer a stackable relationship ring, called "TakenSeriously". The TakenSeriously ring is for women who embody the SingleHandedly characteristics, but find a significant other along the way.
SingleHandedly is a novel idea for the modern woman. Between the two rings, SingleHandedly and TakenSeriously, we are creating representation for the two missing relationship statuses on the ever-neglected right hand ring finger.
We're single-handedly redefining the ring finger.
The Problem
Is an empty left hand ring finger the only way to tell if someone is single? Why aren't we looking for a symbol of something rather than the lack of something?  We asked this question and couldn't find an answer. Thus, SingleHandedly was born.
SingleHandedly is the solution to the swipe right, to the "it's complicated", and to that empty left hand ring finger. It makes its presence known on the right ring finger -- a statement ring for those of the single relationship status. The SingleHandedly ring promotes independence, showcases individuality, and encourages confidence all while cultivating every woman's inner ferocity and diminishing the mindset of needing a relationship. Making singlehood sought after.
The Funding
The requested funding will go towards...
E-commerce Inventory - both SingleHandedly & TakenSrriously rings
Advertising Budget - brand awareness campaigns for SingleHandedly 
Additional Merch - the SH brand is badass, our merch should be too
The Team
Currently, I single-handedly run SingleHandedly as founder and CEO. 
Thank You  
for any & all contributions.
xx Alex Cassidy
Updates
The Campaign FAQs
Frequently Asked Questions
How do you wear the SingleHandedly rings?
The SingleHandedly ring is to be worn on your right hand ring finger with the triangle facing down. This showcases your single relationship status.
Once you are officially off the market, the TakenSeriously ring is to be stacked underneath your SingleHandedly ring on the right hand ring finger. This signifies you are taken.
Monetary Contribution
0 Supporters
Select this reward
150.00 USD
Silver SingleHandedly Ring
Sterling silver SingleHandedly ring with custom jewelry pouch, branded sticker, & handwritten note
0 Supporters
Select this reward
350.00 USD
Gold SingleHandedly Ring
14k yellow gold SingleHandedly ring with custom jewelry pouch, branded sticker, & handwritten note
0 Supporters
Select this reward
25.00 USD
Branded SH Sticker
0 Supporters
Select this reward
100.00 USD
20% Entire Purchase
Receive 20% off anything on site
0 Supporters
Select this reward
Rewards
Monetary Contribution
0 Supporters
Select this reward
150.00 USD
Silver SingleHandedly Ring
Sterling silver SingleHandedly ring with custom jewelry pouch, branded sticker, & handwritten note
0 Supporters
Select this reward
350.00 USD
Gold SingleHandedly Ring
14k yellow gold SingleHandedly ring with custom jewelry pouch, branded sticker, & handwritten note
0 Supporters
Select this reward
25.00 USD
Branded SH Sticker
0 Supporters
Select this reward
100.00 USD
20% Entire Purchase
Receive 20% off anything on site
0 Supporters
Select this reward