Veteran/Woman owned business - bringing our famous gumbo, po-boys & more to our community & donating to homeless vets.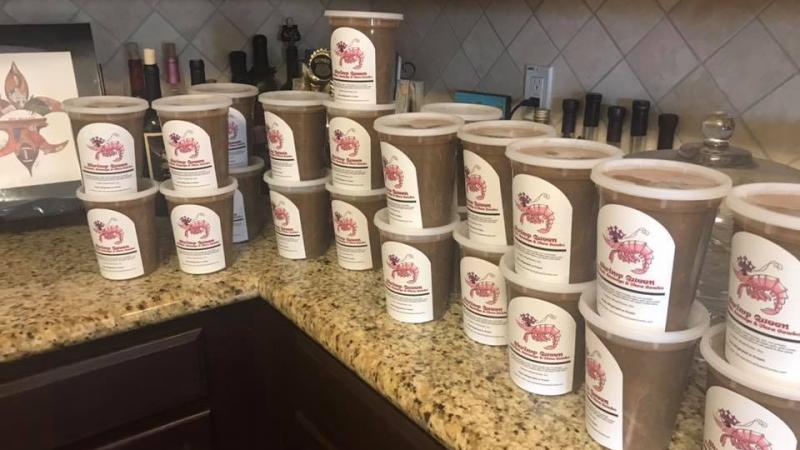 Project Description
The Shrimp Queen's Mobile Food Service's mission is to offer quality, homemade, authentic Cajun food to under-served professionals/industrial companies who are limited on food options & donate surplus food items to homeless/needy veterans and associations within the community. 
The Shrimp Queen, LLC will offer Cajun style mobile food service to major industrial and medical areas in Southeast Houston where lunch options are limited- (The Houston-Baytown-Huntsville area is home to 405 chemical plants employing roughly 36,000 people;  the medical community is continuously growing and we are surrounded by 6 major hospitals within a 25 mile radius);
*To earn 100% market share in the mobile food truck arena in SE Houston and become the number one Cajun mobile food truck service in the local community.
*To have 5 major plant contracts within 3 months of operation.
*To receive a 60 percent profit margin within the first 6 months.
*To achieve a net profit of $85,000 by year one and $150,000 by year two.
*Provide the medical community who is limited on time and options;  to include hospitals, nursing facilities and other major medical centers, food options outside the usual cafeteria food.
*Donate surplus food to homeless/needy veterans and other associations in the community.
The Shrimp Queen Mobile Food Truck will carry authentic, homemade cajun "comfort" food items.  We will offer gumbo, po boys, fries & other specialty food items but maintain a small menu to ensure quality is maintained & eliminate unnecessary waste - surplus food will be donated to homeless/needy veterans.
We will use fresh seafood from local gulf coast markets, "homegrown" Texas meats & our goal is to maintain an image of "supporting local." i.e., smoked sausage made in Texas, fresh Gulf shrimp from Seabrook/Kemah area, fresh whole chickens processed in Texas.
Management will rely on customer feedback, suggestions, and sales reports to introduce new food ideas and eliminate non-profitable products.
The primary target customer will be blue-collar plant workers  in SE Houston, TX.  We are situated in the epi-center of a thriving oil & gas community; this group will make up the largest percentage of our customer base.
The secondary target customers are the medical community in the area - Kristie Brown has a medical background and has experienced various hospitals and facilities who have requested/hired a food truck in lieu of staff leaving the building for lunch or eating in the cafeteria.
Thirdly, the Gulf Coast is a thriving social area with festivals, the rodeo, food truck events, concerts, Veteran events, etc.  As the company grows & word of mouth advertising carries & curiosity peaks, we will ramp up our inventory and participate in some of these events.
In order to succeed in the food truck business, The Shrimp Queen Mobile food service must:
*Create & serve original flavorful Cajun food items that are only available through the company.
*Provide customers with "bang for their buck" with large food portions at a reasonable cost but not jeapordize quality or the bottom line.
*Advertise & promote in areas that target our customer base of large corporations.
*Provide top notch customer service, clean & orderly food truck, affordable options so our customers become repeat customers and share their experience with others.
*Give back to our Veterans and community through surplus food donations.
The Shrimp Queen, LLC's main expense will be an investment in a equipped food truck estimated cost of $20,000.00.  Other expenses will involve insurance, inspection/permits, purchase of food items, containers, fuel, propane.
The purpose of this business plan is to secure a $20,000 loan for the purchase of a used food truck; other financing will include an owners investment of $5000 and short term revolving credit line of $1,500 for inventory.
Successful operation and building a loyal customer base will allow The Shrimp Queen, LLC to be self sufficient and profitable within 6 months.
Updates
The Campaign FAQs
Frequently Asked Questions:
Monetary Contribution
0 Supporters
Select this reward
Rewards
Monetary Contribution
0 Supporters
Select this reward