SHIFT StyleHouse is the online destination of versatile fashion for the modern day renaissance woman.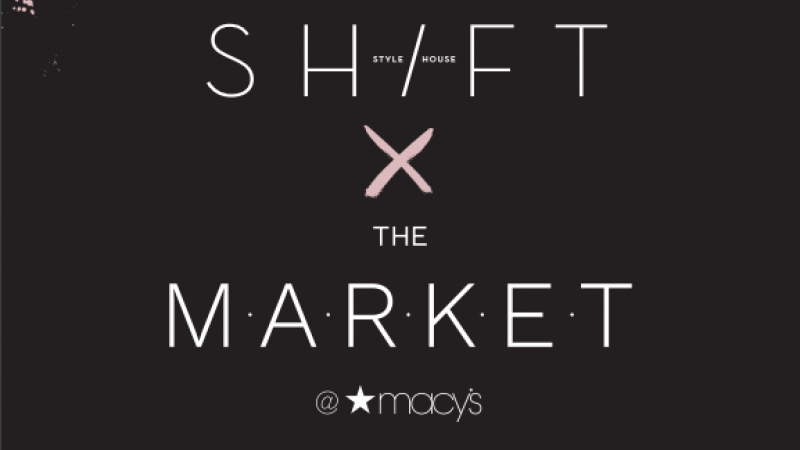 Project Description
SHIFT StyleHouse was founded in 2016 by Jasmene Bowdry, a simple girl from Michigan who loves all things fashion. After working several corporate buying jobs, she still felt unfulfilled and like she wasn't walking in her purpose.  
She didn't know how things would turn out. She simply knew she was a lover of fashion and loved seeing the confidence women exuded when they got dressed up, so she stepped out on faith and made her fashion dreams come to life while still working a 9-5.
SHIFT StyleHouse is the online destination of versatile fashion for the modern day renaissance woman. At SHIFT, you'll find versatile fashion pieces that take you from brunch to date-night, midday shopping to kids' birthday parties, and girl's night. Our pieces allow our customers make the day look easy, effortless, and most importantly- stylish.
Our mission is powered by love and determination to empower women through style.
Last year, Macy's rolled out a new pop-up experience called The Market @ Macy's. The Market allows new brands the opportunity to enjoy premium real estate, deliver a unique experience, and increase brand exposure. After applying and a few interviews, SHIFT StyleHouse was selected to participate in The Market @ Macy's Lenox Square Location in Atlanta beginning July 7th 2019. 
The fee to participate in The Market is $4,470. This one time fee includes the space, fixtures, and  having access a Full-Service retail experience, meaning Macy's handles the branding, visual, set-up, full -time dedicated employees, and access to rich data analytics. 
Back in November 2018, I was let go unexpectedly from my full time job as a retail buyer. The plan was to have received my monthly salary and bonus to be able to cover the expenses of participating in Macy's. However, things don't always work out as we planned. But I refuse to give up!
The $10,000 funding would cover: 
$4,470 one time fee to Macy's for participating 
$3,000 for inventory, shipping, tagging, and labels
$2,530 for an in-store fashion presentation event with a celebrity fashion stylist to bring traffic, excitement and exposure to the SHIFT brand. This covers the stylist fee, photographer, flyers, cupcakes and water. 
Thank you for taking the time to read this pitch and to help SHIFT StyleHouse launch in Macy's!
Updates
The Campaign FAQs
Frequently Asked Questions:
How long will SHIFT StyleHouse be in The Market @ Macy's? SHIFT will be in the market from July 7- August 3 with the opportunity to extend. 
Is SHIFT female owned? Proudly 100% female owned and operated
Where is SHIFT StyleHouse based? Atlanta, GA
How can I contact SHIFT StyleHouse? If you have any questions please send us an email at info@shiftstylehouse.com
Monetary Contribution
$50
Kiwis Boutique
05/27/2019
Monetary Contribution
$50
Monetary Contribution
$50
Monetary Contribution
$50
Anthony Hatcher, Jr.
05/23/2019
Monetary Contribution
$50
Monetary Contribution
$10
Monetary Contribution
7 Supporters
Select this reward
100.00 USD
$10 Gift Card
Supporters of $100 - $499 will receive a $10 gift card to SHIFT StyleHouse
4 Supporters
Select this reward
500.00 USD
$50 Gift Card
Supporters of $500 - $999 will receive a $50 gift card to SHIFT StyleHouse
0 Supporters
Select this reward
1,000.00 USD
$100 Gift Card
Supporters of $1000 - $2999 will receive a $100 gift card to SHIFT StyleHouse
0 Supporters
Select this reward
2,500.00 USD
$250 Gift Card
Supporters of $2500 - $4999 will receive a $250 gift card to SHIFT StyleHouse
0 Supporters
Select this reward
5,000.00 USD
$500 Gift Card
Supporters of $5000  or more  will receive a $500 gift card to SHIFT StyleHouse
0 Supporters
Select this reward
Rewards
Monetary Contribution
7 Supporters
Select this reward
100.00 USD
$10 Gift Card
Supporters of $100 - $499 will receive a $10 gift card to SHIFT StyleHouse
4 Supporters
Select this reward
500.00 USD
$50 Gift Card
Supporters of $500 - $999 will receive a $50 gift card to SHIFT StyleHouse
0 Supporters
Select this reward
1,000.00 USD
$100 Gift Card
Supporters of $1000 - $2999 will receive a $100 gift card to SHIFT StyleHouse
0 Supporters
Select this reward
2,500.00 USD
$250 Gift Card
Supporters of $2500 - $4999 will receive a $250 gift card to SHIFT StyleHouse
0 Supporters
Select this reward
5,000.00 USD
$500 Gift Card
Supporters of $5000  or more  will receive a $500 gift card to SHIFT StyleHouse
0 Supporters
Select this reward