Discover two Workbooks that fuses faith, design & reflection. Make a global difference to women while cultivating a God-centred lifestyle.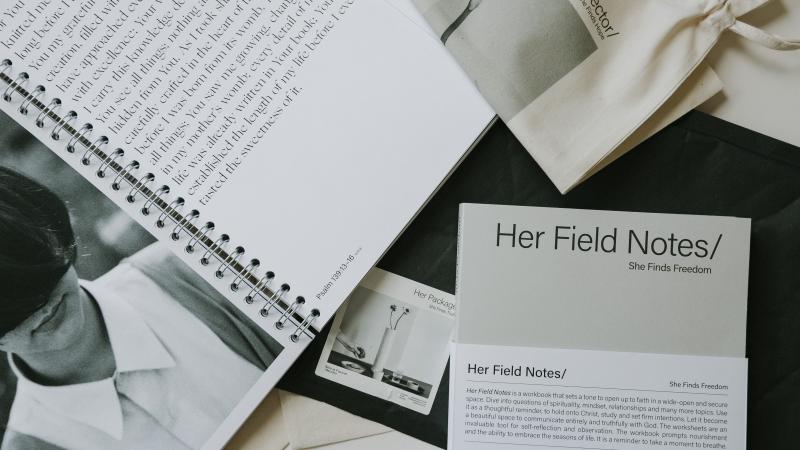 $0
pledged of $24,060 goal
Project Description
THE MISSION
She is Found Studio, is a design practise and community exploring the intersect between womanhood, creativity and spiritual wellbeing. The Studio aims to provide practical tools for women to connect with God. The goal is to help unravel and understand patterns, behaviours and needs. The platform, through its resources, research and stories, celebrates the betterment of God's transformation with Him at the core. The Studio supports to cultivate the foundations of faith and to grow rooted in God. Community is the beating heart of the Studio, and the belief is that and giving back to marginalised women is essential.  
The Studio welcomes all women, this space is yours.
THE PROBLEM 
Today, it feels like we are busier than ever – and that busyness is addictive. Even subconsciously, it seems the first breath of air taken is Instagram, and our last is spent scrolling through Facebook. For the ambitious women living a fast-paced life it takes our God-given creativity to fit it all in: but are we making space for God himself? How can we channel our creativity but also stop to pause, reflect and let God shape life?
THE SOLUTION
It is time to step out into the quiet: to switch off the noise and hear from God afresh. She is Found Studio has created two unique workbooks for female creatives, in search for more. Designed to help you to orientate your life and goals around the God who holds them all. Built on the pieces of a broken marriage and the darkness of depression, and with founder Esther Molyneux's knowledge that God can make beauty from even the most broken of situations. 
Scattered with Scripture, these visually dynamic and interactive resources are intended to inspire and guide readers as they take stock and cultivate sustainable patterns to a faith-driven life. The Studio doesn't believe in telling you what to think or how to think. However, it does believe in providing the right tools to connect with God and yourself, so it becomes personalised and deliberate inaction. In each of the four parts find, powerful questions, prompts, that will put you further in touch with God, yourself, belief systems, patterns, practices and behaviours. Expand beyond current circumstances, limiting beliefs and unconstructive actions. 
Above anything else, the Studio is a space for you to retreat, find support in a community of like-minded creative women. To recentre in God, find hope, courage and strength. It's a space where you are eternally loved and valued. There are many definitions of 'wellness' however, the Studio believes that faith in Christ allows healing, transformation and leads to intentional practices. Christ draws us closer to wellness, rest, self–care, love and purpose. 
THE CAUSE
The Studio is working on a social enterprise element of the business entitled 'She is Found 360'. This is a 'get one give one' initiative that allows marginalised women to become a part of the community. Built upon the current resources, this tailored creative resource will provide access to the practical foundations of faith. The goal is that each time a product is purchased, a woman in need is helped. This tool is not just for Christian women, the Studio's vision is to become a message carrier of the Gospel. All women should have the right to an introduction to God's love and redemption. Each and every woman should be allowed to come to know Christ, dream big and pursue a purpose-driven life. The Studio wants to help women live a life of liberty and have passionate lives no matter who they are. 
The resource donated as a result of the purchase might go to a low-income student needing to plan her next steps or a woman in desperate need of hope within an abusive relationship. Through additional giving, the plan is to invest it wisely in ongoing development, research, formulating a sustainable business model, design and finding thoughtful partnerships. Join the Studio in bridging the gap between nothing and something. Ongoing support as a community is critical for this social project come to life.
THE RESOURCES
HER FIELD NOTES/SHE FINDS FREEDOM 'A WOMENS WORKBOOK FOR CULTIVATING FAITH'
Written by Esther Molyneux, Founder, Her Field Notes is a workbook that sets a tone to open up to faith in a wide-open and secure space. Dive into questions of spirituality, mindset, relationships and many more topics. Use it as a thoughtful reminder, to hold onto Christ, visualise, study and set firm intentions. Let it become a beautiful space to communicate entirely and truthfully with God. The worksheets are an invaluable tool for self–reflection and observation.
The Workbook prompts nourishment and the ability to embrace the seasons of life. It is a reminder to take a moment to breathe. Her Field Notes covers twelve topics ranging from prayer, spiritual warfare, to womanhood, worship, and emotional healing. The content is more than a crash course on faith, but a simple tool to put firm roots down in God's love. The Workbook is created to give wholesome sustenance to feed the modern lifestyle. Empower walking in God's freedom by incorporating creativity, faith and self–awareness for a balanced life. 
Explore inside Her Field Notes here get access to a free chapter
HER—SELF/ SHE FINDS MEANING' A WOMENS WORKBOOK FOR SPIRITUAL WHOLENESS'
Connect with God outside of the digital landscape through actionable tasks and questions. Her—Self is a prompted and visually dynamic workbook that helps to break down the blocks that we face when embarking on new journeys, ideas, or extensions of our creative–selves. The Workbook provides tools, reflective exercises, prioritisation and affirmative techniques to help move internal/external resistance.
How often do you take time out of your day to intentionally reflect with God upon life, relationships, habits, behaviours, goals, dreams and desires? Focus on finding meaning in God, and find out who you are in Him. Connect with God outside of the digital landscape through actionable tasks and questions, intentional journalling—inviting pen to paper. Her—Self is packed with photography to give the best visual experience. The visuals help to support emotional expression, processing experiences and expanding mindsets. Get clear on your who and why. Become self–aware and discover who you are found in and why an intimate relationship is essential. The rest will follow with God at the forefront.
Explore inside Her—Self here get access to a free chapter
THE STUDIO NEEDS
The Studio is determined to deliver resources that disrupt the Christian market, and that provides freedom and support to women worldwide. The Studio seeks funding to produce resources and packaging. If we meet the funding goal, we will start to develop the 'She is Found 360' initiative. PLEASE NOTE THAT THE FUNDING GOAL AND REWARDS ARE STATED IN USD. Where possible the currency has been converted to GBP.
THE FOUNDER
Esther Molyneux—a graphic designer with a background in visual merchandising and marketing, is the Founder and Creative Director of She is Found Studio. Esther believes a beautiful work environment filled with a purpose for God fosters creativity, productivity and faith. Her passion is in design and creative problem– solving; taking a seed of an idea and turning it into reality.
As a single mother who lost everything through a dramatic change of circumstance. I sought and continue to build the Studio on low-income and benefits. Because of this, I know the power of God's provision and how essential it is to help and serve others. Many women haven't had the opportunity to see God breathe new life into a situation that looks so dark and hopeless. I want to be able to use this venture to help women who are desperate for a breakthrough. Whether that is a prodigal daughter, a lost woman in bondage, or a woman at the brink of taking her life - each woman deserves to see a life of freedom. 
Thank You
Thank you so much in advance for all your support. It is a blessing that the role of the Studio is to serve and support a community. The Studio is grateful to those who want to invest in championing this project.
This is/ She is Found Studio / Join the Community/ website / instagram / pinterest
Updates
The Project FAQs
Who can use the workbooks?
The Studio has designed two unique Workbooks for female creatives, in search for more. Through the medium of creative and sustainable practices, the mission is to nurture women. The Studio aims to increase knowledge of God and self to empower a faith-driven life. By removing weak self–belief and negative patterns, real confidence can be enjoyed through the validation that only Christ can give. Endless searching can give way to delighted discovery here and now. The Workbooks are specifically created to serve women on a journey to learn more. They are useful resources for any Christian across all denominations wanting to develop a habit of connecting with God each day. Discover a newfound faith through Scripture and reflection throughout the year. Each workbook is designed to suit the many different personalities and learning styles. Perfect for individual use, a trusted small group, book club or a church environment. Both are complementary to each other and explore similar topics and themes.
How can the Workbooks help to grow my faith?
Creative writing and journaling are soul–care practices that embrace God as the priority within the modern and busy life. So, put down the screens and pick up a Workbook. Find a quiet space and allow the ink to keep flowing. Become conscious of your relationship with God, recognising and accepting who you are in Christ. Enhance spiritual discernment and growth with tools that will equip to releases everyday stress and put God first. Form an intimate space for spiritual development. Stimulate an authentic change in becoming radically honest with God.  The Studio doesn't believe in telling you what to think or how to think. However, it does believe in providing the right tools to connect with God and yourself, so it becomes personalised and deliberate inaction. In each of the four parts find, powerful questions, prompts, that will put you further in touch with God, yourself, belief systems, patterns, practices and behaviours. Expand beyond current circumstances, limiting beliefs and unconstructive actions. 
What Biblical translations does She is Found Studio use?
Resources are written with an editorial voice; this makes it easy to read and captures Esther's tone of voice. Readers will notice references from speakers and teachers around the world. Even more, however, I have drawn from the words of the Bible, believing, as I do, that through that Word, God spoke and still speaks. We are wise to listen even more carefully to God's words than to the most knowledgeable human wisdom. The Studio sought to base all matters like prayer, grace, faith, growth, purpose, and values. These are not ideas but God's Word. The Studio has chosen Bible translations to suit a contemporary readership. These versions best express in a very fresh, modern way God's timeless message for us today. Translations include The Message, New Living Translation, The Voice, Passion Translation and The Amplified Bible.
What is the She is Found Studio philosophy?
The Studio upholds six values, and these are the backbone for the approach of every project:
God / At the heart of everything is God. The belief is that without Him, Her Collection has no validity, power, or strength.

Love / Christ calls the Studio to love as the number one priority. The sole purpose is to serve, support and nurture women first and foremost.

Perspective / Contemporary culture's perspective on how we should live can be soul-crushing. Instead of the Studio telling you who you should be, the goal is to encourage, motivate, and inspire in a healthy way.

 Design / Creativity is the brand stamp, so we stand out from the bland. Creativity enriches the mind and soul. It triggers emotions, thoughts and tells a story. Our products and content are all intentionally designed to stimulate and add authenticity.

 Practicality / A bombardment of advice can sometimes be overwhelming. The approach is always to make things understandable, digestible, and easy to apply.

Curiosity / The Studio believes in the value of putting energy into your curiosity in God, rather than pressurised passion–finding.
What are the Studio's design principles?
Each product has integrity and authenticity and upholds five principles:
The Word/ Full of wisdom, Scripture is at the forefront.

Creativity/ Beautiful photography and minimal editorial design.

Eco–friendly/ Part of the FSC® program & 100% of packaging can be recycled.

Made Locally/ British quality you expect and integrity you can trust.

Community / All products will go towards blessing the community through 'She is Found 360' initiative.
What is the Studio's statement of faith?
The Studio does not align its self with any particular denomination; the belief is that a personal relationship with God is of the most importance. However, our faith basics are in line with the Evangelical Alliance. The Studios' verse is:
"It's in Christ that we find out who we are and what we are living for. Long before we first heard of Christ and got our hopes up, he had his eye on us, had designs on us for glorious living, part of the overall purpose he is working out in everything and everyone."  —Ephesians 1:11-12 MSG

 
I love the Studio's products, how can I stock it in my store?
Purchase the collection of Workbooks at a reduced rate. If you would like to place a larger order, please contact the Studio hello@sheisfound.com, and we'd be happy to discuss this with you before you back the project.
featured reward
Monetary Contribution
An act of kindness at any level you see fit. Thank you for your support, the Studio is so grateful.
0 Supporters
Contribute
Rewards
featured reward
Monetary Contribution
An act of kindness at any level you see fit. Thank you for your support, the Studio is so grateful.
0 Supporters
Contribute