Pink Degree bridges the gap between college and career for women through education technology to advance professional mobility.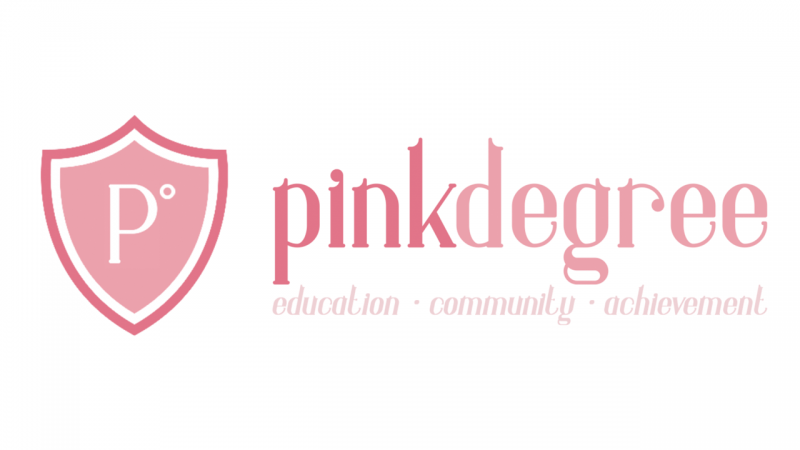 Project Description
College women struggle to pursue, secure, and migrate through post-graduation professional careers due in most part to a lack of confidence, core competencies, and community. Women are left unaware and unsure of their opportunities, resulting in fewer internships, return-offers, and promotions. In fact, although women now make up the majority of college-educated Americans, female representation in top leadership positions has flat-lined at a mere 10-20% . College women, along with recent female graduates, are in dire need of an expansive, accessible, and inclusive way of improving the key skills and characteristics needed to excel on post-graduation career paths. 
Pink Degree is a web- and mobile-based eLearning platform that combines quality curriculums with a community-based support and accountability system tailored for college women as they prepare for post-graduation careers. But whereas other eLearning platforms focus primarily on providing lecture-based content, Pink Degree goes even further to ensure that young, post graduate women are retaining and leveraging the skills they learn. Pink Degree achieves this by not only providing these women with immersive curriculums designed to elevate core competencies, but also teaching these women how to engage their talents and skills in the workplace through simulation-based activities. Our research-backed eLearning courses are designed through our Tri-Front approach: each series is composed of three 15-20 minute segments, with the first a story-based narrative introduction, the second a skill-based presentation, and the third a narrative conclusion and simulation-based activity. In this way, college women learn and retain core competencies across our four "Key Concepts" (Career Development, Personal Finance, Overall Wellness, and Interpersonal Relationships).
Pink Degree differs from our competitors because of our unique combination of narration/lecture style speaking and interactive eLearning that is broken down into a 3 step process. Each of our "series" is centered around a topic within one of our key concepts: Career Development, Personal Finance, Overall Wellness, and Interpersonal Relationships. The series is composed of three videos, each ranging from 15-20 minutes. The first video is story-based, with a personal narrative brought to life by a professional/famous woman that serves as viewers' introduction to the topic. We expect the narrator's "fame" to serve as an enhancement to our brand and legitimacy and to allow attract a greater audience. The second video is skill-based, with a presentation to educate viewers through research-backed and professionally-developed content. The third video is simulation-based, with interactive activities designed to test and reinforce viewers' learning to ensure that they can apply these skills within the workplace. Additionally, each series is accompanied by a "follow-and-complete" worksheet that walks viewers through the key takeaways of the videos. In these ways, Pink Degree creates a unique private seminar for young women as they transition from higher education to their first job, one that they can attend from the comfort and convenience of their home and on their own time. 
We are seeking funding in order to begin product development. We seek to create our mobile app, fully secure and code our website, and begin developing our throughly research backed content. We plan on analyzing our market to assess which categories of content are most popular, and spend more time and resources on those courses.
Our team consists of Sapna Sharma, Cofounder and CEO of Pink Degree. She recently graduated from NYU, and as a minority millennial, Sapna fully understands the struggle that women face when transitioning from college to career. She created the idea from her multiple conversations with her peers on NYU campus. Ariana Varveris, COO, bringing her expertise of having started two previous startups in the field of medical technology. She is now successfully putting her feet in the field of education technology that is female friendly. Carl Beck, the CFO, brings his talents in finance as an assurance associate at PwC to help Pink Degree make the smartest financial decisions, spending every dollar wisely!
We appreciate the time spent by potential crowdfunders!
Updates
The Campaign FAQs
Frequently Asked Questions:
Please, replace this example content
Monetary Contribution
0 Supporters
Select this reward
Rewards
Monetary Contribution
0 Supporters
Select this reward