The App Supporting and Empowering Women in West African Markets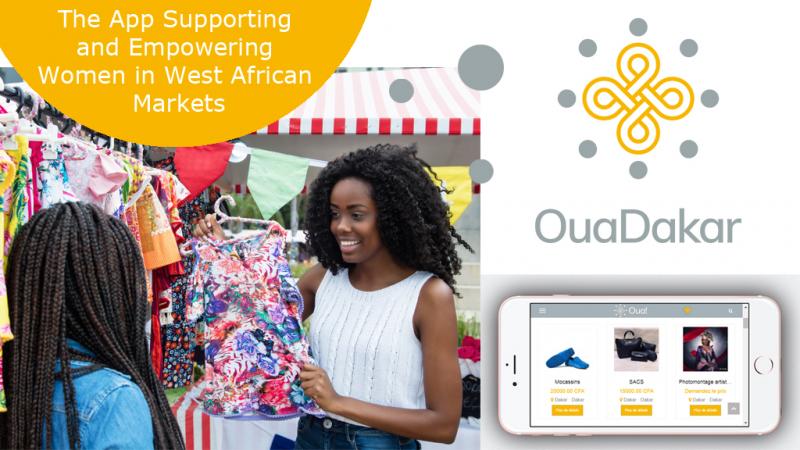 Project Description
OuaDakar.net is an innovative website for classified ads : a conscious business whose primary objective is to reduce the digital gap by enabling increased digital literacy for African women. The ambition of the platform is to become the first classified ads platform in West Africa by 2024. 
OuaDakar.net is a website for classified ads that stands out for its empowering underlying vision. The idea for the creation of the platform sparked from understanding the importance of the informal economy in Senegal : 41.6% of the GDP is going through the informal economy. This important part is mainly driven by women which, unfortunately, suffer a low representation in the digital economy. OuaDakar, through its platform, proposes practical solutions and contributions to improve this situation given the importance of the digital economy for the continent's future. 
For example if you look at Senegal's connectivity rate. It is one of the highest in West Africa (17.5%), but it is the wealthier classes that benefit. Thus, most of the informal economy merchants and service providers are cut off from the digital world. For this reason, OuaDakar is aiming to build a strong field presence to enable female merchants that have low digital literacy. These "offline" merchants will gain visibility and more opportunities to sell their goods and services. In addition to posting their offers online, the OuaDakar teams ensure these merchants are aware of the benefits of e-commerce. The platform is simplified to serve as an entry point and we provide introductory sessions to e-commerce.
To complete the support service in the field, Ouadakar will provide master classes targeting women in urban and rural areas. Through these courses, they will learn to maximize their earnings through e-commerce from their smartphone.
The web traffic generated by this awareness-raising work will be reinforced by an innovative marketing campaign. Ouadakar intends to monetize its offer by 1. the affiliation of the platform to traffic related advertising revenues and 2. offering premium placement of classified ads.
Looking forward, Ouadakar strives to be recognized as a platform of innovation: The future version of the platform will be combined with a mobile application integrating technologies facilitating its use for illiterate merchants in a commercial setting. On the other hand, it will offer business customers the opportunity to have their own online store and advertising space on our platform. An online payment service will be made available in the next development stage.
The team behind the project brings a wealth of experience to the platform. Through their experiences in positions of responsibility at the international level in marketing and computing the members of the OuaDakar team are able to carry this ambitious vision. It is in the form of a limited liability company in Dakar that the structure intends to conduct its future actions.  
We provide traders, who do not have access to / or benefit from / limited internet access, the opportunity to put their offers online through our "OuaDakar.net" Classified Ads/Classifieds platform. Teams are deployed to meet them directly to put their offers online, giving them better visibility.
Thanks to our teams, we offer traders outside of the digital world a service aiming at raising awareness of the benefits of e-commerce. The Classified Ads site will evolve by incorporating technologies that will further facilitate its use by a public that does not benefit from a standard educational level.
These services will generate traffic on the platform. This traffic is monetized by:
An affiliate service to an advertising agency;

Payments for highlighted ads; 
It is planned to monetize it later through:
Advertising spots for local advertisers;

E-commerce website creation proposals for business customers;

An online payment service;
To achieve these goals, OuaDakar requires funding to innovate thanks to our technologies. we are presently working on the use of an image recognition software that can automatically reproduce recognized objects in writing. This is the reason why, we are presently looking at integrating tools in a new app that would be useful to illiterates who operate in a commercial setting. The funds are needed for the finalization of the platform, develop the app, the educational infrastructure and the marketing campaign. 
The Team:
Betty BA
Founder / Developer
Nationality: Senegal / Switzerland
Betty is the founder of the Oua / OuaDakar platform, born with the passion for computing and desire to be a business consultant. Her professional experience to date has been Deputy General Manager and Technician of Ypsos Switzerland and Ypsos Senegal. She has developed web applications in the field of insurance and business management (Gestas, Sinistro). Having studied in Geneva, she holds a Master's degree in Political Science and a Bachelor's degree in Computer Graphics and Multimedia from the University of Geneva, as well as a degree in Computer Programming Java J2EE from the Institute IFAGE. She is 40 years old, and married with a family in Dakar, Senegal. The website OuaDakar.net has been live online since December 2018.
Investor: Wild Dots SàRL
Wild Dots is a Real Estate Marketing and Prop-tech company based in Geneva, Switzerland. Wild Dots creates innovative solutions for the real estate industry across the world, bringing multi-million dollar accounts to market with innovative digital tools. Wild Dots are early investors in OuaDakar, brining expertise and knowledge in digital solutions to businesses of all sizes. 
Thank you for your participation. Your contribution is precious for every actor of the informal economy in West Africa.
Updates
The Campaign FAQs
Frequently Asked Questions:
How can I contact the project manager?
Email: betty.ba@ouadakar.net
Is it possible to get a personalized rewards?
Yes it is. If you want a personalized reward you can send a request by email: info@ouadakar.net.
Monetary Contribution
$30
Daryoush Djalili
07/10/2019
Monetary Contribution
$20
Monetary Contribution
$500
1,000.00 USD
OuaDakar Wax Bag
- OuaDakr Wax Bag
- Your logo on Bakers Page of the website 
- 5 Sponsored Vendors
0 Supporters
Select this reward
Monetary Contribution
3 Supporters
Select this reward
10.00 USD
OuaDakar Keychain
A keychain with OuaDakar Logo
1 Supporter
Select this reward
100.00 USD
OuaDakar T-Shirt
- OuaDakar T-Shirt
- A mention on OuaDakr website
- 1 Sponsored Vendor
3 Supporters
Select this reward
10,000.00 USD
Invitation to OuaDakar launch event
- An invitation to OuaDakar launch event in Dakar in Jun 2020
- Your logo on OuaDakar thank you page section with link to your website
- 10 Sponsored Vendors with free premium access
0 Supporters
Select this reward
Rewards
1,000.00 USD
OuaDakar Wax Bag
- OuaDakr Wax Bag
- Your logo on Bakers Page of the website 
- 5 Sponsored Vendors
0 Supporters
Select this reward
Monetary Contribution
3 Supporters
Select this reward
10.00 USD
OuaDakar Keychain
A keychain with OuaDakar Logo
1 Supporter
Select this reward
100.00 USD
OuaDakar T-Shirt
- OuaDakar T-Shirt
- A mention on OuaDakr website
- 1 Sponsored Vendor
3 Supporters
Select this reward
10,000.00 USD
Invitation to OuaDakar launch event
- An invitation to OuaDakar launch event in Dakar in Jun 2020
- Your logo on OuaDakar thank you page section with link to your website
- 10 Sponsored Vendors with free premium access
0 Supporters
Select this reward