A first-of-its-kind, minority woman-owned rental bridal shop providing chic, high-end bridal gown rentals at sensible prices.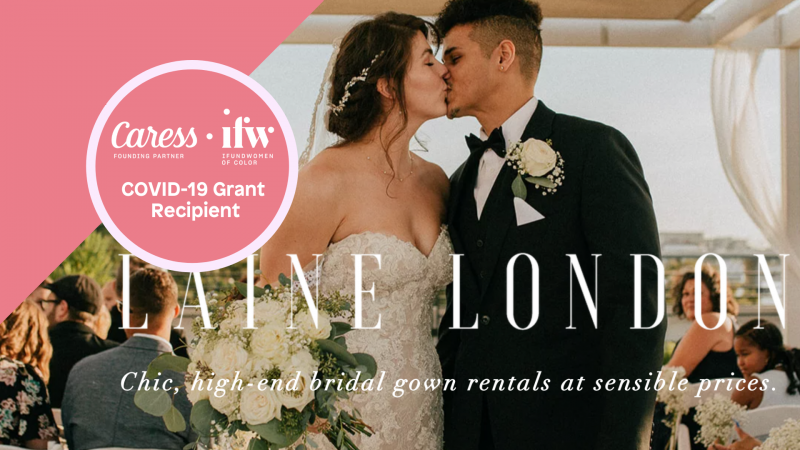 Project Description
Our Mission:
Laine London is a first-of-its-kind, woman-owned rental bridal shop on a mission to help all brides-to-be say "I Do" in the dress of their dreams without breaking the bank.  Laine London provides a chic, high-end experience at sensible prices for the savvy, confident bride who knows how she wants her wedding. 
Why We're Raising Money:
As couples globally are facing the COVID-19 pandemic, taking the right actions and navigating this ever-evolving scenario is proving to be challenging for many—especially new startups like ours.  Business recovery is a challenge we are willing to accept, but just because restrictions are being lifted, doesn't mean we will be able to operate SAFELY at 100% capacity right away.
Meet the Founders: Lundyn & Tiffany
Long-time friends Lundyn & Tiffany started Laine London not as experts in the bridal industry, but as brides-to-be who didn't want to spend thousands on a dress they'd only wear once. 
"We've simply created a smarter, more cost-efficient solution that is more in line with how we actually live our lives today." - Lundyn

(Above) Lundyn Carter, CEO & Co-founder | Tiffany Gaines, Head Stylist & Co-founder
Our Audience: The Savvy, Confident Woman
She knows what she wants every day of her life, and her wedding day is no different. She's not ashamed to stand firm in her decisions, even when people call her a bridezilla. That word means nothing to her. She'll spend money how she wants, on what she wants, and she doesn't GAF if you don't like it. After all, this day isn't about you. It's about her. She isn't looking for a bridal shop that will put her in a box based on her budget – she wants to see all of her options and make her own choice. She wants a bridal shop that sees her for who she is: a savvy, confident woman. 
Our Collection
We've curated a selection of beautiful gowns for the bride who wants to see all of her options, make her own choice and doesn't want to be put in a box based on her budget.
Our Bridal Shop: Atlanta, Georgia
Private consultation with a stylist and your nearest and dearest

Champagne and light refreshments (full 1.5 hr appointments only)

Customized playlist based on your music preferences
Updates
The Campaign FAQs
Top 5 questions from brides:
Q. How does renting a wedding dress at Laine London work?
A. Step 1: Find your dress. Book an appointment with our personal stylists and try on wedding gowns from our thoughtfully curated collection.
Step 2: Say "I Do!" Pick up your dress and schedule your drop-off date/time.
Step 3: Stress-free return. Place your dress back in the garment bag it came in. Drop off at the scheduled time. We'll handle the dry cleaning & any minor rips or stains.
Q. What are the price ranges for dresses at Laine London?
A. Our rental dresses start at $299 and go up to $3k. We pride ourselves in only carrying chic, quality gowns at sensible prices.
Q. What about alterations?
A. Your dress will fit like a dream thanks to our talented alterations team. Alterations appointments are available at our showroom as well as in-home visits.
Q. What if I accidentally stain or damage the dress?
A. We understand that normal wear and tear may be inevitable, and a small insurance fee to cover minor stains and damage will be included in the rental price. You are responsible for loss, destruction or damage to the dress due to theft, mysterious disappearance, fire, major stains or any other cause, other than normal wear and tear.
Q. What do I do if I'm having a destination wedding and can't return the dress right away?
A. No worries! When traveling out of state or the country, we understand that travel dates may not allow you to return the dress right away. When you pick up your dress, just let your stylist know what day works for you.
Monetary Contribution
$25
Audrey Riley-Robinson
08/14/2020
Monetary Contribution
$50
Monetary Contribution
$25
Danyelle Lantz
08/14/2020
Monetary Contribution
$50
Monetary Contribution
$46
Amanda Vazquez
08/14/2020
Monetary Contribution
$30
Gwendolyn J Jackson
08/14/2020
Monetary Contribution
$23
Monetary Contribution
$100
Monetary Contribution
$50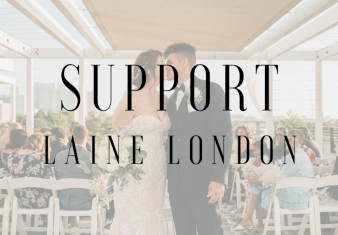 Monetary Contribution
34 Supporters
Select this reward
Rewards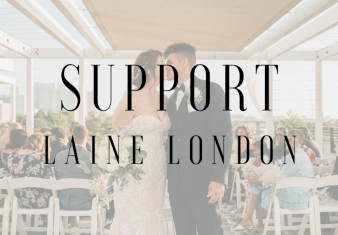 Monetary Contribution
34 Supporters
Select this reward