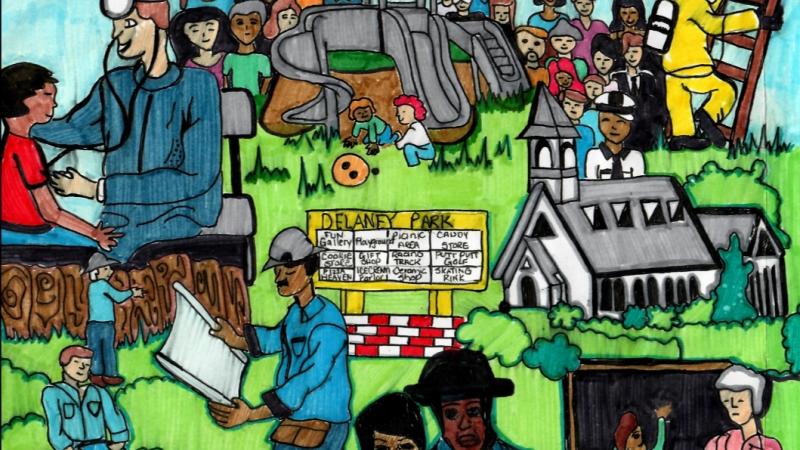 Project Description
Hunter Memorial Mural aims to revitalize Chattanooga, celebrate our community's rich diversity, and cultivate unity among its people. We aim to tell a visual story that communicates the past, present and future stories of the community. Our goal is to connect people, personalize spaces and activate civic dialogue to develop and sustain the revitalization of our shared environments, through helping create culturally vibrant and livable communities.

 

What we do should not be presented as simply "a mural project". It is a project that will be using an extended artistic process to explore community history and create stronger community relationships. 

Projects such as the Hunter Memorial Mural are selected from the perspectives of Chattanoogans and what he or she believes constitutes public art. In listening to our community, our first mural project was inspired by a 15-year-old male who was smitten by the acts of kindness and generosity of community activist the Hunters.

Each project we do now and in the future will offer community members numerous reasons to participate: a chance to experience and create art, an opportunity to address pressing community-defined issues, exposure to new neighbors and a greater sense of community participation

H. M.M. is slated to be displayed in the downtown area of Chattanooga on a wall measuring 1100 sq feet.  The mural is free of charge and accessible to the local community, individuals in rural areas and tourists. 
 We are seeking funding to help in the creation of the mural using a specific technique of the parachute cloth method. Using this technique in the creation of  the mural allows for portability during fabrication so everyone can safely participate. The cloth is painted on tables at which participants can sit or stand, promoting access to the project for all. This point of access is especially important to the project, leading to true participation from young students, and inviting participation for all interested, with no ladders, lifts, or prior arts experience required.  Seniors and individuals with disabilities can successfully participate in this type of project. During the creation of the H.M.M. we will host several events all of which will be family-friendly, include multilingual signage, and be ADA accessible.
H.M.M. is comprised of volunteers and (5) person board members and a panel will be formed with an eye to guaranteeing both the professional quality of the design and community representation. The panel will consist of representatives from all stakeholders involved. 
We are a small yet eager group and new to the nonprofit sector but we have a voice. H.M.M.  attends many events street festivals, community block parties, and fairs.  Our volunteers and team members would share with potential supporters about the gift backers have contributed towards H.M.M. In addition to face to face interaction H.M.M. staff remains highly active on social media. We currently operate (2) Facebook accounts, Twitter account and Instagram which we post several times a day. We will use this platform in addition to others as another avenue to inform the public about the backer's support.  Hunter Memorial mural would be pleased to display the backer's support logo or link or on our website.  
Updates
Monetary Contribution
0 Supporters
Select this reward
Rewards
Monetary Contribution
0 Supporters
Select this reward