Help support your local small business. Affordable. Functional. BEAUTIFUL. Interior Design and Decor. Kitchen & Bath Design. Home Staging.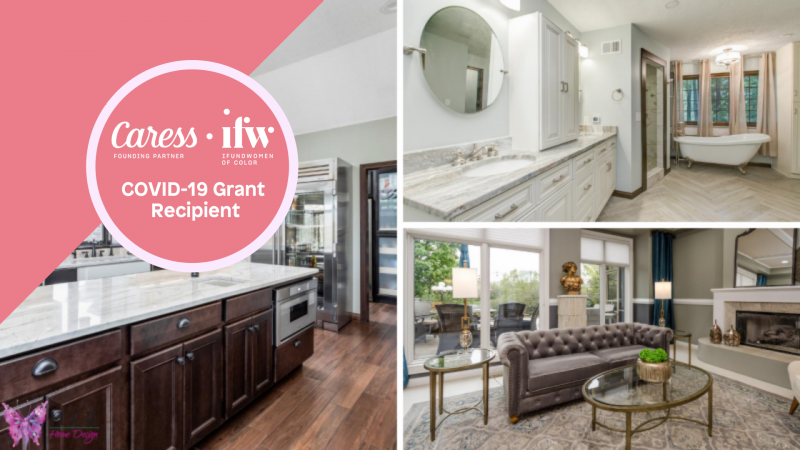 Project Description
We are so excited to be a grant recipient of the IFundWomen of Color in partnership with Caress grant program!
+++++++++++++++++++++
HER Home Design LLC is a full-service residential interior design and home staging firm dedicated to being the premier local expert resource and one-stop-shop for creating affordable, functional and BEAUTIFUL residential spaces.
We specialize in affordable, functional residential interior design, kitchen and bath design and construction support, home staging, home furnishings and home decor.
Our clients get timely, value-added interior design and home decor expertise coupled with in-depth knowledge of residential real estate practices and trends designed to increase the value of the home.
Led by the mother/daughter team of Ann Blake and Keianna Rae Williams, HER Home Design is a family-owned business made up of 16 folks who do everything from small business operations to moving, to traditional interior design, kitchen and bath design, home decor, and home staging.
Home staging and great home design is good for the economy! According to the National Association of Realtors:
A staged home will sell, on average, 17% higher than a home that is not staged
Home staging typically provides a 586% return on investment
Staged homes spent 83% less time on the market than non-staged homes
We are seeking funding to continue to support our local community by providing employment for people to do the jobs they love all while helping to stimulate the local housing market by using our expertise to stage and sell homes FAST. 
COVID-19 has changed the way we live and work. More families have made the difficult decision to stay home to go to school and work. With your support, we can keep our doors open and continue to help families create lasting, memorable moments in the spaces they'll love for a lifetime regardless of the impact COVID-19 has had on the way we live.
We are certified as a Women's Business Enterprise (WBE) through the Women's Business Enterprise National Council (WBENC), the nation's largest third-party certifier of businesses owned and operated by women in the U.S.
Living up to our slogan: "Every house needs a little of 'HER' to make it a home," our goal is to be a one-stop shop for all-things home.
Thank you SO much for your support of our small business!
Updates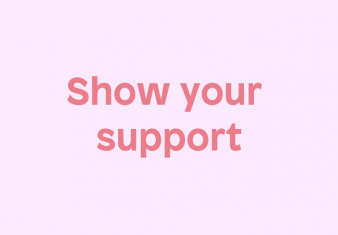 Monetary Contribution
1 Supporter
Select this reward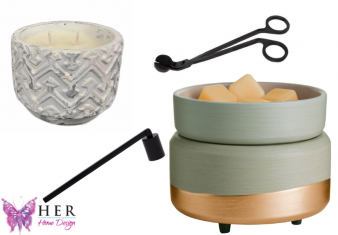 100.00 USD
Luxury Scented Candle & Accessories Kit
Support a local small business and get the luxury soy candle scents you love. In this luxury scented candle bundle, you'll get:
(1) Luxury soy, highly-scented candle
(1) Candle snuffer in matte black or polished gold
(1) Candle wick trimmer in matte black or polished gold
(1) Candle / wax melt warmer
12 Left
0 Supporters
Select this reward
Rewards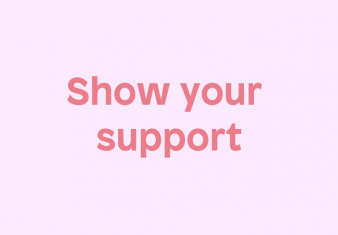 Monetary Contribution
1 Supporter
Select this reward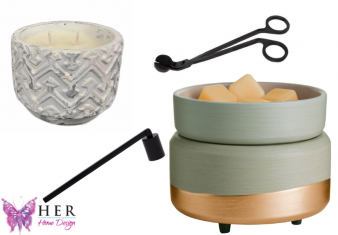 100.00 USD
Luxury Scented Candle & Accessories Kit
Support a local small business and get the luxury soy candle scents you love. In this luxury scented candle bundle, you'll get:
(1) Luxury soy, highly-scented candle
(1) Candle snuffer in matte black or polished gold
(1) Candle wick trimmer in matte black or polished gold
(1) Candle / wax melt warmer
12 Left
0 Supporters
Select this reward