She Needs Her Space - Creating A home-like feel without the home-like distractions!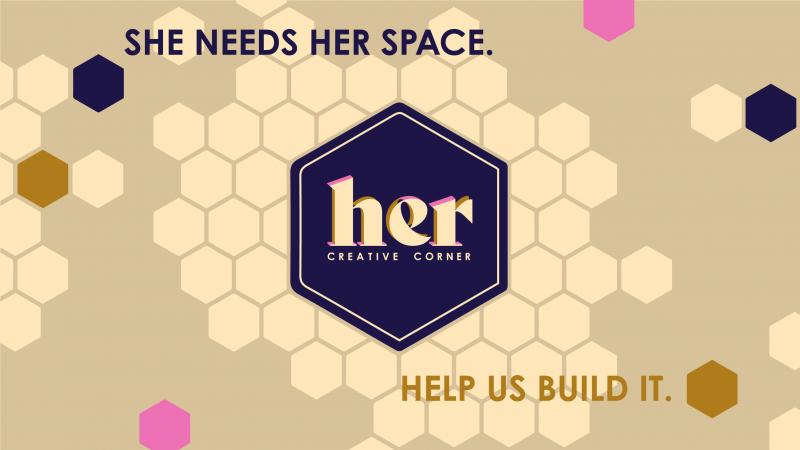 Project Description
After working your 9-5 and building someone else's dream, where can SHE go to work on HERS?
Her Creative Corner: The Entrepreneur Business Center is the social connection needed in order for new and aspiring entrepreneurs to come and work on their dreams. 
Her Space Provides
We solve this problem by providing a fun, informational and safe space for entrepreneurial individuals. We are a Pennsylvania based space that provides fun, affordable and creative learning experiences for those who want to build or scale a business build on their passion or talent. Our classes bring like-minded individuals to form a community determined to Helping Entrepreneurs Rise.

Her Creative Corner is a new  to our community and the perfect space to meetup and teach business related classes. Without a permanent home, it's becoming difficult to maintain and cultivate our H.E.R. community. Her Space will become a learning hub where we learn together, network, and most of all, promote collaboration. Our classroom and event space would give us the flexibility to host more classes and events. This space will allow us to host more socially-driven events where our community can meet and learn from each other. We work with lots of small business owners who have great products - this space would allow us to partner with those folks to showcase their business and products in our space and within our community.
Monica D. Reed, Founder of Her Creative Corner: The Entrepreneurial Business Center

WHAT WE OFFER
From startup informational classes to social media presence to retirement for business owners, The Entrepreneurial Business Center offers a diverse course selection. We listen to the community's needs and interests, and we collaborate with other like-minded business owners. Since we have announced the unique business concept, we have built an online community of over 700 members globally and 100 members locally. We are expecting the number to increase substantially as we continue to grow every day.
 

THE SPACE
Her Creative Corner is creating a physical space where adults can learn, connect and grow together. Amenities will include:
Room for private parties, classes, and more

A small kitchen with coffee, water, beverages, and snacks

Complimentary Wi-Fi

Podcast Access Room

Flexible & comfortable furnishings for work and training
 
Please note: these photos are our dreams. Please help us make them our reality!

PROGRAMS
Her Creative Corner a community of learners and teachers who are learning the entrepreneurial world. The space is different than typical co-working space. Our key programs include:
Classes on personal and professional development, and self-help, taught by industry experts, other small business owners, and creatives.

Partnering with like-minded organizations to provide free lectures and workshops on topics ranging from financial stability to the importance of networking and online presence as a business owner.

How to balance home and business task

H.E.R. Network meet-ups to learn from each other, share and gain a supportive community.

Annual Business events where the community will learn how to use the space and essential topics in order to grown a successful business.
SERVICES
The Business Center, we will be expanding to include the following:
Rental space for one-on-one meetings and events

Membership packages for freelancers, entrepreneurs, and creative learners

An area dedicated to provide space for individuals to grow their skills as a business owner or creative