Since COVID-19 doesn't care about cancer, let's show cancer patients that we care about them! We need your help transforming fear into hope!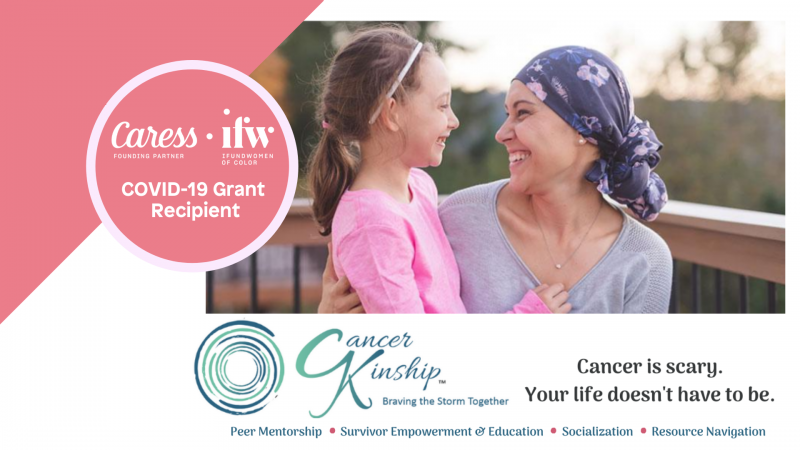 Project Description
As we, the global community, have been doing our best to cope with the impact of COVID-19, one thing continues to ring true for us at Cancer Kinship:
Cancer does not Care About COVID-19!
Patients are hearing the words, "You have cancer," while attending doctor appointments alone due to continued social distancing requirements. Patients are still experiencing delayed doctor appointments as the medical community works through tele-health transitions and work through backlogged screenings, treatments and surgery appointments. For patients who have been able to keep their scheduled treatments and surgeries, many cannot have their loved ones by their side to bring them comfort and emotional support. Cancer treatments such as chemotherapy can weaken patients' immune systems, causing them to be immunocompromised and possibly experience increased risks of contracting and experiencing serious illness, including death due to COVID-19. Moreover, COVID-19 has been disproportionately affecting communities and the inequities of this pandemic are coming to light every single day.
For a population group whose suicide risk is already more than 13 times higher than the normal population, there is a growing concern for the emotional and physical impact of COVID-19 on the cancer community. Questions are unanswered, fear continues to rise, and hope seems far away. Cancer patients are scared and need help now more than ever.
Cancer Kinship's Commitment to Serve Amid the COVID-19 Crisis and Beyond
While the outpour of support continues to be primarily focused on greatly needed community safety net programs such as local foodbanks addressing food insecurity and housing programs addressing homelessness, and with a recent shift to social justice, we at Cancer Kinship felt the financial impact of the pandemic as we had to close our doors and cancel all in-person grassroots fundraising events that we rely on to advance our mission. Despite our financial challenges, we made a strategic decision to continue moving forward while also addressing the invisible consequences of the virus – the emotional impact of COVID-19 on cancer patients and survivors.
Understanding the importance of our work during this critical time, Cancer Kinship's Executive Board and Executive Director met for an emergency meeting in March to, not only discuss our organization's current financial state, but to also activate a contingency plan that involved 100% board financial support that would empower Cancer Kinship to remain fiscally sound during these unpredictable times. These efforts allowed us to continue investing in our programs and in the necessary technology that we needed to adapt and transition our services into the virtual space.
We are excited to share that all of our programs are now online which has allowed us to break geographic barriers beyond Southern California and help cancer patients and survivors from across the nation. We also reached several other important milestones that enabled us to move forward with our mission amid the pandemic. We are in the process of planning an exciting virtual fundraising event this Fall (stay tuned!), but in the meantime, we are seeking community support to help us remain sustainable as we move into the second half of the year.
We are grateful for our partnership with Caress and IFundWomen of Color and we are excited to have been selected as a grant recipient! This grant will boost our fundraising efforts and we hope that it will inspire the community (you!) to join our fundraising efforts with a gift to support our cause. We realize that this pandemic has created financial instability for many, so we are grateful for your consideration of a donation. Every dollar helps!
Everyone knows someone affected by cancer.
Together we can transform fear into hope by helping cancer patients
brave the storm confidently and fearlessly.
Cancer Kinship is a charitable organization and community initiative operating under the fiscal sponsorship of OneOC, 501c3 Tax ID# 95-2021700. All donations are tax-deductible to the extent allowed by law. Cancer Kinship was founded in November 2018 by Stage 3 breast cancer survivor, Yoli Origel, whose life was first impacted by cancer when she lost her mom to metastatic cancer when she was just 10 year's old. You can read her story here and connect with her on LinkedIn. Follow us on Facebook, LinkedIn and Instagram for real-time updates and invitations to join our programs. @cancerkinship #cancerkinship #bravingthestormtogether. Check out what we've been up to since COVID by checking out our YouTube Videos. 
Updates
The Campaign FAQs
Frequently Asked Questions:
Where are you located?

We are based in Southern California but one of the silver linings of COVID is that we are able to reach patients and survivors located anywhere through our virtual services! For more information, please contact us through our website at

https://www.cancerkinship.org/contact/

. 

How can we sign up for your programs and workshops? Please visit our Eventbrite page to see a listing of all of our virtual programs. 
Do you only work with specific cancer(s)? Our programs support patients with all types of cancers and all cancer stages including metastatic cancer. 
Do you work with kids? We only work with adult cancer patients and survivors, although we plan on expanding our services to support cancer patients transitioning into adulthood in the near future. 
Are you accepting volunteers? Yes! Our "Cancer Connections Peer Mentorship" program success relies on volunteer cancer survivors who are willing to provide one-on-one emotional support to newly diagnosed patients. Training is provided. We are also seeking skills-based volunteers to help facilitate empowerment workshops to help cancer patients transition into thriving survivors (topics: finance, wellness, stress management, exercise and nutrition, sexuality, self-esteem, etc. - we are open to suggestions!). Are you interested in serving in a leadership capacity? We are always looking for Executive Advisory Council members, committee and taskforce members. Please visit our website to inquire about volunteering. www. cancerkinship.org/contact

Is Cancer Kinship a 501c3 charity?

 

Cancer Kinship is a charitable organization and community initiative operating under the fiscal sponsorship of

OneOC

, 501c3 Tax ID# 95-2021700. All donations are tax-deductible to the extent allowed by law.

What kind of donations do you accept? 

Straight donations: Monthly recurring payment options are available via Paypal, including checks, property or IRA rollovers. 

Corporate sponsorships to support our virtual programs and events: Marketing benefits are available to increase your company's visibility as a great corporate citizen. 

In-kind gifts: As young organization, we have many needs - office supplies, technology, marketing services, printing, etc. Let's brainstorm on how you can help!

Grants: Private, public, corporate and family foundation grants to support our programs and general operations. 

Testamentary gifts: These include bequests and trusts. 

How can we reach you? Please contact 714-592-1625 or email info@cancerkinship.org. 
Monetary Contribution
2 Supporters
Select this reward
Rewards
Monetary Contribution
2 Supporters
Select this reward