Let Us Bring the Cigar Lounge Experience to You!
A Unique addition to any special event or occasion.
Project Description
Our Mission
Raleigh, North Carolina area cigar lovers won't have to travel far, actually not travel at all, to find a great smoking lounge, with the launch of Bon Vie Mobile Cigar Lounge, LLC. Our smoking lounge on wheels opened for business in October 2019 serving the Raleigh metropolitan area, Cary, Durham, Chapel Hill, Greensboro, Winston Salem, and Charlotte areas.
Bon Vie Mobile Cigar Lounge, LLC, owned and operated by Carolyn Beatty Dumas, aims to bring a different and unique experience to the area. Bon Vie Mobile Cigar Lounge Brings the Cigar Lounge Experience to YOU!

The Problem and Our Solution
"Finding a decent cigar is easy. But because of the many 'no public smoking' laws and regulations, finding a place to enjoy a cigar isn't," Dumas said. The Bon Vie Mobile Cigar Lounge aims to remedy that with the Mobile Cigar Lounge. "It's more than a mobile lounge. It's an environment and an experience rich in luxury and personality. An elegant extension of any celebration or occasion, it's the perfect escape and meeting place—a space where you can relax and enjoy a shared passion," the lounge owner continued.

Market
Our market is The Triangle Region, Piedmont Triad Region, and Charlotte-Mecklenburg, NC = 4.4 million
Percentage of U.S. adults who were current cigar smokers in 2017:CDC
4.9%

of 

all adults

8.0%

of 

adult males

1.9%

of 

adult females

8.0%

of 

African American adults

7.0%

of 

American Indian/Alaska Native adults

1.3%

of 

Asian American adults

3.7%

of 

Hispanic adults

4.8%

of 

White adults
About Bon Vie MCL
The mobile lounge is a 32-foot Custom Motorcoach with indoor seating for 10-12 persons maximum. It features luxurious leather seating, elegant interior décor with VIP Red Carpet entrance, 42" TV screen, satellite TV, surround audio system, onboard bathroom, multiple USB ports for complimentary cell phone charging, and custom air ventilation and purification systems. The lounge is stocked with custom ash trays, and table top torch lighters and cutters. Guest Requirements: Must be 21 years of age or older.

Events are staffed with a Tobacconist and Cigaristas to help guests select, cut and light their cigars, answer any questions about the cigars and generally help you have a wonderful experience. Packages range from $200/hour (4-hour minimum) up to $300/hour (4-hour minimum). Lorraine's Lounge is an added outdoor option with seating for 12 per-sons maximum. Guests can enjoy relaxing in the 10 x 20 foot covered and carpeted patio area with comfortable lounge furniture.

Bon Vie, which means 'Good Life' in French, hopes to establish partnerships with local breweries, wine bars, golf clubs, concert and sporting venues, event center facilities, luxury automotive dealerships, and retail cigar shops for regularly scheduled Customer Appreciation events. The lounge is ideal for corporate functions, product promotions, trade shows, team building and fundraising, and is available for tailgating, birthday, retirement, and other celebratory events.

We are seeking your help with additional funding in support of our continued operational costs and expenses; advertising and marketing; increase our cigar inventory; research and development to identify new products/service options, and plan for future franchise options.
Thank you for your time and for considering Bon Vie Mobile Cigar Lounge as a recipient of your crowdfunding donation. Thanks for supporting Small Businesses!!!
Updates
The Campaign FAQs
How many guests does the Cigar Lounge accommodate?
We will entertain an intimate group of 4 guests to more than 10,000 attendees at a 3-day golf tournament. Our lounge is designed to be a free-flowing casual experience, invitees may come and go at their leisure for the duration of your event. At any moment, as many as 12 guests can be comfortably seated inside the lounge. 12 more can relax in our covered Lorraine's Lounge seating on our outdoor patio if you choose to have that option.
Can I smoke in the Bon Vie MCL?
Absolutely…Cigars Only. We do not allow cigarettes, e-cigs, CBD, marijuana, cannabis, or any illegal substance in the lounge vehicle or patio area.
Can the Bon Vie MCL be used for non-smoking events?
Certainly! The lounge can be used for non-smoking events as well. Our customer air ventilation and our air purification systems run quietly during every event.
Do I need to supply power at my event location?
No. We are fully self-powered with a whisper-quiet generator, allowing us to be a seamless part of nearly any venue or destination.
How do you charge?
Our events begin with a 4-hour minimum up to week-long events. Call or email us to discuss options that will best serve you.
Do you work with sponsors?
Yes. Do you have a company who wants to sponsor the Lounge at your event? We offer signage options for the Lounge's exterior windows and prominent displays of the sponsor's products or services inside the vehicle and within our outdoor patio area.
Does the Lounge have bathroom facilities?
Yes. We have a fully operating bathroom onboard with a state of the art RV toilet and sink.
Should I bring my own cigar?
You are welcome to bring your favorite cigars to the lounge. We will have torch lighters, punchers and cutter for your convenience. The lounge will also stock a nice selection of cigars for sale as well, ranging from mild to bold.
Is the air clear to breath on the lounge or is it very smoky?
The air is very clear and fresh air is consistently circulated. The bus is equipped with a special air ventilation/circulation system. An air purification system (Rabbit Air) has been added to improve air quality.
Anonymous Supporter
10/01/2020
Monetary Contribution
$50
100.00 USD
Bronze Backer
Funder Name Identified as a Bronze Contributor on the Lounge's VIP Board
Receive various cigar accessories, and Bon Vie MCL swag
100 Left
0 Supporters
Select this reward
Monetary Contribution
1 Supporter
Select this reward
500.00 USD
Silver Backer
Funder Name Identified as a Silver Contributor on the Lounge's VIP Board
Receive One (1) Bon Vie t-shirt and swag
100 Left
0 Supporters
Select this reward
1,000.00 USD
Gold Backer
Funder Name Identified as a Gold Contributor on the Lounge's VIP Board
Receive One (1) Bon Vie t-shirt, various cigar accessories, and Bon Vie MCL swag
50 Left
0 Supporters
Select this reward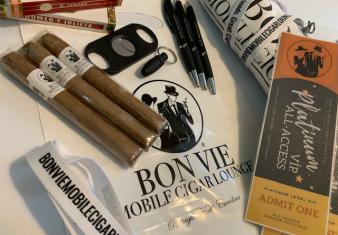 5,000.00 USD
Platinum Backer
Funder Name Identified as a Platinum Contributor on the Lounge's VIP Board
Receive a 24" x 20" Cigar Themed Print of Acrylic by Dion J. Pollard of Washington, DC
Two (2) Bon Vie t-shirts & swag, various cigar accessories
Receive Two (2) 'All-Access' Passes to all public events throughout contribution year
50 Left
0 Supporters
Select this reward
Rewards
100.00 USD
Bronze Backer
Funder Name Identified as a Bronze Contributor on the Lounge's VIP Board
Receive various cigar accessories, and Bon Vie MCL swag
100 Left
0 Supporters
Select this reward
Monetary Contribution
1 Supporter
Select this reward
500.00 USD
Silver Backer
Funder Name Identified as a Silver Contributor on the Lounge's VIP Board
Receive One (1) Bon Vie t-shirt and swag
100 Left
0 Supporters
Select this reward
1,000.00 USD
Gold Backer
Funder Name Identified as a Gold Contributor on the Lounge's VIP Board
Receive One (1) Bon Vie t-shirt, various cigar accessories, and Bon Vie MCL swag
50 Left
0 Supporters
Select this reward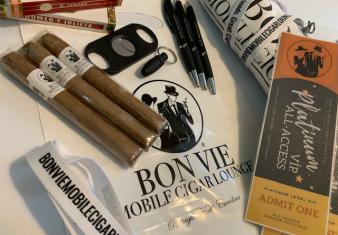 5,000.00 USD
Platinum Backer
Funder Name Identified as a Platinum Contributor on the Lounge's VIP Board
Receive a 24" x 20" Cigar Themed Print of Acrylic by Dion J. Pollard of Washington, DC
Two (2) Bon Vie t-shirts & swag, various cigar accessories
Receive Two (2) 'All-Access' Passes to all public events throughout contribution year
50 Left
0 Supporters
Select this reward