Turning the cold, mechanic, and boring delivery experience into the best moment of the day.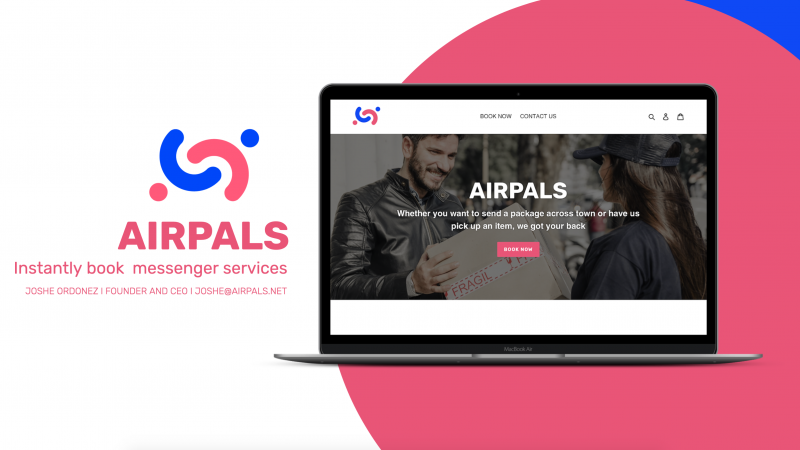 Project Description
Introduction: 
Airpals offers budget-friendly, flexible and transparent messenger services. We combine
community sourced contractors with smart optimization to provide strategic pick up and drop off services to businesses and prosumers. 
Whether you want to send a package across town or have us pick up an item, we got your back.
 
Our Mission:
With logistics companies focusing on innovation and automation of online processes the delivery experience has been left behind. At Airpals we are committing to turn good online and offline experiences into great ones.
Being a 'delivery woman' myself I had experienced how delivery apps treat people as cheap labor and I want to change that, I can do it.

The Problem:
Employee commuting costs America $90 billion dollars per year in lost productivity. Commuting no only involves transportation time spent on home to work mobility. Several type of businesses need to manipulate physical objects in order to complete tasks and cannot solely rely on cloud or online platforms, these objects are often transported among departments within a company but they are also moved back a forth among external stakeholders. It is common that employees carry these objects to its final destination either by car, share rides, taxi or public transportation but by doing so they put on the side other tasks they were already working on.
According to an study conducted by Global Corporate Challenge,average  an an employee can sum up to 57.5 days of unproductiveness out of 261 working days.
 
The Market + Opportunity:
TAM: The Global Courier-Messenger Market will be valued at $824 Billion by 2023
SAM: The US Couriers & Local Delivery will be valued at $113 Billion by the end of 2020 and it's average annual growth rate is 4.7%.
SOM: $9 billion will be added to the US Same-day delivery market between 2020-2024

BEFORE, DURING AND AFTER COVID-19
SOME BUSINESSES / DEPARTMENTS / FREELANCERS CAN'T OPERATE 100% ONLINE
Think about product development, clinical testing, manufacturing,, media production and more. The list of processes that uses a physical element is endless 

Even though companies had been using messenger services for decades the impact of COVID-19 in the workplace will be more noticeable as a huge number of employees will be set to work from home. These changes will demand better online and offline processes. Based on another study 73% of all teams are expected to be conformed by remote workers by 2028

The Product / Solution: 

What makes Airpals special?
Predictability: By providing to messengers the option to schedule their desired working hours in blocks of time or several time windows in advance Airpals is able predict and balance supply. By doing this we take the operational pressure and costs of an on-demand model to maximize profit and put more money into the messengers and drivers pockets.
Storytelling: Airpals also converges the online and offline experience turning cold, mechanic and boring pick up and drop off moments into "you made my day" moments
 
The Ask:
I am seeking funding in this platform because I am tired to be judged by men and hearing from them things like "you don't have the background" and "you are too early" 
I do not have the most experience but I care the most about this problem and the customer. 
With almost no resources we launched the MVP in the midst of the pandemic and with one foot out of my previous job. A week after the launch I started to receive clients.
I've been living check by check and do not have savings to keep self-funding this until it gets "enough traction" for investors. My main goal is to fund this with paying customers but I need a little help from you.

USE OF FUNDS:
The MVP is working but I need to improve the process to increase conversions and implement a delivery management software to cope with volume. The idea is to outsource tools for notifications, route optimization and more until I can afford full time employees to start working on creating innovation. 

Thank You!
If you got this far, THANK YOU! I appreciate the time you took to review my campaign. I will be forever grateful if you wish to help me. I understand if you choose to help another female in this platform and I am happy for that as well. (The future is female)
If you still want to help me somehow, please spread the word. I am also open to receiving feedback on the product of strategy. Everything helps :) 
Updates
The Campaign FAQs
Frequently Asked Questions:
How do you know you have what it takes to make this a successful company?
Don't look at my raising capital success , don't look at my technical success. Look at my creative success because that is what it will set us apart from the competition. Look at my community building success. 
Technical skills can be learned but creativity and vision not.

How are you different? 
You have probably heard this before but my cultural identity makes me different. I grew up in a community (Ecuador) where I inherited the value and passion for hard work. My experience as a global citizen that was fortunate to move to the US and get the opportunity to work at amazing projects with great companies and brands had thought me the importance of smart work. 
I think that is a powerful combination
What is your strategy?
1. Start small
2. Think Big
3. Scale Fast
Monetary Contribution
0 Supporters
Select this reward
500.00 USD
50% off FOREVER
EARLY BIRD
You can apply this discount to any of our current and future services..for the rest of your life! 
* LIFETIME DISCOUNT available only through iFund Women. 
500 Left
0 Supporters
Select this reward
Rewards
Monetary Contribution
0 Supporters
Select this reward
500.00 USD
50% off FOREVER
EARLY BIRD
You can apply this discount to any of our current and future services..for the rest of your life! 
* LIFETIME DISCOUNT available only through iFund Women. 
500 Left
0 Supporters
Select this reward