Inspiring The Hearts & Minds of Youth Through Music
Project Description
WHO WE ARE AND WHAT WE DO

Rozanna's Violins was founded in 2011 with the mission to create instruments that respond to the changing demands of 21 st century musicians. In the past, classical music dominated the bowed string instrument world, but the landscape is changing, reflecting the popularization of bowed string instruments in rock, pop, jazz, fiddle, and myriad world music styles. Because our company has seen this trend coming, our goal is to capitalize on a relatively untapped market. Thanks to the visual component of our instruments we are akin to the variety of options that were an outgrowth of the popularization of the guitar in the 50,s 60s and beyond. 

With this in mind, we have been the first violin company in the world to produce designed violins, sold alongside popular movies like FROZEN and STAR WARS, and have done so with strategic partners with broad reach, cutting a swath right into the heart of our potential market. With the right timing to expand, we would like to expand to include cellos, violas, basses so that ensembles can take advantage of our cutting edge approach to string playing. We have also been developing a bow that lights up, to sell with our Star Wars inspired violin and other creative uses.

Our company is the first to aggressively go after this market while most typical string companies are fighting for the same turf, with traditional-looking instruments. Our natural appeal to children and mission to inspire youth, can only grow, with the right brand development and marketing. We also have an electro-acoustic violin design with bigger margins that will open up additional markets to young professionals.

Market Size Estimate

 
PURPOSE OF COMPAIGN
While our company shows great promise and has already seen significant traction, we are still young.  And we have been significantly impacted by Covid-19 in NY. At this juncture we are seeking help with acquiring the quality inventory needed to produce designs, along with funds to accelerate our online campaigns.  At this time, our online presence and marketing is key to survival during this time when customers are more likely to do their shopping online. 
We are looking for 7K in new inventory plus 3K for marketing at this time. 
OUR TEAM
We are a small team which includes the founder, who wears many hats, plus our technicians that apply the designs by hand in NY, artists who help us create our desigsns and part time help to ship our violins worldwide. 
 
Thank you SO much for checking us out. We really do appreciate your kind consideration!
Updates
The Campaign FAQs
Frequently Asked Questions:
Please, replace this example content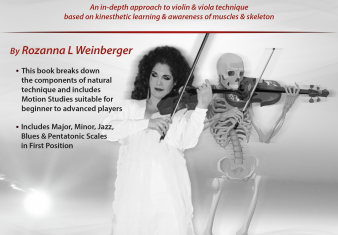 Monetary Contribution
For $50 you will receive signed copy of Rozanna's book, 'A New Common Sense Approach To Violin & Viola Playing'.
10 Left
0 Supporters
Select this reward
Rewards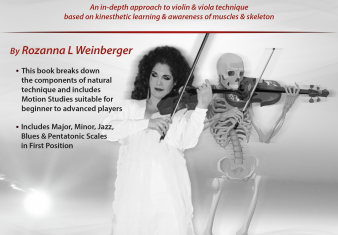 Monetary Contribution
For $50 you will receive signed copy of Rozanna's book, 'A New Common Sense Approach To Violin & Viola Playing'.
10 Left
0 Supporters
Select this reward