Beautiful Diamonds Spa & Soul Event - It's time to pamper your mind, body, and soul.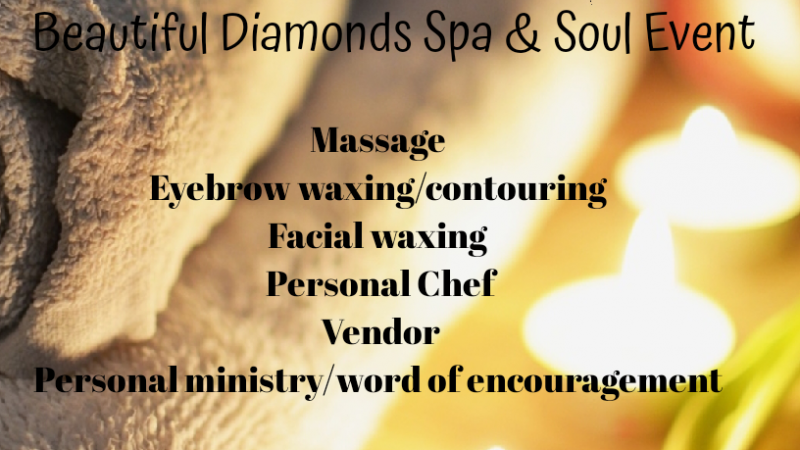 $0
pledged of $5,000 goal
Project Description
Hello,
I represent Diamonds & Pearls Events, LLC's.  Our mission is to pamper, encourage, and inspire women to pursue their passions and empower them from the inside out.  And our events do just that. Since we are a company dedicated to empowering women from various socioeconomic backgrounds, we organize social events to educate and encourage them to live successful lives. We provide informative speakers on women's health and wellness, and business, as well as certified life coaches.
Our 1st annual Beautiful Diamonds Spa & Soul Event will take place July 27th at the Westminster Hotel, located at 550 W. Mt. Pleasant Ave in Livingston, NJ.  There will be women of various professions and backgrounds expected to be in attendance, such as entrepreneurs, housewives, churchgoers, etc... Each beautiful lady will receive therapeutic spa services by trained massage therapists and estheticians. They'll partake in delectables prepared by a personal chef, culminating with a shopping experience and a word of encouragement from our guest speakers.
In order to maximize their experience and increase our outreach, we need funding to offset the expenses essential to creating a memorable and successful experience. And since we believe all women deserve the royal treatment, we also want to give back to the community by donating part of our proceeds to a selected women's charity and present two underserved women with complimentary tickets to the spa event.  By lending us your support, you will help impact these women and increase our donations. 
Thank you for your consideration.
Sincerely,
Quanda Bryant
CEO
Diamonds & Pearls Events, LLC
Updates
The Project FAQs
Frequently Asked Questions:
Can I attend the event?
Answer: Yes for those at the Diamond level contribution.  Otherwise, a ticket will have to be purchased.
Monetary Contribution
0 Supporters
Contribute
$300
Diamond
Prominent display of website and logo on all event marketing
Inclusion of marketing material and sway items in guest gift bags
Reserved seats for up to 2 event guests
0 Supporters
Select this reward
$200
Pearls
Display of logo on event program
Recognition of sponsorship at the event 
Inclusion of marketing material and sway items in guest gift bags
0 Supporters
Select this reward
$100
Cultured Pearls
Recognition of sponsorship from the event host at event
Inclusion of marketing material in gift bags
0 Supporters
Select this reward
$75
Gemstone
Inclusion of marketing material in gift bags
Diamonds & Pearls t-shirt
0 Supporters
Select this reward
$50
Precious Gem
Diamonds & Pearls t-shirt
0 Supporters
Select this reward
$25
Mother of Pearl
Honorable mention during the event 
0 Supporters
Select this reward
Rewards
Monetary Contribution
0 Supporters
Contribute
$300
Diamond
Prominent display of website and logo on all event marketing
Inclusion of marketing material and sway items in guest gift bags
Reserved seats for up to 2 event guests
0 Supporters
Select this reward
$200
Pearls
Display of logo on event program
Recognition of sponsorship at the event 
Inclusion of marketing material and sway items in guest gift bags
0 Supporters
Select this reward
$100
Cultured Pearls
Recognition of sponsorship from the event host at event
Inclusion of marketing material in gift bags
0 Supporters
Select this reward
$75
Gemstone
Inclusion of marketing material in gift bags
Diamonds & Pearls t-shirt
0 Supporters
Select this reward
$50
Precious Gem
Diamonds & Pearls t-shirt
0 Supporters
Select this reward
$25
Mother of Pearl
Honorable mention during the event 
0 Supporters
Select this reward