CLOTHING THAT FITS EVERY ATTITUDE
Project Description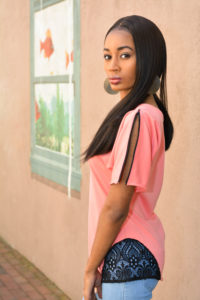 Dolman Zipper Sleeve Top
Facts about me: I love Jesus with all my HEART.  I'm married and I have 2 daughters, my husband works full time. I left my job last year to work on my business FULL TIME. I currently live in North Carolina. I graduated from NC A&T State University in 2012 with a degree in Fashion Merchandising and Design. I'm a stay at home mom/ business owner who is trying to get her feet off the ground in this fashion industry.
 I'm the owner of Rhonda Lynette LLC; a women's clothing brand that symbolizes in confidence, sophistication, and elegance that every woman has! My target market is for the 25-35 year old women. The age range where we are all confident, secure, and youthful. I started my online store (website) on April 6th, 2017. You can check it out right here http://www.rhondalynette.com/shop .I introduced my first women's Spring/Summer collection in April as well. They are all women's tops that have lace and zippers incorporated in them. It's different but stylish. As time goes by I will be working on children and men's clothing but for right now my focus is on us women. We are picky when it comes to buying clothing. I just want to reach every woman and show them that Rhonda Lynette is a brand that will suit your every need from comfort to versatility. You will have heads turning when you're out wearing Rhonda Lynette.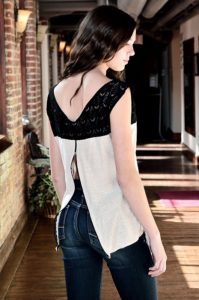 Hi- Lo Tank Top
As the Spring ended and Summer just started I haven't been able to get the exposure I would have wanted. By me being a new fashion designer and I'm in a competitive field. It has been hard getting my name out there. I honestly haven't had the money I needed to get into local magazines and fabric is also expensive! I'm drafting my patterns for my Fall/ Winter women's clothing line right now which will include not only tops but pants, leggings, and skirts. I'm preparing for my pre-launch and launch of my Fall/Winter collection. The funds will go towards fabric, marketing( such as local magazines, FB and IG ads and etc) and materials. In the future I plan to sale my items wholesale to boutiques and other online stores. I'm ready to get my feet off the ground and accomplish more sales, reach more women on social media platforms and in person. I have FAITH that this business will become a success and that I will be able to help others in the future with their businesses. I'm going to continue to design and work! I sketch my designs, I draft my own patterns, and I sew my clothing made to order.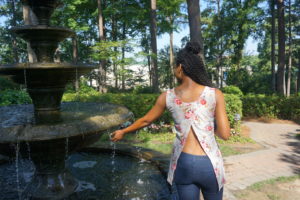 Floral Print Split Back Top
Support Me: My brand is different from a lot of other brands. Majority of online stores, boutiques, and even departments stores buy their clothing and accessories from manufacturers or people like me (designers). The fact that I design all of my garments and I sew them myself sets me in my own category. Yes buying clothing from department stores is easy to do but invest and buy a garment from a designer like myself. It so much love, care , and detailing going into your garment when buying from someone like me. You cant get that stores!
Thank you for your time and support. See the FAQ Section or email me at info@rhondalynette.com for any questions
xoxo,
Rhonda
Founder and CEO, Rhonda Lynette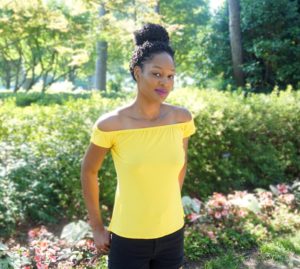 Updates
The Project FAQs
What sizes do I offer? I currently offer sizes XS-XL and will be have plus sizes soon!
How do I make a purchase? You can order online at www.rhondalynette.com. Once an order is placed there is a 24-48 hour turnaround time; meaning I will begin sewing sewing your order once payment is received. It typically takes me only one day to sew a top(s).
Where Do I purchase my fabric? Majority of the time I order my fabric from fabric wholesalers. I live in NC so we aren't known for fashion so I order from wholesalers in the LA area.
How can you follow me? I'm on social media. www.facebook.com/rhondalynettedesigns and Instagram www.instagram.com/rhondalynettedesigns. You can also subscribe to my website where you will receive sales promotions, the latest news about Rhonda Lynette and weekly blogs. Email me with any questions or concerns you may have info@rhondalynette.com