Embrace creativity. Support community. Fund Texas artisans.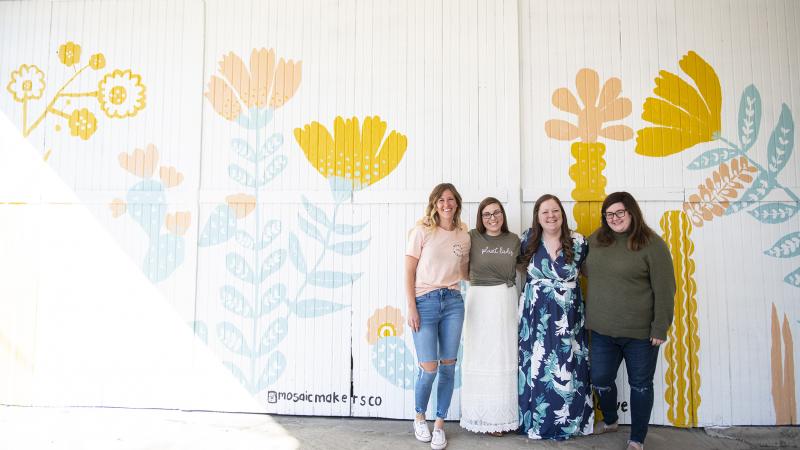 Project Description
Meet Mosaic Makers Collective: a retail collective in the Bishop Arts District in Dallas, Texas. Katy 'Sensenig' Schilthuis, maker and founder at stationery company Fresh Out of Ink, founded Mosaic Makers Collective in the Spring of 2018 with a clear mission in mind: to create community and opportunity for local, creative women. Mosaic is not a traditional consignment shop. Instead, we call ourselves a "collective" - a hive of creative minds that work together to operate a store and workshop space. Texas female makers make all of the product sold in the store (which includes a variety of paper, gifts, jewelry, clothing, and more), and take turns staffing the shop in an opportunity to meet customers face to face and gain valuable experience. 
In March of 2020, Mosaic Makers Co moved to a newer, bigger, and better location in Dallas: on the corner of 8th and Bishop, we opened in a cool, converted garage that offered 4x the retail space of the old location, plus an entire creative workshop studio built for classes and events. In this new location, we support about 50 female creative entreprenuers: who work in the shop, create in the shop, and many whom consider the shop a second home.
We opened our new doors in the new location on March 1, 2020 - and had to close them on March 16, 2020 due to COVID-19. Within our first two weeks, we experienced incredible community amongst the makers, new and old, and greeting many happy customers as they walk through our door. Unfortunately, closing and pivoting to our online platform meant a significant drop in our sales and income, for the shop, and for the shop's makers. 
We would love nothing more than to continue to provide a home for these women, and to introduce their incredible work to more of the Dallas community and beyond. While we've worked tirelessly to pivot our business online - selling face masks, handmade by Texas women - starting virtual workshops and classes - and launching subscription boxes, we could still use some help. Funding now ensures us a future where doors can stay open, and we can all support one another, AND allows for the community to experience Mosaic Makers Co through incredible handmade goodies, creative workshops, private events, and more. 
*ANY donations above and beyond our $10,000 goal will go straight to the women represented at Mosaic Makers Collective, to help their small businesses as well.*
Thank you for taking the time to consider helping Mosaic!
The Campaign FAQs
Frequently Asked Questions:
               Funds go to expenses and operations for Mosaic Makers Collective. Any money raised over the first $10,000 will be split amongst the individual women represented at Mosaic, to help keep their dreams alive as well. 
When will my rewards be delivered?
               We expect tangible rewards to ship in June. If you have requested a workshop or event, those dates will be scheduled once we know more about shop re-opening and the safety of our customers. We will be in touch on a regular basis. Stay healthy!
Brenda Mathis Sensenig
05/22/2020
Margo and Mark
05/13/2020
Monetary Contribution
$75
Danielle Aldrich
05/13/2020
Monetary Contribution
$150
Chris Applegate
05/01/2020
shalini maharaj
04/29/2020
Melissa Miller
04/29/2020
Margo and Mark
04/29/2020
Monetary Contribution
$100
Monetary Contribution
5 Supporters
Select this reward
25.00 USD
Tote-ally Awesome
1 Mosaic Makers Collective designed tote bag
48 Left
2 Supporters
Select this reward
50.00 USD
You're Tee-riffic
1 Mosaic Makers Collective designed tote bag + 1 Mosaic Makers Collective tee, in your choice of size
46 Left
4 Supporters
Select this reward
75.00 USD
Hats Off to YOU
1 Mosaic Makers Collective designed tote bag + 1 Mosaic Makers Collective tee, in your choice of size + 1 Texas baseball cap
46 Left
4 Supporters
Select this reward
100.00 USD
Strike a Pose
1 15-minute Mini Photo Shoot (and 5 photos) from professional photographer Tanner Garza, taken on site at Mosaic Makers Co, in front of our insta-famous floral mural
19 Left
1 Supporter
Select this reward
150.00 USD
(NEW!) Who Let the Dogs Out
1 custom collar from Uptown Pet Wear + a collar added her line in multiple sizes, designed and named after your pup
2 Left
0 Supporters
Select this reward
200.00 USD
Name a Table
Celebrate creativity in our workshop space by naming a workshop table after a loved one - one engraved plate will be added to a tabletop
6 Left
0 Supporters
Select this reward
250.00 USD
Workshop for 2
1 Creative Workshop with a Mosaic maker for 2 people, including supplies, instruction, drinks and snacks
Workshop options may include: jewelry stamping, letterpress printing, + macrame, among others
10 Left
0 Supporters
Select this reward
500.00 USD
Workshop for 5
1 Creative Workshop with a Mosaic maker for 5 people, including supplies, instruction, drinks and snacks
Workshop options may include: jewelry stamping, letterpress printing, + macrame, among others
5 Left
0 Supporters
Select this reward
750.00 USD
Workshop for 10
1 Creative Workshop with a Mosaic maker for up to 10 people, including supplies, instruction, drinks and snacks
Workshop options may include: jewelry stamping, letterpress printing, + macrame, among others
5 Left
0 Supporters
Select this reward
1,000.00 USD
VIP Mosaic Party
1 "VIP Night" at Mosaic Makers Collective for up to 15 guests: snacks, drinks, music and a private shopping event for your guests to enjoy
3 Left
0 Supporters
Select this reward
Rewards
Monetary Contribution
5 Supporters
Select this reward
25.00 USD
Tote-ally Awesome
1 Mosaic Makers Collective designed tote bag
48 Left
2 Supporters
Select this reward
50.00 USD
You're Tee-riffic
1 Mosaic Makers Collective designed tote bag + 1 Mosaic Makers Collective tee, in your choice of size
46 Left
4 Supporters
Select this reward
75.00 USD
Hats Off to YOU
1 Mosaic Makers Collective designed tote bag + 1 Mosaic Makers Collective tee, in your choice of size + 1 Texas baseball cap
46 Left
4 Supporters
Select this reward
100.00 USD
Strike a Pose
1 15-minute Mini Photo Shoot (and 5 photos) from professional photographer Tanner Garza, taken on site at Mosaic Makers Co, in front of our insta-famous floral mural
19 Left
1 Supporter
Select this reward
150.00 USD
(NEW!) Who Let the Dogs Out
1 custom collar from Uptown Pet Wear + a collar added her line in multiple sizes, designed and named after your pup
2 Left
0 Supporters
Select this reward
200.00 USD
Name a Table
Celebrate creativity in our workshop space by naming a workshop table after a loved one - one engraved plate will be added to a tabletop
6 Left
0 Supporters
Select this reward
250.00 USD
Workshop for 2
1 Creative Workshop with a Mosaic maker for 2 people, including supplies, instruction, drinks and snacks
Workshop options may include: jewelry stamping, letterpress printing, + macrame, among others
10 Left
0 Supporters
Select this reward
500.00 USD
Workshop for 5
1 Creative Workshop with a Mosaic maker for 5 people, including supplies, instruction, drinks and snacks
Workshop options may include: jewelry stamping, letterpress printing, + macrame, among others
5 Left
0 Supporters
Select this reward
750.00 USD
Workshop for 10
1 Creative Workshop with a Mosaic maker for up to 10 people, including supplies, instruction, drinks and snacks
Workshop options may include: jewelry stamping, letterpress printing, + macrame, among others
5 Left
0 Supporters
Select this reward
1,000.00 USD
VIP Mosaic Party
1 "VIP Night" at Mosaic Makers Collective for up to 15 guests: snacks, drinks, music and a private shopping event for your guests to enjoy
3 Left
0 Supporters
Select this reward