Sharethelove.ly is reimagining weddings through a sustainable marketplace-platform built around underused assets and partnership economy.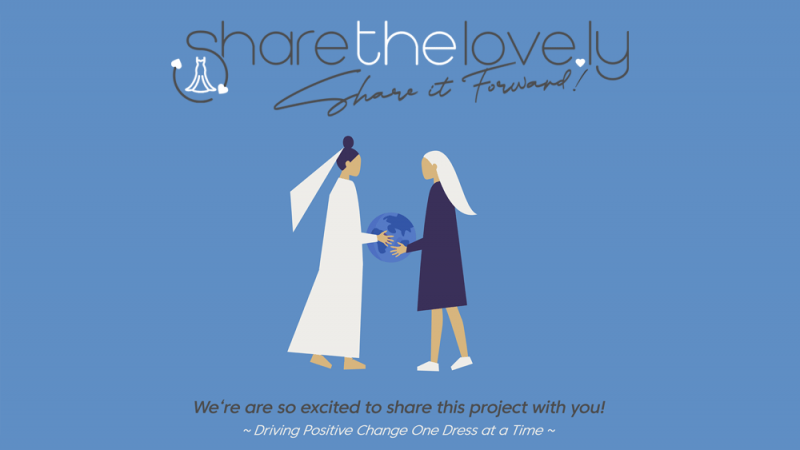 Project Description
Mission
Sharethelovely is reimagining wedding shopping and planning through a resale marketplace-platform built around maximizing underused assets. We're bringing together the online and local wedding market and driving positive impact through a highly sustainable and experiential platform, giving the wedding industry a range of sustainable products and services without additional resources. We are working towards building out a sustainable future for the wedding market that will help local economies to thrive across the US in a new and sustainable circular fashion distribution network that will help unify the industry while helping it compete in the new economy. 
 

Driving Positive Impact One Dress at a Time. Helping Brides, the Community & the Earth! #sustainability #circularfashion #wedding #bride #strongertogether
Solution
Every bride wants a Fairytale Wedding.

Wedding Dresses Cost $1,000 - $5,000+/- on average.

Weddings Cost $30k - $40k on average.

Yet 65% Americans are 2 paychecks from bankruptcy.

Couples spend 700 hours planning online.

Yet 85% Still Purchase in Stores.

10% of Stores are closing, struggling to compete with Digital Marketing & eCommerce. 

Couples meet dozens of local wedding service providers but feel its not enough to compare and make informed decisions.

Wedding dress fibers are like petroleum and take up to 1000's of years to bio'degrade.

If we recycled these toxic textiles it would be like removing 7.3 million cars from the road each year. 

Fashion is the 2nd largest producer of polluted air, soil, landfills, water supply, oceans, child labor and dangerous working conditions.
How we solve the problem 
Now Every Bride can have her dream wedding at a fraction of the cost.

Brides and businesses benefit from the circular economy in a distribution partner network.

Sharthelove.ly Curates, Authenticates and Resells Wedding Related Products and Organic Eco-Friendly Wedding Products.

Purchased Online or Shipped Locally for a Try-Before-You-Buy Business Model.

Co-host Local Events and shared spaces around all-sustainable exquisite weddings.
Market size/Opportunity
Wedding Industry: $65 - $78 Billion US (2019) and growing at 8% 

Re-commerce is exploding! $24 Billion Industry, Funded $850 Million
Funding Breakdown
35% Will go towards the completion of MVP platform development.
       - We're getting close at 85% complete, expecting to launch April/May 2020.

45% Will go towards the Go-to-Market Campaigns (B2C and E2R)

20% Will be used for operational costs
This Sustainable Business Fundraiser is so much more than helping launch a cutting edge eco-friendly startup or about building a great business, although these are important factors. This business model is reaching far and wide to help an industry gain advantages over big box ecommerce like Amazon and other monopolies. For the wedding industry and brides this means everything. The ability to rely on personalized experiences at the local level, while having great price and assortment through online reach and channels, supports everything for a dream wedding and supports local economies. This platform will not only help brides create their dream wedding at a fraction of the cost, helping couples stay out of debt, but it will also becomes the foundation for a fully circular wedding economy including the consumer both before and after her wedding, and an industry focused on local economies.
I have been bootstrapping the development and have not yet raised outside capital. This small pre-seed stage will be a great start towards gaining traction. Once we launch Q2 2020, the majority of costs will go toward completing the final MVP platform development and towards going to market and building early adoption and user-base. With that said, there is minimal marketing, operational and inventory costs in the secondary market (resale) and overhead is minimal with an online-based market-platform. Marketing, other than purchasing network inventory, is my forte, with 25 years digital marketing experience.
Our Team
1. Bonnie Gringer:
Digital Marketing & eCommerce Professional - With 20 Years Fashion eCommerce/Retail experience and 25 Years Digital Marketing.  Bonnie grew up in Fashion Retail Business with her Family's Chain Store (Off price fashion footwear and accessories)
2. Drew Grinde:

Operations Director with 30 years Operations, Inventory, HR, Distribution and Pricing Strategy, 30 Years in Big Box Retail Managing 140,000 SKUs and 150 Employees.
3. Radford Harrell:
Advisor, CEO, TalentSoup.com, Serial Entrepreneur, ATDC Start-up Catalyst, US Marines
Thank you for your interest in Sharethelove.ly!
We look forward to working with you soon!
PLEASE HELP OUR PROGRESS and LIKE OUR PAGES:
Updates
The Campaign FAQs
Frequently Asked Questions:
If you have any questions please feel free to ask at any time: bonnie@sharethelovely.com or 912-601-7981
Yes, we are also very interested in finding partners and support to grow the business.
Please share this cause with your network and refer us to others who might be interested in getting involved. It takes a village! We're in this together@sharethelovely.com
Thank you for your interest, Cheers!
Monetary Contribution
$25
Monetary Contribution
$255
Monetary Contribution
$1,000
Monetary Contribution
$50
Anonymous Backer
03/06/2020
Monetary Contribution
$85