Level Up is on a mission to connect, educate, and inspire women through a curated online platform of offline classes and events.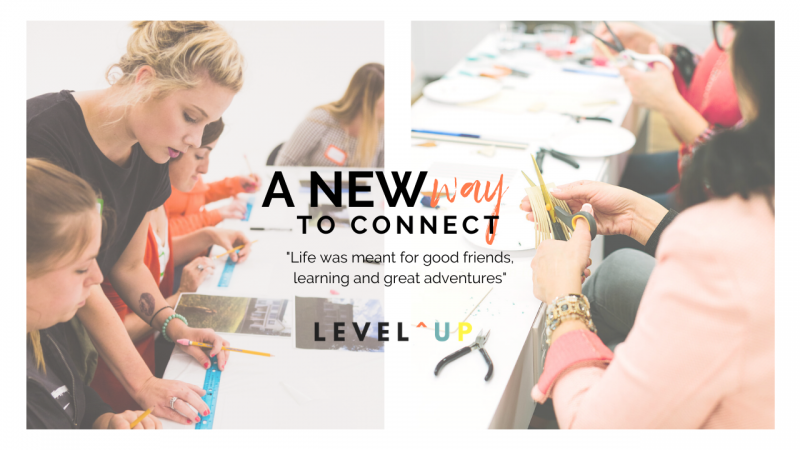 Project Description
 At Level Up, we have made it our passion to help women build skills, knowledge, community and confidence. We do this because we know that when women thrive, EVERYONE in their community thrives. We do it so that we can make a meaningful impact for her, her business, and our community.
But what's the problem? We know that adults face a unique set of challenges when trying to learn new skills and retain knowledge. Mindset, accessibility and learning environment plays a vital role and research shows that small group, in-person sessions, increase the likelihood of data retention by up to 60%.
For the last three years, Level Up has supported learners and small businesses in communities across Kentucky, and now we are ready to take our mission national.
WHAT WE OFFER:
Our solution? We've created a brand new software platform (SaaS) where small businesses, local experts and individuals can sign up to teach offline pop-up style classes that customers can access in a beautiful carefully curated online marketplace. Our goal is to launch the new platform in 2020!
Through Level Up, we are able to connect women to new skills and their communities while providing a comfortable and encouraging space for learning. At the same time, we are offering a space where an expert can share their passion, add an additional stream of revenue, grow their brand awareness and resources to expand their business.
LEVEL UP MEMBERSHIP:
When was the last time you learned something for the sake of it? Not just because it was a requirement for work, or school, but because you wanted to get better at it, or to scratch your creative itch. Now take a moment to reflect on the answer to this question: Once you mastered it, do you remember how it made you feel? That excitement and joy, that boost of confidence, like you could do anything you set your mind to? Well, what if you could have that feeling over and over again, what if you could share it with a community of women who feel the same way?
This very concept inspired us to create accessible packages for dedicated and continued learning. With the launch of our new platform in 2020,  we will offer an exclusive Founding Membership (a $150/month value) which will allow you or the person you gift it to, to get monthly credits to use on any class on our platform.
With different plan options, there's something for all levels:
Every month, get credits to book classes

Your monthly plan includes credits to use on any class in our platform, which means you can dabble and try as many new skills as you like

Classes are worth different credit amounts

Knowledge shouldn't be inaccessible. Credits consider a class' popularity, equipment, materials, teachers expertise and more/

Roll over credits — or add more

Learning should be flexible. Up to 3 credits roll over every month (so don't stress) or add more when you need.
LEVEL UP FOR TEACHERS:
We want our teachers to have more in their pockets! A small service fee is provided to Level Up as we market and sell your classes on our curated platform. Our brand is trusted and we take that seriously. 
Community Online and Offline
We create community through our network of teachers. You can find creatives just like yourself to inspire and collaborate. 
Teacher Support and Resources
Support and programming for teachers just like you! Whether you are just starting out or finding a plateau in your business, we have talented professionals and resources right at your fingertips!
LEVEL UP FOR PARTNERS:
The Level Up Host and Brand Partner Program allows businesses to connect with our teachers and the community of students in a unique way!
Host Partners are venues who are willing to host a class in their space. While Brand Partners will elevate the course or teach with specific products or experiences of their brand.
We are always looking for cool spaces, brands and rad businesses to be our partners in showing off your great city! It's a marketing win-win, when you partner with us  - we bring excited new clientele right to your brand.
WHO WE ARE: 
Natalia Bishop (Founder & Chief of Happiness). I started my entrepreneurial journey as a crazy Colombian lady with a camera (ChocolateBox Photography) followed by founding Story Louisville (a community-based co-working space) and Level Up is the latest addition to the family. I saw the potential for scaling the concept through tech. I am family-first, a huge foodie, sucky writer,  and one of the happiest people you'll meet. I never skip dessert and don't exercise often. I like hot weather, but fall and winter are my favorite seasons. I try to live every day one moment at a time. I believe mindfulness, respect, kindness, and compassion are the keys to happiness. 
- Hannah Estes (Co-Founder & Marketing). I joined the team in 2017 after I bumped into Natalia at a bachelorette party. It was kismet. I've played a fundamental role in developing our brand & identity and lead team in lifting up partners and entrepreneurs. I love all things pug, glossier and any true crime podcast. I'm an Enneagram Type 5 - The Investigator. When I'm not at Level Up, you can find me singing lead vocals for my band, Bourbon Straights.
- Erica Sartini-Combs (Director of Operations). I joined the Level Up ladies in the spring of 2018 after having spent a decade as a theatre casting director in Chicago.  I was drawn to Level Up because of my desire to curate moments of joy in people's lives. Level Up has mastered the art of sharing joy! I have a downright nerdy passion for logistics, all things office supplies, and Airtable. As an ISFJ-A, helping others is my jam!  I love making authentic connections and pushing myself in new ways. I'm a meditation-loving, cafe-hunting kind of gal who loves spontaneity and adventure. 
LEVEL UP WITH US:
Be part of the movement to connect, educate and inspire women by becoming a Founding Member by backing Level Up and sharing our campaign!  With your support, we can bring all the goodness of Level Up to a city near you!
Updates
The Campaign FAQs
Frequently Asked Questions:
What is my donation going towards?

Your donation is going towards paying for our brand new platform (already in development!), funding to help add new opportunities for awesome staff members, and overhead for the beta launch in our first 5 markets!

When can we expect to receive our rewards from the campaign?

We will be able to send out rewards in February 2020! Please be sure to enter mailing address for shipping needs ;)

When will the new platform be live?

We plan on sales launching on our new platform in January 2020! Serviceable markets will begin with Louisville, Lexington and Cincinnati.

How soon will Level Up come to my city?

Great question! We plan to roll out with about 3-5 city launches a month then closer to 10 markets a month through the end of 2020. Majority of our locations have been chosen due to the density of makers. When the new platform is live, it will have a place to "suggest a city" as well. 

How can I apply to be a teacher?

We accept teacher applications on a rolling basis on our website. However, we will not be bringing on any new programming until the NEW platform launch.

How can I apply to be a Brand or Host Partner?

We accept partner applications on a rolling basis on our website. However, we will not be bringing on any new partners until the NEW platform launch.

THE GOLDEN TICKET REWARD: Black Friday Only:

Memberships will be issued when our new website goes live (estimated expected frame is early 2020). The year will start when the memberships are issued so purchasers will receive a full year no matter the start date. 
This reward applies to the tier one membership which Includes 5 credits to book approx 1 - 2 classes a month per each golden ticket  (credits varies due to class price) for one year. Remember, you will have TWO golden tickets! Membership can be applied to ALL classes in ALL cities that Level Up operates in.
Golden Tickets are valid and available to purchase from 12:00am EST Friday, November 29th through noon, 12:00pm EST on Friday, November 29th.
If you have any additional questions regarding this reward, please email Hannah@LevelUpWithUs.com
The Golden Tickets +
$600
Spencer Jenkins
11/19/2019
Andrew from Austin, TX
11/15/2019
Monetary Contribution
$50
Monetary Contribution
$40