Help JHA continue educating female consumers on how to maneuver through the scam-ridden hair industry while offering ethically sourced hair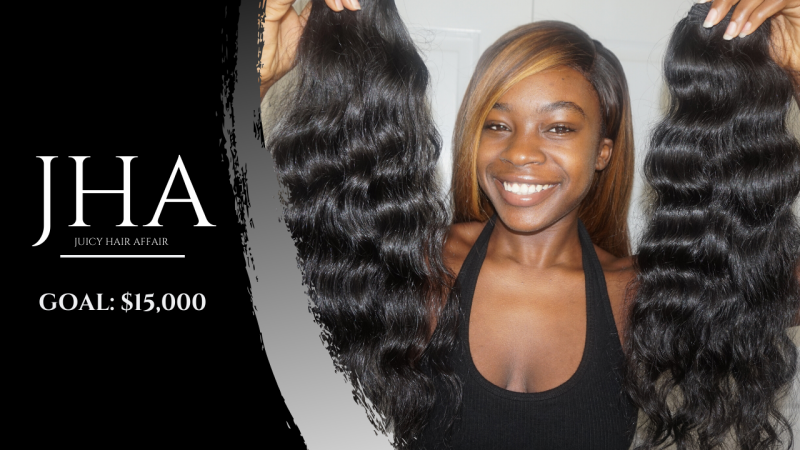 Project Description
Do you want to help make a difference?
Help us reach more women with our message!

My name is Constance, I'm 23 years old and I am CEO and Founder of Juicy Hair Affair (JHA).
Juicy Hair Affair is a black woman-owned online hair extensions company that educates female consumers on how to maneuver through the scam-ridden hair industry while offering beautiful, soft and ethically sourced hair. 
We offer a reliable source for high quality human hair extensions to women all over the world.
Right now the industry is filled with:
 - Foreign vendors only interested in making a quick profit
 - US companies who are too busy to take the time to walk women through the hair buying process.
- Misinformation about where these hair extensions come from, and which extensions are really worth buying.
Women need a place they can go to to get high quality hair extensions that will last more than just a few months.
They also need to understand how to tell which extensions are worth paying hundreds of dollars for, and which extensions will break, shed and tangle when they wear them.
I know this first hand.
After spending most of high school and college getting ripped off by hair companies, I made it my mission to educate women of all ages on what to look for when purchasing hair extensions AND offering my own brand of beautiful and ethically sourced hair extensions
Most companies are only interested in making money, why isn't JHA?
It's important to help people make smart buying decisions. We all work for our money, and we deserve to get our money's worth when shopping!
The average hair extension consumer will purchase hair about 3 times a year, spending upwards of $600 in total for her purchases. If she isn't purchasing her hair from a reputable and trustworthy hair company she will have wasted her hard earned money on poor quality hair that won't last longer than 3 months.
Now, I would LOVE if everyone who comes across my company bought from us, but I also understand that JHA may not be the perfect fit for every customer. I simply want to arm women, as consumers, with the information hair companies have been trying to keep hidden from them, so they can make the perfect shopping decision for their specific circumstance. 
The "how" is just as important as the "why".
It isn't enough to just provide high quality, beautiful and soft hair extensions, I wanted to do it the right way.
I only source my hair from temples where the women have VOLUNTEERED to donate their hair. 
This ensures that:
1. The women aren't being coerced into selling their hair for pennies just to make ends meet
and
2. Each bundle I receive is from one single donor and as such is well maintained, beautiful and will look natural on my customers' heads

We've been in business for about 3 years now but unfortunately we've hit a snag.
In about June of 2019, my brother lost his job, shifting the financial responsibilities of the family onto myself and my mother. Soon after my mother had to go back home to Africa to respond to a family crisis, leaving myself as the sole breadwinner of our family as my brother continued to look for work.
Despite my best efforts we ended up getting evicted in November.
Battling homelessness, we did everything we could to try to build up JHA,  but without capitol to invest in marketing it has been difficult.
I'm looking to raise capitol to invest in marketing for my business.
We're asking for $12,000 to fund marketing for 6 months, and an additional $3,000 to invest in door-to-door marketing, allowing us to partner with hair salons to get our hair featured and sold in their storefronts. A total of $15,000.
I'm hoping that our combined efforts in this campaign will be enough to build JHA back up and continue reaching more and more women across the world!
Digital Marketing
We've partnered with a digital marketing firm based out of Colorado to take on our online marketing campaign. We've mapped out a 6 month strategy that will cost about $2000 a month ($1000 a month in ad spend and $1000 a month to the firm), to be used for Google Ad Words, Facebook advertising and email marketing. 
Right now we're estimating about a 300% ROI on our projected ad spend budget.
Door-to-Door Marketing
We have been corresponding with hair salons across the nation, trying to sell our hair to them wholesale for retail sale from their store fronts. 
We need a small working budget to send out samples and to cover travel costs.
Brand Ambassadorship
We've been reaching out to social media influencers asking for product reviews and promotion.
We would like to be able to send a small handful of them some hair extensions so they can make content to help build our social media presence as well as drive traffic to our website.
JHA is essentially a 2-person machine right now.
I'm  a 23 year old college graduate and the CEO and face of the company. I handle most of the social media marketing, web design, and order fulfillment.
My brother, Manny, is a 25 year old, Virginia Tech graduate. He does all of the copy-writing, email marketing, pretty much anything else that needs to be done in the business.
We're both entrepreneurial and love helping, educating and serving people while expressing our creativity. We've been able to have fun through the ups and downs of this journey and can't wait to continue building our business.
We're excited about the opportunity crowd-funding can provide for our business. We know just how powerful a community of support can be in both business and life in general!
I want to thank you in advance for your time and generosity. We're just so excited and humbled by this experience and can't wait to see what's next!
 
Updates
Monetary Contribution
$25
Brandon Steuerwald
02/27/2020
Monetary Contribution
$20
Monetary Contribution
2 Supporters
Select this reward
Rewards
Monetary Contribution
2 Supporters
Select this reward