Owner-occupied short term rental owner in need of assistance keeping her head above water during the pandemic.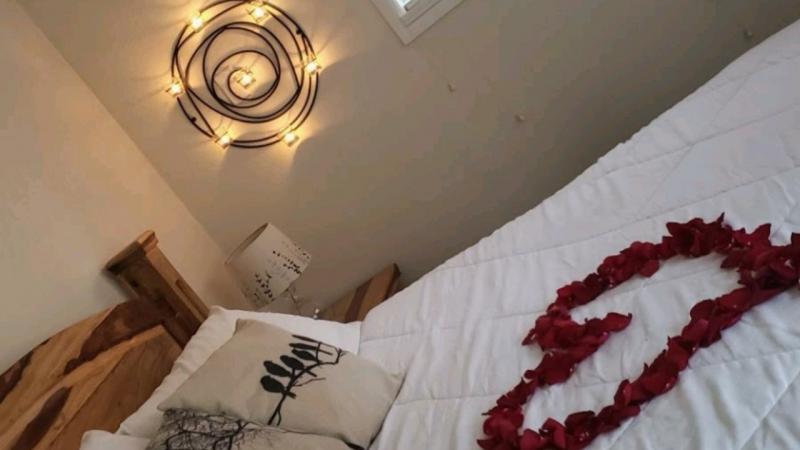 Project Description
Who I am I?
I own and operate the 4th most popular short term rental (STR) in Eugene, which is also the 6th most profitable STR of it's size during 2019 according to airDND.com. Unlike most other STRs in the area, I offer a private hot tub, private entrance, private kitchen, and private bath seperate from my own. We are typically maintain a 96% capacity rate on average, we have over 500 raving reviews, and multiple repeat guests. 
We offer a unique experience that most STR owners haven't yet considered, which lets us really stand out from other lodging providers. Since 2016, we have offered a simple romance package upgrade for an additional modestly priced fee which includes fresh rose petals on our hotel-white dream bed, candles, and a custom Pandora radio station. During 2019, we began marketing a deluxe and an enhanced romance package as well, which involve customizable romantic extras. This turned out to be a great business strategy that ended up being far more popular than I had anticipated, and eventually gained much traction as a hallmark of our space, often times requested based on word-of-mouth alone. In fact, we have hosted multiple guests who have either gotten engaged, had honeymoons, or had anniversaries (sometimes even all of the above) here at our luxury guest suite. 
Where are we now?
However, due to coronavirus, we have temporarily stopped offering romance packages in lieu of deep discounts to solo travelers, families, and or co-existing households booking long term temporary stays. My family and I are proud of the small nest egg we've built quite literally from the ground up as it provides 3/4ths of our household income. If it wasn't for the purchase of a home with a separate ADU, we would have been homeless shortly thereafter. Instead, we have built a name and a brand for ourselves here in our local segment of the sharing economy. Now the only trick is figuring out how to keep it from going under during this wildly uncertain and unsettling time in history, which only time and faith will tell. 
How Did We Get Here?
In October of 2015, I purchased my first home with a separate ADU and whipped out my first hospitality business in a matter of months. This was done despite all odds stacked against me. My husband had suffered a traumatic brain injury due to being struck by a drunk driver as a pedestrian prior to the birth of our first child, so it was up to me to become the breadwinner of the family, which I did right when disability services in Oregon were suffering drastic cuts, while caring for our 3 year old son as well as my husband. Had I purchased a single-family home or continued struggling to pay outrageous amounts of rent, we would have literally become homeless and would have likely had been forced to separate. Instead, I fought hard for 2 years prior, as I knew that major funding cuts would soon be on the horizon. I preservered and prevailed by rescuing our family from extreme poverty by creating one the highest earning, most popular, local vacation rentals in the area, which literally hit the ground running. The first year I made $13000. The second, I brought in $21000. The third, $26000. And this last year, I exceeded my goal by bringing in $31000. Nevertheless, its been an extremely rocky road for us. 
In April 2018, we suffered a horrible rollover car accident that left me permanently disabled and unable to walk. I had to once again struggle to make ends meet due to having to hire a cleaning company to manage the daily necessities of my business, in addition to assisting with my own activities of daily living. Today, I am only able to manage guest relations without assistance. My husband does what little he can to help out, but he also has a disability and resulting vision problems. Flipping the guest suite between bookings is a major struggle for me as it is due to the reduced mobility of my lower extremities. I can no longer afford to hire outside help after taking such a severe hit from all of the mass cancellations I endured last month due to the virus.
I lost over a third of my annual projected income in a matter of weeks and have now had to revise my marketing strategy to cater towards the longterm furnished rental market. This was despite early precautions and substantial investments made back in January towards respirators, shoe covers, gloves, gallons upon gallons of disinfectant and hospital-grade bleach, and top-of-the-line antiviral air and water filters in an attempt to ensure my guests' safety, as well as that of my family's.  
What Do I Need?
Things have been especially difficult for me since February, as I have had to also educate my first grader in an a demanding online homeschool program in order to keep him safe, while continuing to care for my husband as well the newest addition to our family, who is our now 2 year old daughter. Of course, in regards to my own needs for assistance, I have no other option but to endure each day while dealing with my own gutwrenchingly agonizing and debilitating pain and inflamation in my legs. 
Nevertheless, due to my diligence, tenacity, hard work, and preserverence, I have carried the weight of our unique family dynamic through multiple storms that we as newly weds just 8 years ago never saw coming. I can't let myself give up on eveything now, but due to missing out on the SBA grants by a matter of mere hours last week, I am uncertain at this point how I will make ends meet, let alone keep the lights on or the mortgage paid.
So in closing, thank you for this opportunity. I am so grateful that the SBA referred me to you. I know there us a light at the end of this unsettling time we are in... as we are all in it together.
Where Can You Find Me?
Our listing can be seen here: https://www.airbnb.com/h/thesafehaven and we welcome any and all ideas as to how we might be able to keep our heads above water and appreciate any help the powers that may be have to offer.
Updates
The Campaign FAQs
Frequently Asked Questions
What will I spend the money on?
I will be saving money and using it towards monthly overhead expenses, as well as capital expenditures to improve what we have to offer. This may include a bathroom and/or kitchen remodel, adding a steam shower, and adding a sauna, as well other various upgrades.
Why should you donate to this campaign?
You should donate to this campaign because you will be helping to save our home from going into foreclosure, our business from failing, while preventing tribal parents with disabilities, a 2 year old, and a 7 year old from ending up homeless. And it's the right thing to do. 
Monetary Contribution
0 Supporters
Select this reward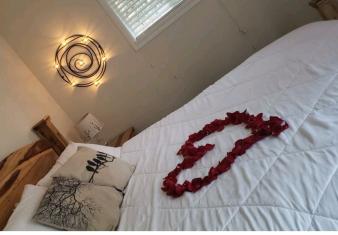 250.00 USD
Weekend Stay w/ Romance Package
Enjoy a romantic getaway at our short term rental in Eugene, OR on any available weekend of your choosing.
52 Left
0 Supporters
Select this reward
Rewards
Monetary Contribution
0 Supporters
Select this reward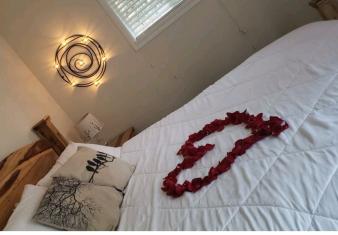 250.00 USD
Weekend Stay w/ Romance Package
Enjoy a romantic getaway at our short term rental in Eugene, OR on any available weekend of your choosing.
52 Left
0 Supporters
Select this reward