Help us bring PAPU's Zambia-made baby ring slings to the global audience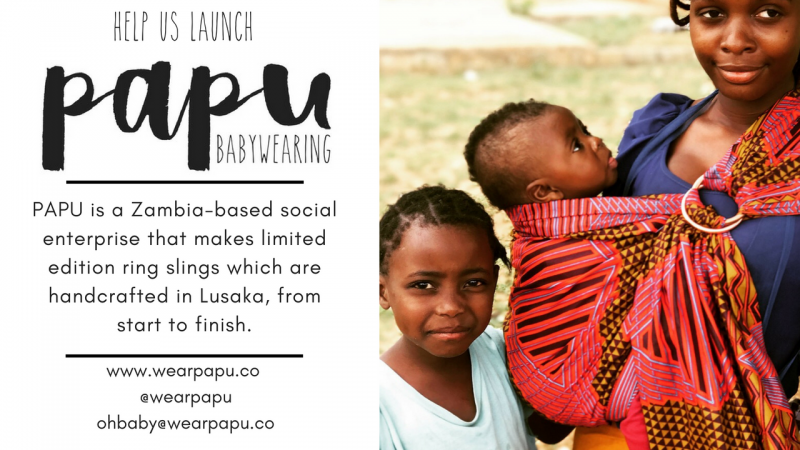 Project Description

We are PAPU Babywearing. PAPU is a social enterprise that makes one-of-a-kind baby rings sling, which are designed and handcrafted in Zambia, from start to finish.
As a public health professional, PAPU's founder Olivia Bell moved to Zambia to pursue a career in maternal, newborn, and child health. During her first year in Zambia, Olivia spent her time working at Under 5 Clinics at Zambia's Rural Health Centers, where she interacted with countless new mums who proudly carried their babies with brightly colored pieces of 'chitenge' fabric simply knotted at the shoulder. Fascinated by fortitude of these babywearing Zambian mothers, Olivia began delving into the health benefits of babywearing and she hasn't looked back since.
Since PAPU's inception, Olivia's vision has been to create one-of-a-kind, Zambian-made ring slings that are not only beautiful, but also help to promote bonding, child health, and development. Further, because each ring slings is handcrafted in PAPU's studio in the Bauleni township of Lusaka, each ring sling brings skills development and tangible income to our small (but growing) team of tailors.
It all started with a deep appreciation for baby-wearing mommas in rural Zambia. PAPU is not just about simplifying parenting - rather it's about nurturing a connection with the new baby in your life. Baby wearing will bring you closer to your to your little ones, both physically and emotionally, while giving you the flexibility to conquer the day.

It's has been our dream at PAPU to bring Zambian-made ring slings to the global market. For the past year, we have been bootstrapping PAPU - funding the growth of PAPU directly from our meager NGO salary. To date, the support we've received from customers around the world has been fantastic - words can't describe how much each order and word of encouragement has meant to the PAPU team.
However, we must be honest: while we've been doing all we can to properly launch PAPU, we have come to the realisation that can't do it alone. WE NEED HELP to overcome the last few financial hurdles to bring PAPU to fruition.


PAPU's founder is a public health practitioner, so Olivia  will be the first to acknowledge that the safety of mother and baby is PAPU's utmost priority. While we have done all we can to absoltuely ensure that our PAPU slings are designed and sewn to be as safe as possible, there are a number of legal requirements with which we must comply. Whether we sell PAPU ring sling per month or one thousand, we are legally required to meet the following standards (each of which comes at a price):
All carriers must include a permanently-attached tracking label

All carriers must include a postage-paid registration card.

You must keep on file a General Certificate of Conformity

You must create and carry out a third-party testing plan and maintain proper records of your plan

US Consumer Safety Specification - ASTM F2907 (plus the EU equivalent)
Ten years ago, it was quite easy to start a baby carrier business. Grab some nice fabric, sit down at your sewing machine, and VOILA - any amateure seamstress could have a successful small-scale baby carrier startup.
However, times have changed and the baby carrier industry is far more regulated now. You must, no matter how large or small PAPU's business is, we must comply with the statutes set forth in the Consumer Product Safety Improvement Act (CPSIA). The CPSIA's regulations are legal requirements. They are not voluntary. We must comply or risk our business (and possibly even personal) assets.
The PAPU team is absolutely determined to bring our Zambian-made ring slings to the global market. So, while it may be difficult for our small business to navigate and to fund compliance  with current safety requirements, we have already dedicated countless hours to the process of safety compliance. Your support will help PAPU overcome the financial challenges of becoming fully compliant. At the end of the day, our goal is to keep babies and parents safe, and few would argue that is not a worthy goal!

Although Zambia  is host to many natural splendors, the landlocked geographic nature of the country causes all exports to face prohibitively expensive shipping costs. To give you an startling example, we were quoted $55 to ship a single PAPU sling (which weighs under 1 pound) from Lusaka to Florida. OUCH!
It's quite simple: in order to have a viable business, we need to ship our PAPU slings in bulk. The more we ship, the cheaper the unit shipping price becomes. Our hope is to produce and to ship an initial load of 250 slings to America by the end of June.
But, quite frankly, to produce 250 slings, we will need more hands on deck to boost our production numbers. We've already trained one tailor apprentice, however, to reach our export production goal of 250 slings, we need to train our second PAPU apprentice.
On the admin side of things, exportation means paperwork. And paperwork means costs. In order to successfully ship our slings in bulk, we must become compliant with number of Zambian Development Authority export requirements.
Additionally, as part of our production scale-up, we are hoping to import 250 pairs of certified lead-free rings to be used in our PAPU baby sling. Although we have tried our hardest to make our rings within Zambia, we have decided it is in the best interest of our customers to import rings from a certified and trusted ring maker in the UK.

In a recent survey of our PAPU Instagram followers, over 94% of participants noted that Fair Trade Certification is either 'important' or 'very important' to them.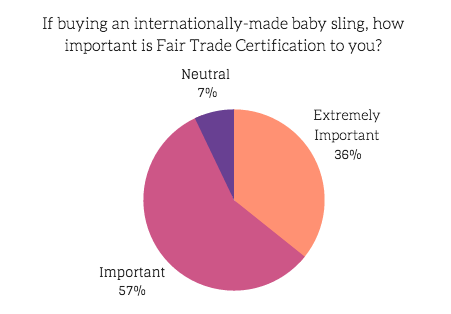 Our tribe have spoken, and we are listening. Although PAPU already abides by Fair Trade practices, we would like to become fully Fair Trade Certified, which is prohibitively costly for us at the moment. We feel that becoming Fair Trade Certified is our moral obligation, but also, becoming certified will allow our PAPU slings to be accessible to the fair trade market.

While we are super excited to bring PAPU's unique ring slings to the global market, PAPU is about more than just babywearing. PAPU is about supporting the livelihood of Zambian artisans. PAPU trains Zambian tailors, creates valuable income for our artisans, and helps to educate the children of our employees. We are dedicated to making this business flourish, not only to bring our unique ring slings to the global market, but to create sustainably improved livelihoods for PAPU's tailors.
Whether you are able to support PAPU with your words of encouragement, with business suggestions, by sharing us with your networks, or monetarily, we want sincerely thank you from the bottom of our hearts. We promise that PAPU is making a tangile difference to the lives of many, so ZIKOMO KWAMBIRI (thank you very much!) for supporting us on this journey!

Updates
The Project FAQs
How will your support PAPU? It will help us to:
Become fully safety compliant
Scale up production
Complete our fair trade certification
Monetary Contribution With No Reward
1 Supporter
Contribute
$20
Ochepa (little) donation
Personalised thank you card from the PAPU Team
Social media shoutout
Pay for 1 week of school fees for our tailor's chidlren
50 Left
0 Supporters
Select this reward
$50
Modzera (medium) donation
Personalised thank you card from the PAPU Team
Social media shoutout
10% off discount code for PAPU Ring Sling
Pay for 2 week of school fees for our tailor's children
50 Left
0 Supporters
Select this reward
$100
Wankulu (big) donation
Personalised thank you card from the PAPU Team
Social media shoutout
20% off discount code for PAPU Ring Sling
Pay for 3 week of school fees for our tailor's chidlren
50 Left
0 Supporters
Select this reward
$200
Chimphone (giant) donation
Personalised thank you card from the PAPU Team
Social media shoutout
Comlementary PAPU Ring Sling
Pay for 4 week of school fees for our tailor's chidlren
18 Left
2 Supporters
Select this reward
Rewards
Monetary Contribution With No Reward
1 Supporter
Contribute
$20
Ochepa (little) donation
Personalised thank you card from the PAPU Team
Social media shoutout
Pay for 1 week of school fees for our tailor's chidlren
50 Left
0 Supporters
Select this reward
$50
Modzera (medium) donation
Personalised thank you card from the PAPU Team
Social media shoutout
10% off discount code for PAPU Ring Sling
Pay for 2 week of school fees for our tailor's children
50 Left
0 Supporters
Select this reward
$100
Wankulu (big) donation
Personalised thank you card from the PAPU Team
Social media shoutout
20% off discount code for PAPU Ring Sling
Pay for 3 week of school fees for our tailor's chidlren
50 Left
0 Supporters
Select this reward
$200
Chimphone (giant) donation
Personalised thank you card from the PAPU Team
Social media shoutout
Comlementary PAPU Ring Sling
Pay for 4 week of school fees for our tailor's chidlren
18 Left
2 Supporters
Select this reward