Natural beauty is essential, Braid artistry and natural hair education & services fuels a soul mission to protect victims from the raft.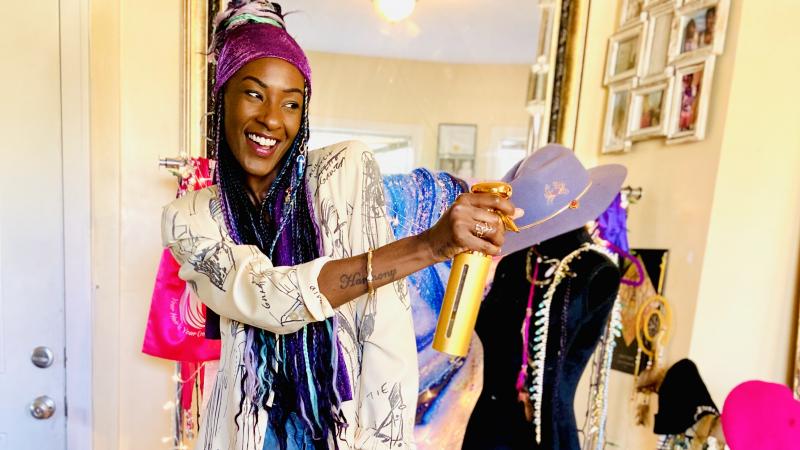 Project Description
My mission is to provide a pathway to light for women. empowering them through the healing power of braid artistry and natural hair education. Goddess Braid Magic provides and teaches high end braiding for women and creatives who are inspired by natural beauty and intentional wellness. I was once a lost soul, selling myself short to provide for my child, on my own at 17 with no guidance, braiding hair saved my life, it was always there in the palm of my hands, even when I avoided it.  As a young women's advocate for the poetic justice of young women, I serve this world as a guardian angel mentor.   I teach women another way to make a way for themselves with braid artistry to teach them a skill that will allow them to the skills to make a way for themselves and live an honest life in service of others and in honor of self. 
You are investing in a NEXT LEVEL BUSINESS IDEA, Goddess Braid Magic dreams to be the Mary Kay for black women's hair care. By providing high end services with a private line of products that grow and restore hair. We need the funding to grow enough capital to see this  mission through. Braid Magic Rituals are essential natural beauty products and probably the last set of hair rituals every black woman will need. In addition to the products, the service itself is healing with ancestral braiding and growing hand techniques, clients are beaming and re-booking!
Elevating the hair braiding business serves the economic wellness of black women, It gives black women a way to earn more money for themselves. 
I also teach Braid Artistry which provides natural hair and ancestral braiding and hair care techniques that keeps this sacred lineage alive and pure.  As we elevate the standards for hair braiding we are positioning women to become business moguls and healers. 
There is an extraordinary market and opportunity for this business to soar to the heights of majesty. As a consciousness and wellness advocate for women I believe that it creates a union between beauty and wellness as ancestral braiding is a healing art form. 
Braid Magic Rituals are for natural hair growth and restoration. Made with all natural ingredients. Egyptian Majesty Collection Gypsy Water: Hydrated Jojoba oil &Jamaican Castor , exotic florals and holy Florida water completely revitalizes hair for luxurious finish and natural growth. Guardian Angel Ritual Oil: Jasmine, Ylang Ylang and hydrated Jamaican Castor & Sunflower Oils for growth & deep conditioning self soothing ritual. Lavender Luna Anointing oil with lavender, pear, jasmine and Egyptian musk for crown awakening & meditation. MORE PRODUCTS TO COME: Including Edge toner, dry shampoo & sovereign edge hydration for growth & smoothing.
I am looking for funding to launch and promote my products! they are GOLDEN and clients are loving them from the moment I begin to use them on their hair, they call smell Egyptian Majesty.  Funds will be used to invest in a luxury product launch, advertisement, and an open space for Braid Artistry teachings + Ministry to create a revolutionary impact with Goddess Braid Magic, restoring crowns and healing hearts of wounded warrior women who are victims of misguided intelligence. 
I am a single mommy mogul dreamer!
Thank you for seeing me, I love you and appreciate you for just taking the time to read my heArt's expression 
Purifying the braiding industry & eliminating poor hair stylist experiences and educating professional goddess women to bring love to the market with elevated service & client engagement training, ancestral braiding & healing braid magic arts education.

Goddess Braid Magic provides high end braiding services for women and creatives inspired by natural beauty and intentional wellness.

WOMEN CAN MAKE MONEY CONSTRUCTIVELY, FROM HOME BRAIDING HAIR WITH EXTREMELY HIGH PROFIT MARGINS, AND SELL BRAID MAGIC RITUALS TO THEIR CLIENTS AS WELL AS BUY IN BULK FOR THEMSELVES. 
Updates
The Campaign FAQs
What will funds be used for ? 
- Product & Materials to successfully launch Braid Magic Rituals 
-Advertisement
-Education Materials + Kits 
-Braid Artistry Workshop and ministry Rental Space 
What inspires you to help young women make money?
Monetary Contribution
0 Supporters
Select this reward
Rewards
Monetary Contribution
0 Supporters
Select this reward