Supporting those who create the content we all watch during COVID-19; women in the film industry who are fighting for an Equal Footing.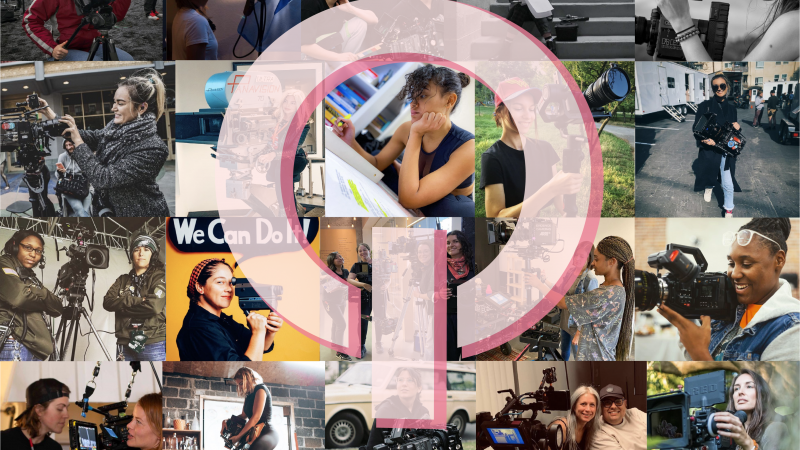 Project Description
Equal Footing is a nonprofit organization working to empower women in the film industry in efforts to create an equal footing in a rather male dominated industry. We provide support to women in film, camera crew, costume designers, you name it. All of the people who play a vital role in some of greatest films we see today. By giving them tools to help their film projects, whether that is through networking amongst the Equal Footing community or professionals, or helping fund their projects, Equal Footing is active in pushing forward the advancement of women in film.
During this time of global pandemic, women in film have been hit especially hard. Already at a disadvantage by making less than their male counterparts, the pandemic has left them displaced and without work.  We hope that you will join us in supporting them during this time.
Updates
The Campaign FAQs
Frequently Asked Questions:
is funding open to all types of women in film?
Yes, we support all women who are in the film industry in any capacity.
How do I receive my funds?
You must have adequate documentation that you have been displaced by the coronavirus.
Monetary Contribution
$10
Anonymous Ardvark
05/29/2020
Monetary Contribution
3 Supporters
Select this reward
100.00 USD
The Frances Marion
This contribution will grant you:
Special thank you in our email newsletter
Lifelong membership to the Equal Footing supporters network
0 Supporters
Select this reward
500.00 USD
The Mary Pickford
This contribution will grant you:
Special thank you in our email newsletter
Lifelong membership to the Equal Footing supporters network
Recognition on Equal Footing website
Join a one-time exclusive entertainment leadership webinar
1 Supporter
Select this reward
1,000.00 USD
The Lois Weber
This contribution will grant you:
Special thank you in our email newsletter
Lifelong membership to the Equal Footing supporters network
Recognition on Equal Footing website
Join a one-time exclusive entertainment leadership webinar
Subscription to Equal Footing leadership webinars
0 Supporters
Select this reward
2,500.00 USD
The Mabel Normand
This contribution will grant you:
Special thank you in our email newsletter
Lifelong membership to the Equal Footing supporters network
Prominent recognition on Equal Footing website
Join a one-time exclusive entertainment leadership webinar
Subscription to Equal Footing leadership webinars
Access to exclusive speakers and events
0 Supporters
Select this reward
5,000.00 USD
The Marion E. Wong
This contribution will grant you:
Special thank you in our email newsletter
Lifelong membership to the Equal Footing supporters network
Prominent recognition on Equal Footing website and marketing materials
Join a one-time exclusive entertainment leadership webinar
Subscription to Equal Footing leadership webinars
Access to exclusive speakers and events
Meet and greet with Equal Footing founders
0 Supporters
Select this reward
10,000.00 USD
The Anita Loos
This contribution will grant you:
Special thank you in our email newsletter
Lifelong membership to the Equal Footing supporters network
Prominent recognition on Equal Footing website and marketing materials
Join a one-time exclusive entertainment leadership webinar
Subscription to Equal Footing leadership webinars
Access to exclusive speakers and events
Meet and greet with Equal Footing founders
0 Supporters
Select this reward
15,000.00 USD
The Alice Guy-Blaché
This contribution will grant you:
Member of Equal Footing Founders Circle
Special thank you in our email newsletter
Lifelong membership to the Equal Footing supporters network
Prominent recognition on Equal Footing website and marketing materials
Join a one-time exclusive entertainment leadership webinar
Subscription to Equal Footing leadership webinars
Access to exclusive speakers and events
Meet and greet with Equal Footing founders
0 Supporters
Select this reward
20,000.00 USD
The Ida Lipono
This contribution will grant you:
Member of Equal Footing Founders Circle
Special thank you in our email newsletter
Lifelong membership to the Equal Footing supporters network
Prominent recognition on Equal Footing website and marketing materials
Subscription to all Equal Footing leadership webinars and phone calls
Access to exclusive speakers and events
Meet and greet with Equal Footing founders
On-stage recognition at Equal Footing Inaugural Gala (Date TBD)
0 Supporters
Select this reward
25,000.00 USD
The Dorothy Arzner
Member of Equal Footing Founders Circle
Bring an Equal Footing Leadership Seminar to a location of your choice
Special thank you in our email newsletter
Lifelong membership to the Equal Footing supporters network
Prominent recognition on Equal Footing website and marketing materials
Subscription to all Equal Footing leadership webinars and phone calls
Access to exclusive speakers and events
Meet and greet with Equal Footing founders
On-stage recognition at Equal Footing Inaugural Gala (Date TBD)
0 Supporters
Select this reward
Rewards
Monetary Contribution
3 Supporters
Select this reward
100.00 USD
The Frances Marion
This contribution will grant you:
Special thank you in our email newsletter
Lifelong membership to the Equal Footing supporters network
0 Supporters
Select this reward
500.00 USD
The Mary Pickford
This contribution will grant you:
Special thank you in our email newsletter
Lifelong membership to the Equal Footing supporters network
Recognition on Equal Footing website
Join a one-time exclusive entertainment leadership webinar
1 Supporter
Select this reward
1,000.00 USD
The Lois Weber
This contribution will grant you:
Special thank you in our email newsletter
Lifelong membership to the Equal Footing supporters network
Recognition on Equal Footing website
Join a one-time exclusive entertainment leadership webinar
Subscription to Equal Footing leadership webinars
0 Supporters
Select this reward
2,500.00 USD
The Mabel Normand
This contribution will grant you:
Special thank you in our email newsletter
Lifelong membership to the Equal Footing supporters network
Prominent recognition on Equal Footing website
Join a one-time exclusive entertainment leadership webinar
Subscription to Equal Footing leadership webinars
Access to exclusive speakers and events
0 Supporters
Select this reward
5,000.00 USD
The Marion E. Wong
This contribution will grant you:
Special thank you in our email newsletter
Lifelong membership to the Equal Footing supporters network
Prominent recognition on Equal Footing website and marketing materials
Join a one-time exclusive entertainment leadership webinar
Subscription to Equal Footing leadership webinars
Access to exclusive speakers and events
Meet and greet with Equal Footing founders
0 Supporters
Select this reward
10,000.00 USD
The Anita Loos
This contribution will grant you:
Special thank you in our email newsletter
Lifelong membership to the Equal Footing supporters network
Prominent recognition on Equal Footing website and marketing materials
Join a one-time exclusive entertainment leadership webinar
Subscription to Equal Footing leadership webinars
Access to exclusive speakers and events
Meet and greet with Equal Footing founders
0 Supporters
Select this reward
15,000.00 USD
The Alice Guy-Blaché
This contribution will grant you:
Member of Equal Footing Founders Circle
Special thank you in our email newsletter
Lifelong membership to the Equal Footing supporters network
Prominent recognition on Equal Footing website and marketing materials
Join a one-time exclusive entertainment leadership webinar
Subscription to Equal Footing leadership webinars
Access to exclusive speakers and events
Meet and greet with Equal Footing founders
0 Supporters
Select this reward
20,000.00 USD
The Ida Lipono
This contribution will grant you:
Member of Equal Footing Founders Circle
Special thank you in our email newsletter
Lifelong membership to the Equal Footing supporters network
Prominent recognition on Equal Footing website and marketing materials
Subscription to all Equal Footing leadership webinars and phone calls
Access to exclusive speakers and events
Meet and greet with Equal Footing founders
On-stage recognition at Equal Footing Inaugural Gala (Date TBD)
0 Supporters
Select this reward
25,000.00 USD
The Dorothy Arzner
Member of Equal Footing Founders Circle
Bring an Equal Footing Leadership Seminar to a location of your choice
Special thank you in our email newsletter
Lifelong membership to the Equal Footing supporters network
Prominent recognition on Equal Footing website and marketing materials
Subscription to all Equal Footing leadership webinars and phone calls
Access to exclusive speakers and events
Meet and greet with Equal Footing founders
On-stage recognition at Equal Footing Inaugural Gala (Date TBD)
0 Supporters
Select this reward