Making Sure Reptiles Have Happy Homes!
Project Description
Reviving Reptiles Rescue is a nonprofit 501(c) animal rescue. 

Our mission is to rescue unwanted reptiles (snakes, lizards, turtles, etc), provide them with necessary medical care, rehabilitate them into loving pets (if possible) and find loving homes for them. 

This little guy came to us, sick, underweight, and covered in burns. Vet visits, numerous medications, and eventually some weight gains and he will be able to be rehomed eventually. 


By offering our services, we are stopping pet owners from releasing their animals into the wild. Most reptiles kept as pets are not native species to the Southeastern US.

The market size that we are looking at includes most of the Southeast United States, currently, we are servicing East Tennessee, most of North Carolina and all of South Carolina, and looking to expand within a year. 

Our rescue will help people surrender their pets in a safe manner, without letting them go in the back yard, to become an invasive species to this area. By having animals for adoption, this keeps people from going to pet stores and buying reptiles that overbred for sales. Definitely an Adopt Don't Shop type of atmosphere. 

We are currently seeking funding to expand our ability to take in animals. We currently can house 15 reptiles. With the way things have been going the past several months, we are needing the ability to house upwards to 50 animals. This includes tanks, specialized lighting, heating elements, etc for the reptiles to be correctly housed. 


This little gecko seems to be a mini gecko (as we like to call her). She is an adult gecko, but is the size of a juvenile one. Without knowing her background, we can not for sure say, but we think either bad incubation or improper care as a hatchling has led to her having dwarfism. 


The rescue's team consists of the three board members and two volunteers. We provide all the necessary care for the animals, we screen applicants for adoptions, we organize all surrenders, traveling to pick them up if necessary. 

Any donation is greatly appreciated and will go towards to rescue and rehabilitation of reptiles! 
Updates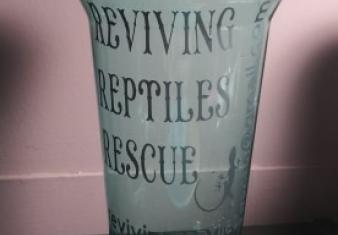 25.00 USD
Water Bottle/Cup
For each $25 donated, we will send a water bottle/drink cup with our logo on it! 
*cups may vary*
50 Left
0 Supporters
Select this reward
Monetary Contribution
0 Supporters
Select this reward
Rewards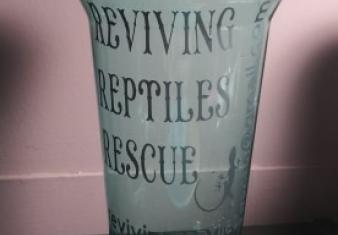 25.00 USD
Water Bottle/Cup
For each $25 donated, we will send a water bottle/drink cup with our logo on it! 
*cups may vary*
50 Left
0 Supporters
Select this reward
Monetary Contribution
0 Supporters
Select this reward