Help me inspire healthier choices, and make natural deodorant and clean ingredients the only choice in the beauty industry.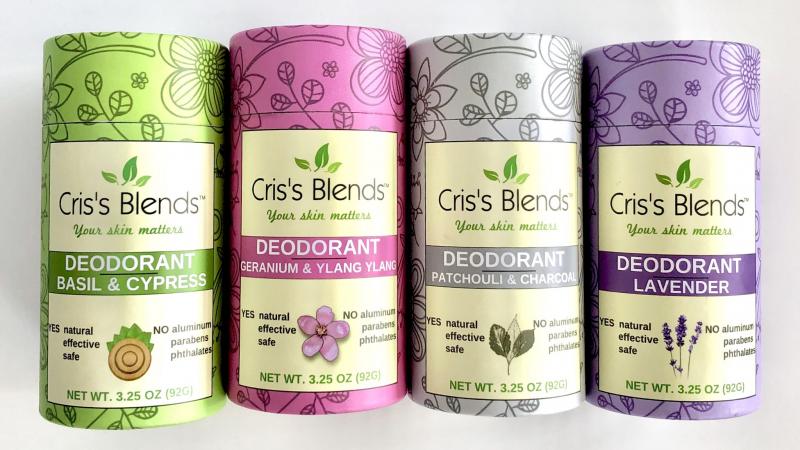 Project Description
Cris's Blends is a clean beauty brand, with a mission to inspire healthier, and more sustainable choices within the beauty and personal care industry. 
Our products are plant based and well as performance driven, proving that natural does work. 
We are vegan, cruelty free, and we offer a zero waste, eco friendly solution to plastic packaging.
I started Cris's Blends in hopes of contributing to the change that needs to be made within the beauty industry. 
Today there are over 1400 unhealthy, questionable  ingredients used in our cosmetics and personal care, and the beauty industry in the United States bans only under 50 of them. 
120 billion units of single use plastic containers, that end up in our landfills, are produced every year for the beauty industry alone.
We want to change that statistic.
We won't sacrifice our health or our planet in the name of convenience. 
We've created a deodorant that is very effective, made with heathy ingredients, and packaged sustainably.
We never test on animals, or source ingredients that were tested on animals. 🐇💖Our packaging is either zero waste, glass, or easily recyclable🐢🌊.
I am a one woman show, and I managed to bring my brand in front of so many people, we just launched at Whole Foods locally, but I now need your help to bring my message further.
With the funds I want to attend an Indie Beauty Trade Show, where I will be able to connect with the media, retailers, influencers, etc.
The beauty industry is shifting to a more natural, better ingredients approach, and brands like Cris's Blends are the reason for that. 
Consumers are starting to demand cleaner, vegan, and cruelty free products, and they want to see an end to testing on animals.
Beauty retailers are taking it into their own hands to regulate some of what goes into cosmetics, and there are a lot of clean beauty section popping up (Clean at Sephora, Credo, Ulta, etc).
With your help, we want to be part of the change, and be able to offer clean personal care to more people. 
A heartfelt Thank You to everyone that wants to help me spread the message that natural products really work, and that it's time to take control of what goes on your skin. 
Your skin and your health matter! 
 
Updates
Monetary Contribution
0 Supporters
Select this reward
Rewards
Monetary Contribution
0 Supporters
Select this reward