Building resilience #onechildatatime
For children and the grown-ups who love them, a toolkit for embracing challenge and change.
$0
pledged of $1,000 goal
Project Description
It's okay to feel afraid sometimes. Being afraid means that you are about to grow. You are about to find the strength, the help, and the courage to learn and explore and go further out into the world than you have ever gone before.
Buddy Bench are delighted to launch their first Care Pack for children and the grownups who love them to enjoy at home. This Care Pack includes the Sam Builds a Nest storybook (beautifully illustrated by Ross Dillon of Cartoon Saloon sister company Lighthouse Studios), a wonderfully snuggly robin and some great Buddy Bench activities designed to help children work through their fears and develop resilience.
 Standing on the edge of your nest, you will find how to balance your love of feeling safe and secure with your hunger to explore the world and venture beyond your comfort zone.
Sam Builds a Nest tells the story of how a young child learns that your safe place – whether that is at home or in your room, in a den or wrapped in the arms of someone you love – is just like a nest:
it keeps you safe, but one day you'll need to spread your wings and fly.
Sam Builds a Nest tells the story of Red the Robin, that plucky bird, who must leave his nest, take to the skies, and discover how large and wonderful the world beyond really is. And if a Robin can always find room in the world for a new nest, so can Sam!
Sam Builds a Nest tells the story of a mother who wants nothing in the world more than to feel that her child is safe and able to meet the challenges of growing up. She learns that while a nest is always only temporary, and must be rebuilt each spring, her child can integrate the image of the nest, to learn over time that the most lasting nest is the one inside yourself, made of love, courage, resourcefulness and the wonderful memory of a loving hug.
But Sam Builds a Nest is also the story of a writer understanding what resilience really means.
"I had always thought resilience was a kind of bouncing back ability," says Jeffrey Gormly, who is Creative Director of Buddy Bench. "I thought that you had to just keep picking yourself up and charging back into life. I guess my generation picked up some pretty bad habits, because we had basically no education on mental health, self-care or how to stay well. It's just amazing how many times the Buddy Bench team has heard a grown up say 'I wish there had been a Buddy Bench when I was in school.'"
"Working to bring emotional intelligence, empathy and self-awareness to 40,000 children in the last three years has really shown us that we can give a big gift to the current generation of children, simply by encouraging them to show and share their thoughts and feelings. That's the easiest way to learn about ourselves, discover what keeps us happy and well, and prepare us for the challenges that to trying to live a really good and fulfilling life constantly brings."
According to Jeffrey, resilience isn't a thick skin, or bottomless optimism, or endless determination. Resilience is a mindset.
"Each time we meet a situation that is bigger or different or scarier than anything we've had to deal with before, we have a chance to work through the story of leaving the nest. We learn and accept that no nest lasts forever, and that helps us to think of leaving the nest as an expansive step into the world – spreading the wings and flying high to learn something new and embrace the next chapter in our life's adventure."
It's perfectly normal to feel overwhelmed sometimes by what life is asking us to cope with, especially when there are moments of big change in our lives, such as moving house or school, bereavement or break up of a family, struggles to fit in at school.
Buddy Bench has come to understand that sometimes the hardest thing for a parent, grandparent, aunt, uncle or caring grownup, is to have to stand in the wings while the children they love tackle the challenges of growing up without us. This happens most especially when it comes to school, where children are thrown together to learn how to get along with others, how to make friendships that are good and that last, how to understand and express our unique individuality in a crowd of children.
That's why Buddy Bench has devised a range of Care Packs that provide tools and insight for grownups to explore these issues with the children they love. Each one is based around one of the animal characters that thousands of children will instantly recognise from the Buddy Bench programs that we have delivered in over 255 schools and preschools in Ireland.
Here's how it works:
Give the gift. The pack comes in a beautifully designed box that slowly reveals the robin, and opens out to present interactive learning activities.
 Spend the time. Sit together, snuggle Red the Robin, and read the story of how Sam Builds a Nest.
Watch, listen and learn. Encourage the child to build their own nest. Take time to listen to what they are telling you about the challenges they are facing in their lives.
 Help and join in. Encourage your child to colour in the nest picture and think about all the people, places, things and pastimes that make them feel safe.
Create a new routine. Take time together to use the worry pad – write down all the things that make the child feel anxious or afraid, fold up the page, and tuck under the Robin's wing for a peaceful night's sleep.
There are so many reasons why a child might experience fear. Changing school, moving house, struggling to fit in or keep up at school, a change in the family. Just the fact of growing up itself can make a child feel anxious.
"My daughter was always happy, and loved to explore the unknown," says Jeffrey. "Then just after she turned six she started having night terrors, and imagining all kinds of crazy fears. We couldn't understand it until her teacher explained that this was normal for that age – at different moments in their development, children experience a kind of anxiety as they move out of their comfort zone e.g. growing out of small childhood or leaving preschool, to enter a new and unfamiliar world."
Sam Builds a Nest is dedicated to the small child in all of us who sometimes gets a glimpse of the great big world out there, and is torn between wanting to rush out and explore, and needing to feel safe and at home.
Sam Builds a Nest provides what you need to learn together that we can carry a piece of home with us always, while making the world our own today.
Updates
The Project FAQs
The only possible risk is a delay in printing or delivering, but all going well the books will be printed by November and delivered December just in time for Christmas.
Monetary Contribution
0 Supporters
Contribute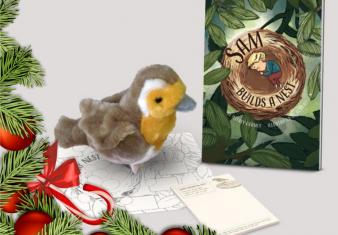 $30
Sam Builds a Nest - Children's Care Box
Included in this wonderful Christmas gift with this option  you will receive:
Sam Builds a Nest - Children's Care Box for Resilience 
- Book by Jeffrey Gormly and illustrated by Ross Dillon 
- Plush Toy Red the Robin
- Worry Pad
100 Left
0 Supporters
Select this reward
$40
Limited Edition Care Box
Included in this wonderful Christmas gift with this option  you will receive:
Sam Builds a Nest - Children's Care Box for Resilience 
- Book signed by Author Jeffrey Gormly and illustrator Ross Dillon 
- Plush Toy Red the Robin
- Worry Pad
50 Left
0 Supporters
Select this reward
Rewards
Monetary Contribution
0 Supporters
Contribute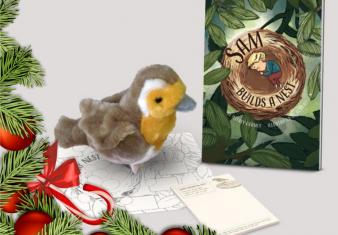 $30
Sam Builds a Nest - Children's Care Box
Included in this wonderful Christmas gift with this option  you will receive:
Sam Builds a Nest - Children's Care Box for Resilience 
- Book by Jeffrey Gormly and illustrated by Ross Dillon 
- Plush Toy Red the Robin
- Worry Pad
100 Left
0 Supporters
Select this reward
$40
Limited Edition Care Box
Included in this wonderful Christmas gift with this option  you will receive:
Sam Builds a Nest - Children's Care Box for Resilience 
- Book signed by Author Jeffrey Gormly and illustrator Ross Dillon 
- Plush Toy Red the Robin
- Worry Pad
50 Left
0 Supporters
Select this reward