Help us add BRILLIANCE to our brand so that we may pass it along to others!
$0
pledged of $8,000 goal
Project Description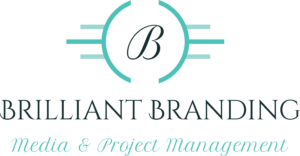 Brilliant Branding Media & Project Management was founded in 2018 with a single mission: to be the most successful, creative and ground-breaking, woman-ran consulting agency for marketing and project management. We approach each of our clients with fresh eyes to develop customized, unique strategies, with perspectives and ideas that are rich in detail.
We offer a wide range of consulting services with the necessary tools and expertise to help grow your business. We partner with our clients from start to finish, focusing on their needs while producing new ideas, developing effective strategies and designing high quality and scalable solutions.
Brilliant Branding gives women a voice in a corporate setting without the worry of being silenced in male-dominated industries. Within our agency, educated women with unique skills and undeniable passion are given the platform to serve in their greatest capacity and lead clients to success. This all-women agency allows women to be free to develop not only the best strategies and consumer-driven solutions, but also themselves.
We run business similar to that of our households - seamless, effortless... multi-tasking in ways unimaginable - wearing many hats, absorbing many titles... and being successful at it all.
---
WHAT DO WE OFFER?
ADVISING AND CONSULTING
ECLUB/LOYALTY PROGRAM MANAGEMENT
Sustain Your Business or Brand
♦

DANIKA PARRIS
Founder & CEO
With over 10 years of combined experience in communications, marketing and project management, Danika has leveraged organizational vision, branding, and marketing and project management specialization to deliver lucrative results. Her ability to identify long-term opportunities to produce high-impact ROI and increase customer outreach with cost-centric solutions is immeasurable. 
Danika began her career in 2008 in Business Development for the United Postal Service where she held tenure until 2013. She then went on to hold extraordinary positions within other companies and agencies serving as a Program/CRM Manager, Marketing Manager, Senior Project Manager, and Marketing and Project Consultant across both B2B and B2C organizations, including AutoZone Corporate and ALSAC, St. Jude Children's Research Hospital.
She earned her Bachelor's Degree in Communications with a minor in Marketing in 2007 from the University of TN at Martin, where she was also a member of Alpha Kappa Psi Professional Business Fraternity. She also possesses a Master's Degree from the University of Phoenix and a certificate of completion of  hours for her PMP certification.
With a history of seamlessly orchestrating complex projects with million dollar budgets and leading major business initiatives in cross-functional and multi-cultural team environments; Project management experience in multi-channel marketing, non-profit, healthcare, retail, and POS/IT implementation; Strategic approach in branding and integrated marketing for print and digital; Proficiency in building and managing vendor relationships, including negotiating and administering contracts, deliverables and work statements; and Established history of driving sales and productivity...
...Danika followed her dream of starting her own agency.
♦

ERICA BROWN
Erica started her career in 2011, as a marketing coordinator for Signet, a promotional marketing company in Memphis.  In this position, she managed a large list of corporate accounts, including budget management and communications with clients and vendors.  In 2014, Erica joined American Residential Services as a marketing associate.  There she prepared marketing and advertising strategies & plans, implemented print and digital campaigns. Her attention to detail allowed for her to handle a $15MM budget for her division while assembling and analyzing sales forecasts.
Since then, Erica has participated in a number of prolific marketing campaigns for major household names and has served on several committees, including the Junior League, where she offers mentor-ship to the youth of her community.
Erica holds a Bachelor of Arts in Public Relations from the University of Mississippi.  During her tenure, she worked as a sports marketing intern for the Ole Miss Athletic Department from 2006-2009.
---
HOW WILL YOUR SUPPORT HELP?
Funding for this project will go toward purchasing additional software (multiple licenses, etc.) and equipment (additional PCs) necessary to service clients in the most efficient manner, work stations for college interns and freelancers, and marketing and advertising costs.
Updates
The Project FAQs
Monetary Contribution With No Reward
0 Supporters
Contribute
$50
Women Rock!
Thank You Card & Social Media Acknowledgement
0 Supporters
Select this reward
$100
You Go Girl!
Previous Rewards + T-Shirt
0 Supporters
Select this reward
$250
I Support Women
Previous Rewards + Electronic Accessories
0 Supporters
Select this reward
$500
Your Voice Has Been Heard
Previous Rewards + Backpack
0 Supporters
Select this reward
$1,000
I Want To Invest My Support
Previous Rewards + Free Consultation & Service Discount
0 Supporters
Select this reward
Rewards
Monetary Contribution With No Reward
0 Supporters
Contribute
$50
Women Rock!
Thank You Card & Social Media Acknowledgement
0 Supporters
Select this reward
$100
You Go Girl!
Previous Rewards + T-Shirt
0 Supporters
Select this reward
$250
I Support Women
Previous Rewards + Electronic Accessories
0 Supporters
Select this reward
$500
Your Voice Has Been Heard
Previous Rewards + Backpack
0 Supporters
Select this reward
$1,000
I Want To Invest My Support
Previous Rewards + Free Consultation & Service Discount
0 Supporters
Select this reward