Monica's art room is an innovative gallery that focuses on promoting, creating and healing the public through art.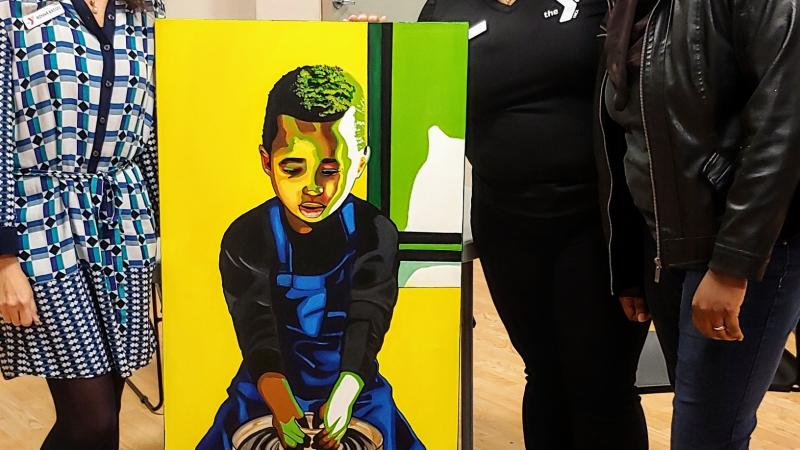 Project Description
The mission of Monica's art room is to promote, heal, educate and inspire through art
We are solving the problem of lack of creativity in the community which has lasting effects
There are many of opportunities in the art field and many career paths
Monica's art room is about the promotion of art, inspiration of art and healing through art. We solve the problem of lack of creativity among the youth by inspiring and opening doors, healing our elderly through a new hobby, and helping others seek new career paths
We are seeking funding to push our art programs with Artz Philly to support people with dementia, broaden the Keep Creating inspiration project, and eventually open free art programs for the youth and low cost programs for adults in the form of an innovative building
Myself and my children are the TEAM, (Also in partnership with Artz Philly)
Thank you team and all of our supporters!
Updates
The Campaign FAQs
Frequently Asked Questions:
Where will art classes be for the elderly and those with dementia?
In the public library until a building is purchased.
When and where will youth classes be held?
What is the main goal?
The main goal is to raise enough money to purchase the building to create a main space for Monica's Art room to have art classes and programs for the youth and the elderly. This building will be turned into an innovative gallery that also supports local artists, give local food vendors a place to work, host gallery viewings, and provide resources for those who wish to pursue a career in the arts.
What else will be done until the goal is reached?
I will be continuing the Keep Creating project, connecting with more organizations, and continuing the progress with Artz Philly to help those with dementia. The funds will help to start the free weekly classes.
What will happen if the goal is not reached? I will continue the journey of Monica's art room's mission. I will also use the finds raised to start classes online to reach the youth and the elderly. The Keep Creating project will also be supported if there are enough funds. The goal, however, is to gain a stable and safe space for creativity.
Is this idea attainable?
Yes! Everything starts out as an idea. If we believe something is too big or not possible, it becomes impossible. I strongly believe in the cause. The vision is clear and my heart is in it.
Monetary Contribution
2 Supporters
Select this reward
Rewards
Monetary Contribution
2 Supporters
Select this reward